If you've reached here, you are probably thinking of getting yourself a pair of Vans. Vans have been there in the market for years with a very strong reputation for making attractive shoes with durable design patterns.
Primarily vans is a skating brand. However, because of their non-slip nature, vans have become quite popular among dancers, restaurant and hospital workers, and acrobats.
For years, I have been wearing my Vans at work or even with my casual wear for years now. Apart from hearing "back it again with the white vans" thousands of times, the one serious question I get asked a lot about these shoes is, "Hey, are these Vans non-slip?" So today, I've compiled this guide to answer your questions before purchasing your first pair of vans. Let's dive in.
Are Vans Non Slip Shoes?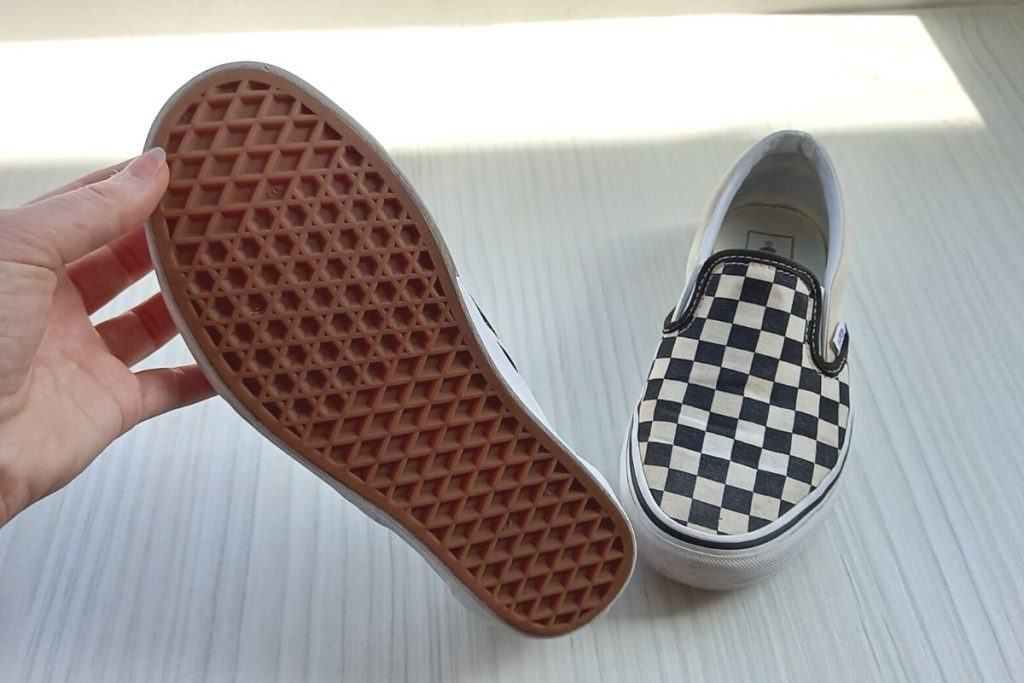 The "Made for the Makers" series of van sneakers are non-slip. Only this line of van shoes is completely slip-resistant, made especially for hospitals and restaurant workers. However, van shoes feature vulcanized rubber outsole with diamond and rhomboid pattern designs. That's why almost all Vans shoe series have some slip resistance, depending on the surface.
Vans are well-grooved and highly slip-resistant for everyday use. The vulcanized rubber outsoles offer excellent traction and prevent any possible falling. Vans are an excellent choice for persons working in many service-related sectors because the uppers also repel liquid and dirt.
What Features Make Vans Slip Resistant?
Generally, a pair of shoes is considered non-slip if the materials and design of the outsole
Work with floor-sticking polyurethanes or rubber compounds.
Design the outsole's treads with sharp edges rather than rounded ones.
Design the outsole's pattern to allow fluids to be readily pushed aside.
Although all van shoes are not certified slip-resistant shoes, we've seen that all van shoe models possess all of these regulations to be slip-resistant shoes.
Vans shoes are made of high-quality rubber, which is the perfect material for preventing slipping. In the vulcanizing process, it is heated to cure it, toughening it but leaving the slightly gooey texture that makes the shoes stick to the ground.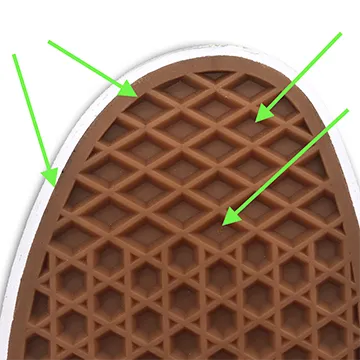 In order to make their rubber even tougher, Vans actually add sulfur to the mixture before vulcanizing it. Following pressing, the soles are formed into the recognizable "waffle" style sole, which combines rhomboid and diamond patterning.
The design increases Vans' slip resistance as the grooves improve the shoes' traction on the ground. A sole with grooves performs significantly better than one without because they increase traction while walking.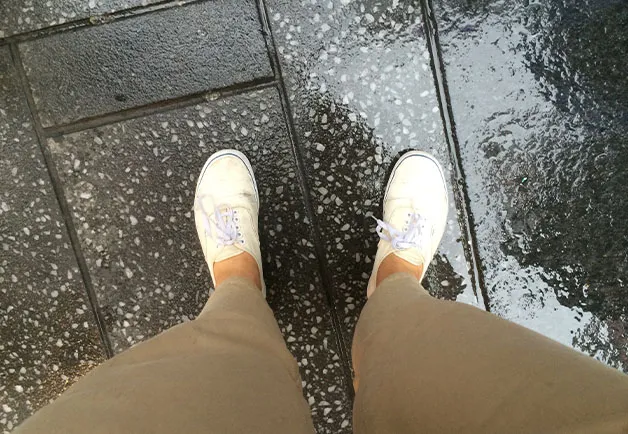 Additionally, "waffle"-like tread pattern is made in such a way that water and oils can drain off the outsole by trickling along the tread pattern. Vans are excellent shoes to wear on even wet surfaces because of their design. Water, lubricants, and oils won't adhere to the pattern.
The three layers of foxing tape rubber that make up the midsole increase the amount of traction. A sticky, rubbery midsole makes walking, climbing stairs, skating, or even running more secure.
Can I wear my Vans to work?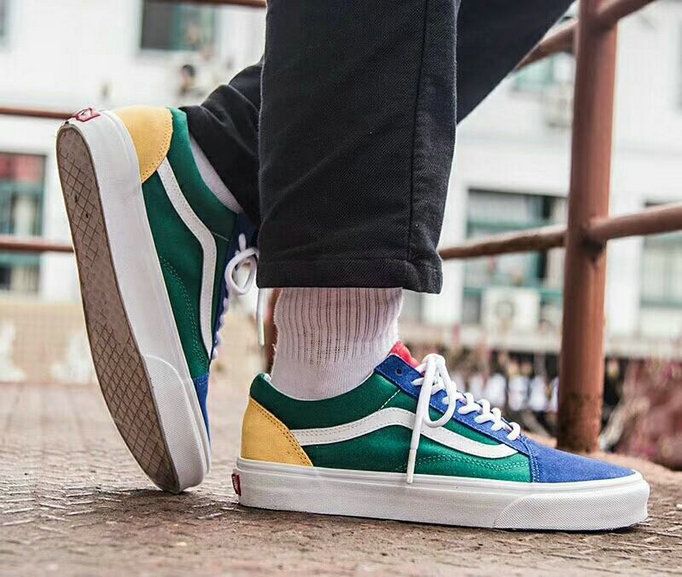 Van use is not permitted if your workplace requires ISO approved 20347 shoes. (for example, if you work at McDonald's).
Other than that, vans are safe to use in any work environment and very comfortable to wear for a long. Vans have slip-resistant outsoles that will keep you safe all day as you move throughout the long hours at work, whether you work in a restaurant where the greasy floors are prone to being slippery or in a barbershop or salon where hairs have accumulated on the floor.
Vans shoes are rubberized, making them much more slip-resistant than other shoes. Unlike other brands, Vans exclusively uses top-notch materials. Thus, the likelihood of you slipping on greasy or damp flooring is extremely minimal.
For the shoes to be non-slip, the sole's tread pattern is quite important. The waffled pattern and tiny protruding lugs on the soles of the Vans Made for Maker series of sneakers help to increase their traction.
Vans are available in a variety of colours and designs as well, giving you a lot of possibilities for how to customize them to match your workplace. Due to their low visibility and lack of attention-getting qualities, black Vans sneakers are particularly well-liked in the service sector.
Even if all Vans designs are somewhat slip-resistant, we suggest you select the one based on your work environment and requirements. According to our test, the best non-slip Vans are the classic slip-on ones.
Here's our pick for the top 3 non-slip Vans shoes you can buy:
Best Vans For Kitchen Work

Copied

Vans U Classic Slip-on Sneakers

Specially made for professional chefs.
Excellent for kitchen work because they provide improved traction on slick kitchen floors and are stain, liquid, and odour resistant.

Best Vans For Waiters

Copied

Vans Low-Top Trainers Sneaker

Excellent for keeping you comfortable during your shift, especially if you stand for extended periods.
The rubber outsoles are excellent for a slippery surface.

Best Vans For Roofing Work

Copied

Vans Unisex Old Skool Sneakers

The flat soles help you maintain balance,
The vulcanized rubber sole prevents you from slipping
Are Vans Ideal Non-Slip Shoes for Restaurant Work?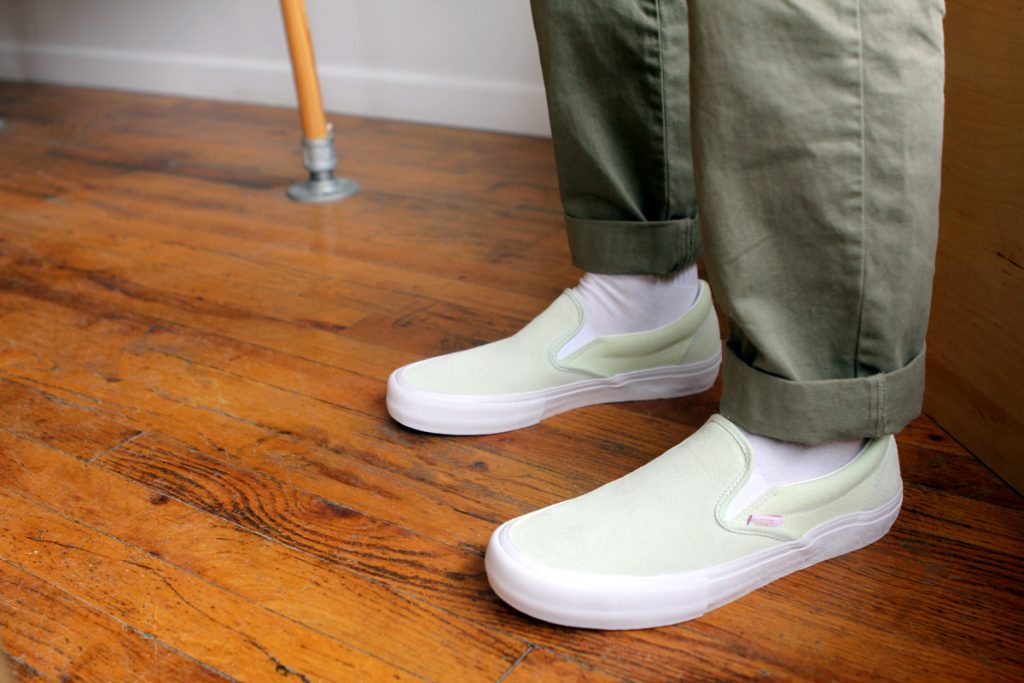 Vans are ideal shoes for restaurant work as long as you wear some non-slip vans. There are varieties of models of vans that are slip-resistant and ease to wear. For people who want to wear shoes that are safe, Vans are often an excellent option.
Vans are a wonderful choice of footwear for people who spend their days on their feet while working in restaurants, bars, janitorial services, salons, or other industries with slick or occasionally damp flooring. Additionally, they include padded shoe collars, making them comfy for standing all day. The good news is that most, if not all, pairs of contemporary Vans will be constructed with a slip-resistant sole.
From my personal experience, I can assure you vans are sufficiently slip-resistant for work. Since vans are non slip, I have been wearing my Vans for years while working on shifts. I never experienced any slipping issues. While mopping the floor in my home, I put on my slip-on Vans for a strong grip. Vans are non-slip and don't leave any stains on the ground.
Therefore, it makes no difference if you work on a roof where slipping could cause you to fall from a great height, in a kitchen with a wet floor, or in a fast-paced restaurant. In restaurants and kitchens, I've noticed a lot of people wearing Vans (next time you eat out, pay attention to the waitress's shoes).
However, confirming with your place of employment is advisable that Vans are appropriate as a footwear option. There can be different regulations and uniform standards. Verify if it is okay for you to wear them.