The best way to elevate the style of your outfit is to pair them up with a transparent clear heel. They add a chic, minimalistic and elegant look to your fits. They come in various designs and shapes, and with versatility to make you look trendy everyday.
No matter if you prefer the stability of block pumps or the glam of high stilettos, there is a suitable pair of glassy shoes available for everyone. The adaptable see-through shoes are suitable for various occasions such as workplace gatherings, romantic outings, or other significant events.
However, if you're uncertain about where to begin, continue reading to discover the 10 most comfortable clear heels. Prepare to show off your style with charisma and comfort.
How Do I Choose the Right Pair of Trendy Clear Heels?
Even if a shoe might be the perfect fit for someone, it might not be for you. No one wants to be stuck with the wrong pair of heels. So, if you wanna rock a killer see-through heels, there's a few things you need to think about first.
Like, what's gonna match your vibe, what feels comfortable on your feet, and where you're going to show them off. Here's some factors to keep in mind before you shop clear heels-
Material Quality
Look for durable and high-quality materials that won't easily scratch or crack. Materials like PVC or acrylic are frequently used to make see-through heels, so it's important to choose a pair that is well-crafted.
Height
See-through shoes are available in different heights, including low kitten pumps and high stilettos. Consider your ability to walk confidently and comfortably before choosing the heel height.
Comfort
Look for shoes that offer cushioning or padding on the insole, as this will provide additional support and reduce discomfort even when you wear it for a whole day. Wear heels with no pain!
Style and Design
These types are available in a variety of styles and designs. Think about the overall look that you're aiming for. Do you prefer a classic pump, a strappy sandal, or a trendy platform? Consider the shape of the front, any ornamentation or details, and the transparency of the material.
10 Most comfortable Clear Heels in 2023
Now that you know how to choose the perfect heels for you, don't miss our curated list of the top 10 options. Discover the trendiest and most stylish clear heels available for you to elevate your fashion game.
Casual & Comfortable
1. Shoe Land Clear Block stilettos
Top Pick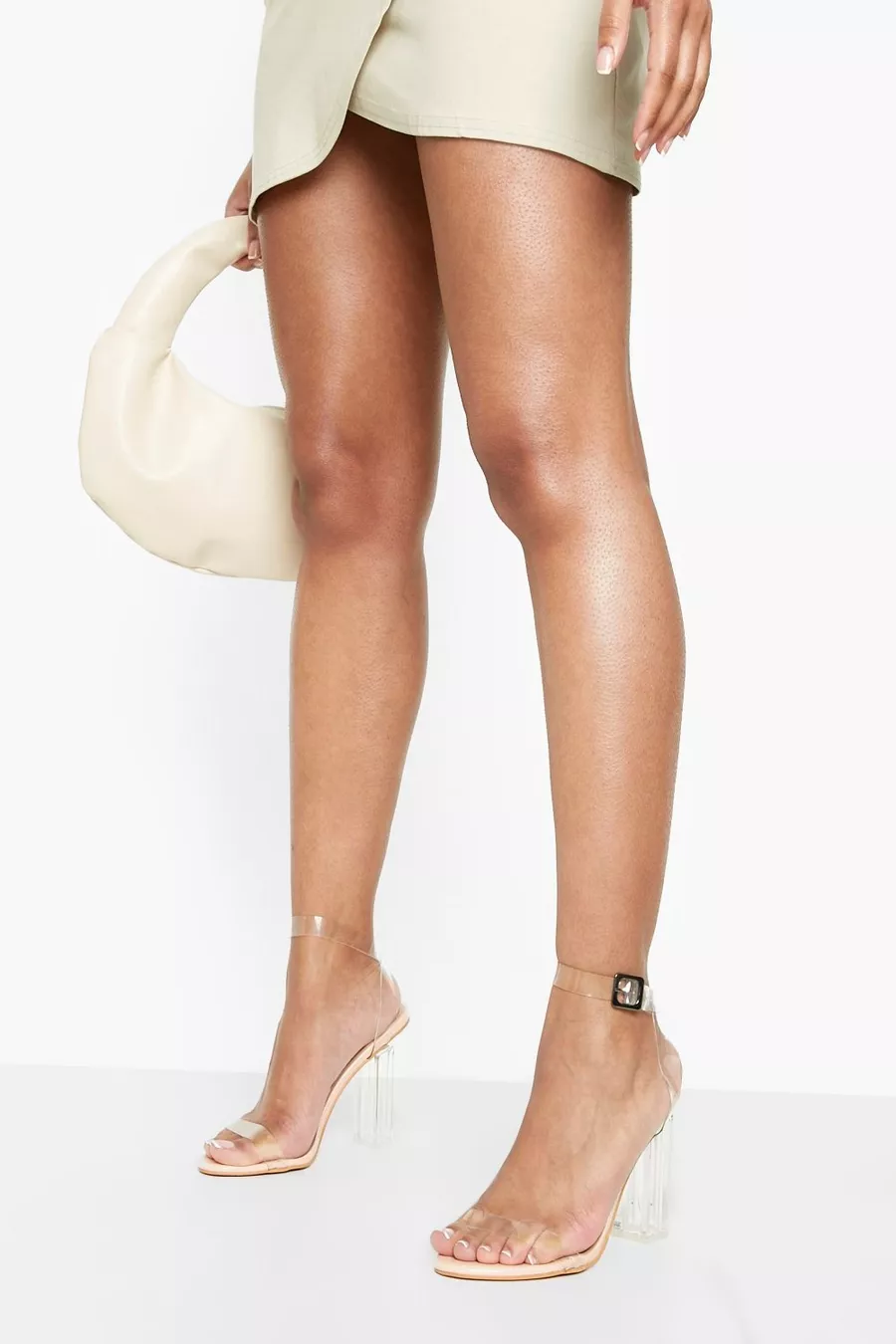 Specifications
Open-toe box
Transparent PVC single straps
Nude and Black color
Padded insole
Adjustable buckle

These gorgeous nude stilettos let you go about your day without any discomfort. It features a 4-inch block heel and an open-front design which elevates your look to the next level. The elastic strap and adjustable buckle secures your feet and leaves no room for a wrong size.
Your feet won't hurt at all as it will be supported by the lightly padded inner part all day long. Because of the versatile nude color, these pair of fashionable, minimalist slip-ons may easily match with any outfit.
The neutral tone also elongates the legs, creating the illusion of height. You can put it on while going to the beach, a date night, a brunch, or a business meeting, and add a stylish touch to any ensemble.

Pros
Comfortable Open-toe design
Versatile nude color
Lightly padded inner part
Ankle belts with adjustable buckle
Cons
A bit narrow for wide feet
2. Chinese Laundry Yanti Clear Slip-on Vinyl shoes

Indulge in the ultimate comfort and style with Chinese Laundry Yanti clear Vinyl shoes. These square toe shoes are not just ordinary shoes; they become your best friend, adorning your feet with elegance and confidence throughout the day.
Slip them on effortlessly, and experience the magic of two front bands delicately securing your feet without making you slip off. The rubber form provides you with sufficient cushioning. The thin chunky heels offer impeccable balance, stability, and a posture-enhancing effect that keeps you poised throughout your adventures.
With an open square front design, your toes find sufficient room to relax and adjust, ensuring a comfortable fit. Allow this pair to be your dependable fashion ally, accompanying you in every step throughout your day.

Pros
Securing square front
Comfortable chunky shoes
Cushioned Rubber bottom
Cons
Feels too open in the front.
3. SCHUTZ versatile PVC Pencil Stiletto heel
Top Pick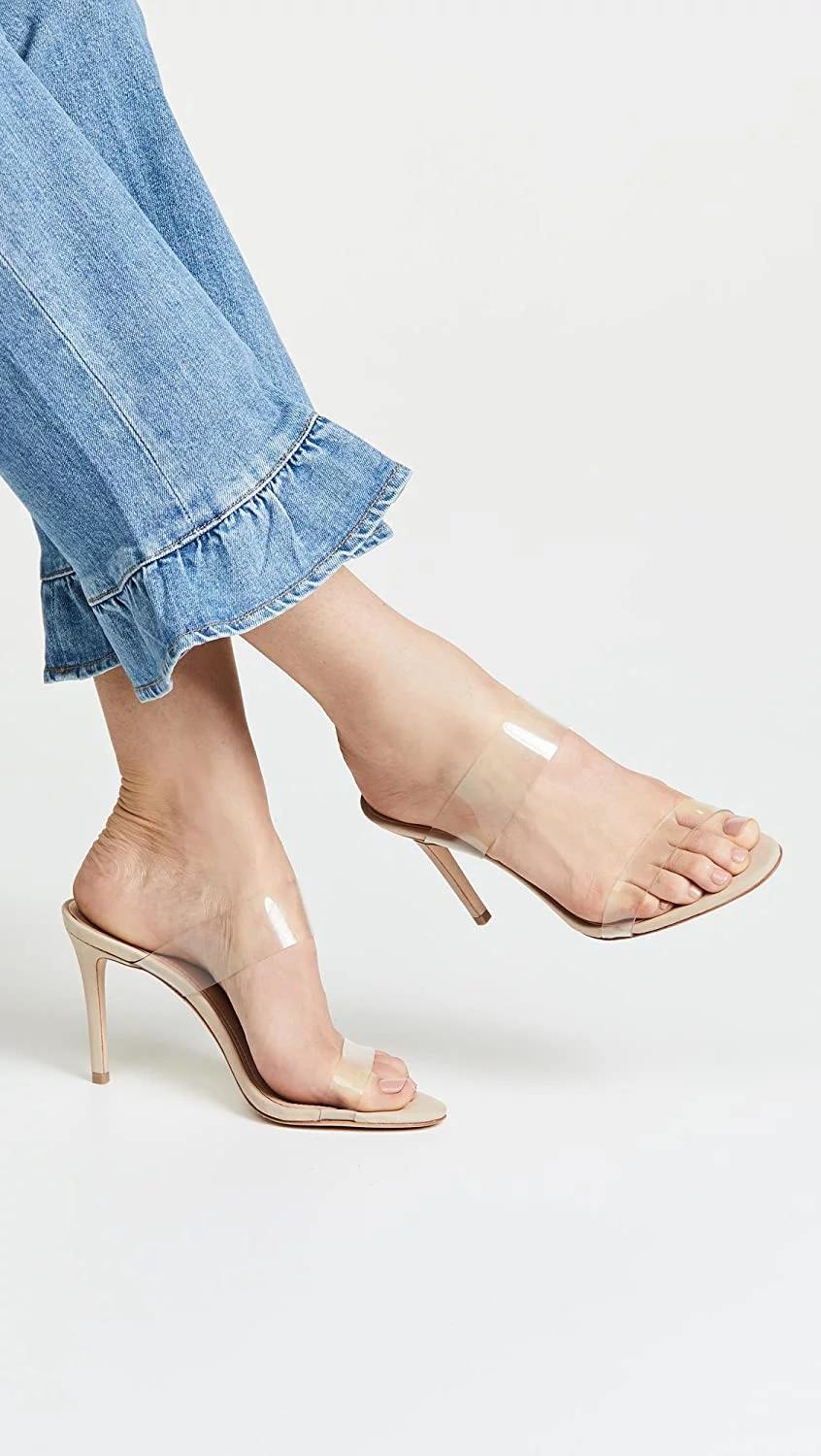 Specifications
Leather sole
Rubber heel patch
Vinyl dual straps
Open-toe
Pointed pencil stiletto

To slay the fashion world, you gotta get your hands on the Blanck PVC Rhinestone Dress Sandal. Trust me, it's a total game-changer for your shoe collection! These sandals have a heel that features a super durable leather form.
There's a rubber heel patch too, so you can strut your stuff in total comfort all day long. No more achy feet ruining your style! These shoes also have these cool dual bands that not only keep your feet in place but also give you that badass edgy look.
It's like a double dose of fashion and confidence in one. No need to worry about breathability! These got it covered. Your feet will stay fresh and cool, even on the hottest days. Get ready to turn heads and own the streets!
Pros
Comfortable dual bands
Helpful rubber heel patch
Sturdy Leather formation
Breathable
Cons
The thin pointed heel feels less comfortable

4. Dream Pairs Transparent Square Toe Mule Sandals
Best Wide Fit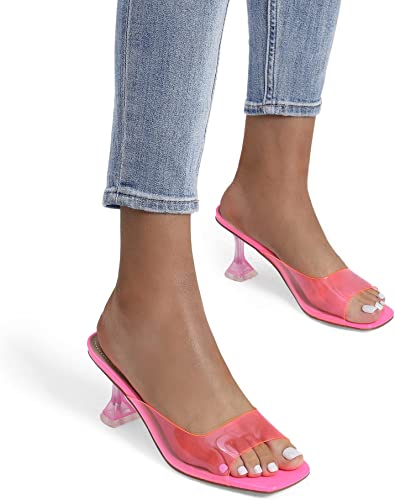 Specifications
Latex insole with PU leather
Slip-resistant outer material
2.6 inch height
Glass-like upper
Open squared front design.

These Dream Pairs Square Ftont Clear babies are all about blending chicness with comfort. These are designed to make your feet feel like they're walking on clouds. The latex inner, covered in smooth PU leather, offers unbeatable support and cushioning. Say goodbye to tired feet at the end of the day! But it's not just about comfort.
Their outer parts are built for stability too. The slip-resistant outer ensures you can go anywhere wearing these without worrying about sliding off. The 2.6-inch height and the glass-like upper give these shoes a sophisticated vibe. They're like a fashion statement for your feet, making you look great, fierce and fabulous!
The square front design not only adds to the overall aesthetic but also keeps your feet in place and reduces strain on your precious feet. If you're looking for something to up your fashionista game, this clear sandal deserves to be in your wardrobe to elevate your outfits.
Pros
Comfortable latex footbed
Non-slip outer material
Thick glass-like upper
Breathable open squared-front design
Formal
5. Mackin J Clear Wedge Sandals
Top Pick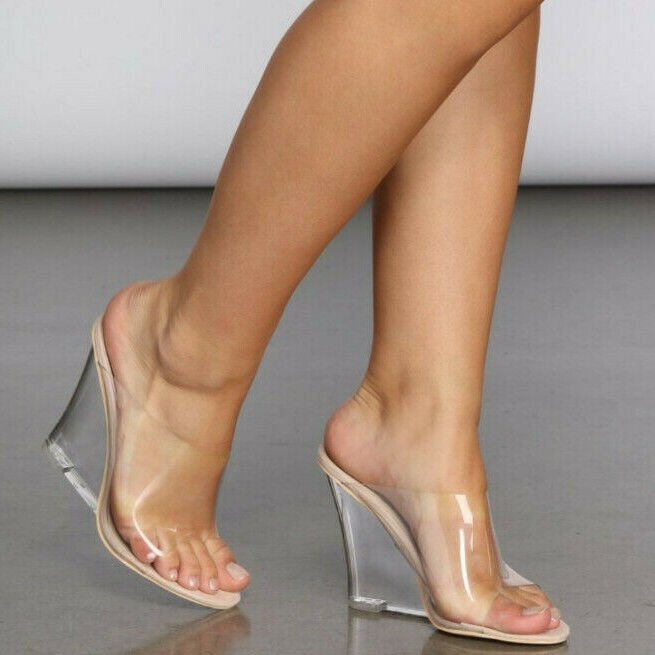 Specifications
Slip on design
Clear chunky wedge design
4 inch height
Faux leather outer
Padded insole
TPU foot band
Open front

If you're not into those pointy heels and want something more comfortable and stylish, then girl, wedge-style heels are the answer to your prayers! These shoes are right out of your dreams – they are not only pretty but also oh-so versatile.
These clear open-frontheels combined with a wedge create a style that's perfect for any occasion.
Whether you're hitting the office or painting the town red at night, these shoes got you covered! These beauties have a padded inner made of soft and breathable material. No more shoe bites or achy feet ruining your day! You can rock these shoes from morning to night without any worries. Wondering what's the cherry on top?
The gorgeous heel measures approximately 4 inches. This heel height is perfect and adds a touch of elegance and sass without sacrificing comfort. Even if you wore them all night, you'll feel like you're on a cloud. Grab yourself a pair of these wedgies and look like the smartest one in the room!
Pros
Convenient design
Comfortable padded inside and thick wedge design
Gorgeous 4 inch heels
Available in multiple sizes
6. Steve Madden Camille Chic Pumps With Ankle Straps
Top Pick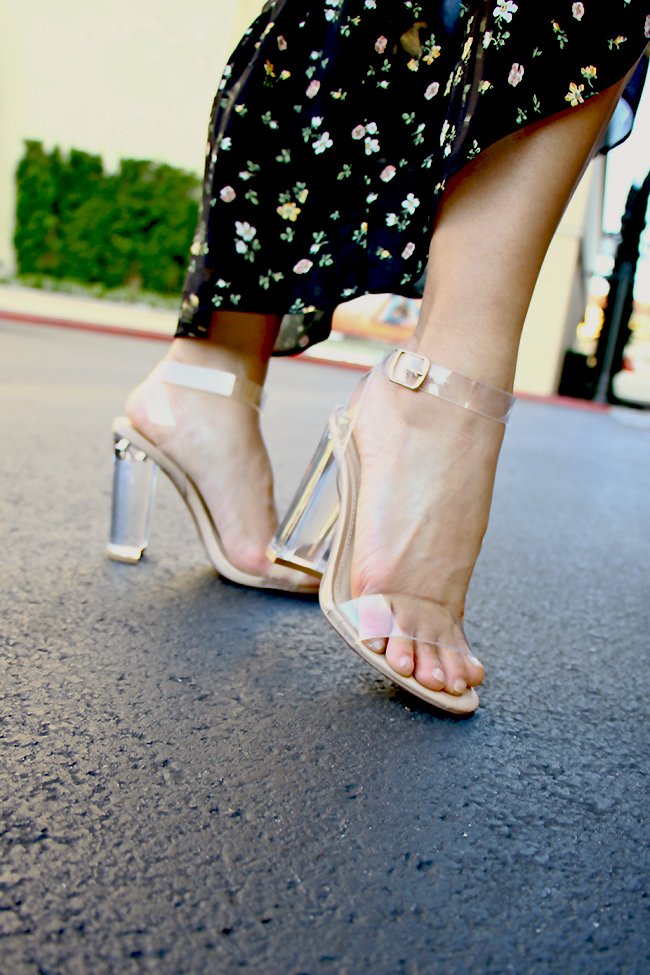 Specifications
Clear lucite heel
100% plastic upper
Man-made lining and sole
Slingback strap
Buckle Closure
Open front and back

Get ready to rock the world with the Steve Madden Heels! The silhouette of these heels is just on fire. It's chic, and has that subtle elegance that makes it a total crowd-pleaser. You'll be stealing the spotlight with no doubt.
Featuring a clear lucite heel with a plastic upper material, these keep your foot securely in place. You don't need to worry about any sliding. The man crafted foundation and lining provide ultimate support for your precious feet.
You can dance the night away without any worries. To save the day, they also include a slingback band. The attached buckle closure allows you to adjust the fit for maximum comfort.
It's all about finding your perfect fit. Get the body lift you've always wanted with its perfect 4-inch heel. You'll feel like a total bombshell, trust me! So, if you're ready to take on the world, you need this pair of showstoppers. Prepare to slay, turn heads, and flaunt your awesome style!
Pros
Sturdy lucite heel
Strong plastic upper material
Supportive Man-made lining and foundation
Buckle closure
Cons
It does not have the best grip.
It does not have the best cushioning.
7. SCHUTZ Ariella Platform Sandals
Top Pick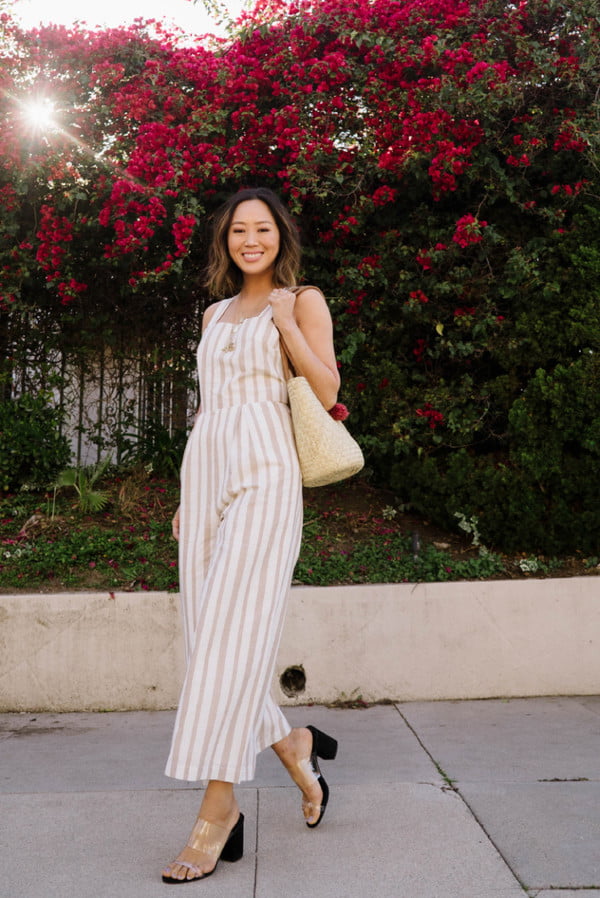 Specifications
3.5 inch heel
Open, squared front
Two PVC wide upper straps
Cushioned footbed
Leather sole
Rubber heel cap
The design of these clear Platform Sandals will slay on your feet at any formal occasion or just a day out. The chunky style adds some serious height and gives you that extra boost of confidence. Comfort is key in these slide sandals.
The cushioned inner ensures that your feet stay cozy all day long, even during those endless adventures or meetings. As it's designed with two PVC wide upper straps, you get a customized fit. Not only durability, the leather formation also adds a touch of sophistication to your outfit.
Preventing you from any sliding and offering excellent traction, there is the rubber heel cap and the block shaped heel. You can choose from the three cute different colors anytime.
Whether you're dressing up for a night out or rocking a casual look, if you're looking for several compliments at work, the Ariella Platform Sandals are a must-have in your shoe collection.
Pros
Elongating chunky design
Comfiest cushioned inner
Sophisticated leather outer
Rubber heel cap and block heel providing traction
Cons
The wide second band looks a bit weird
Trendy & Party wear
8. Cape Robbin Open-toe Clear Pointed Toe Shoes
Top Pick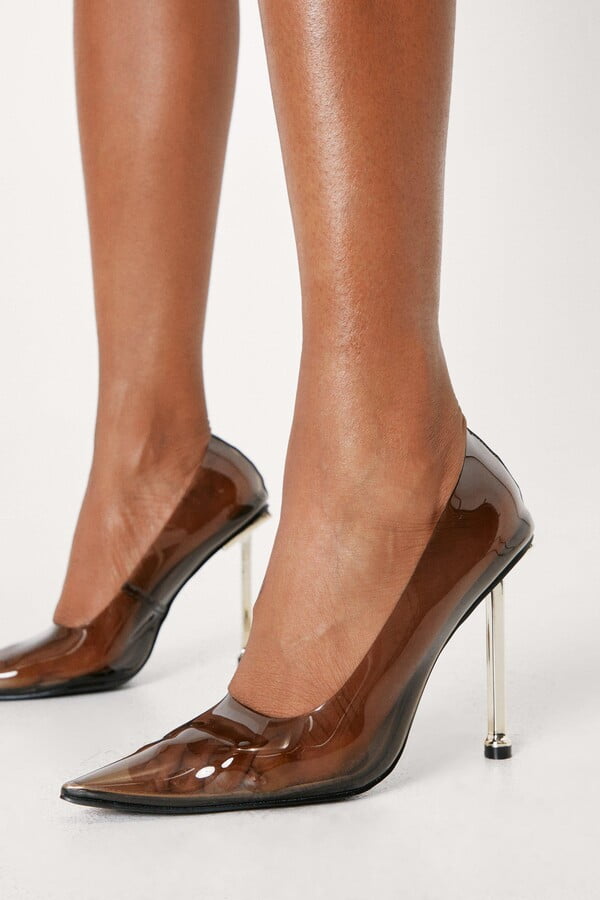 Specifications
Edgy pair
Close pointed front design
Padded insole
PVC upper
Rubber outsole

These slip-on pointed stilettos win everyone's heart at a party. The transparency shines as if it's a glass and gives you a modern and fashion-forward edge. They effortlessly add a touch of sophistication to any outfit. Yet, they do not disappoint on the comfort part. The pointed front may give off a fierce vibe, but fear not!
Because of the padded inner, closed fit is surprisingly comfortable, and your toes won't feel squished or cramped. Plus, the stiletto heel provides stability while adding height and grace to your stride.
The PVC used are are sturdy and durable, ensuring that these heels will withstand the test of time. Being well-crafted, they won't easily show signs of wear and tear. With it's rubber outer, you don't have the risk of sliding every few minutes. These heels will elevate your look and have you strutting with confidence any day, anywhere.
Pros
Easy-to-wear stilettos
Sophisticated glass-like upper
Padded inner
Elongating pointed style
Sturdy PVC
Rubber outer
9. Wetkiss Women's Anti- Slip Rhinestone Clear Heels
Top Pick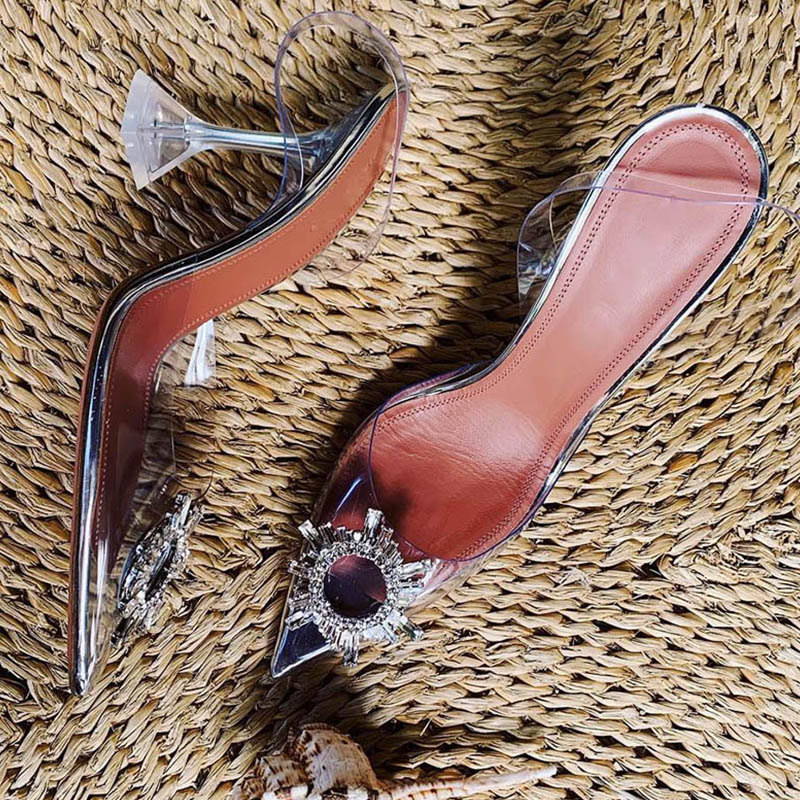 Specifications
PVC upper
Rubber outsole
Stiletto flare design
Pointed closed front
Rhinestone jewel embellishment
Slingback strap

Looking for something fancy, gorgeous, and sparkling for a party or a wedding? Get ready to shine like a star with these Wetkiss fabulous crystal high heels! These shoes are made with a PVC upper and a rubber outer, letting you have stable steps and a snug fit. The extra wide straps are designed to give your foot optimum comfort.
Say goodbye to those painful shoe moments and hello to pure bliss! To amp up the classy factor, these heels feature a stiletto flare design with a pointed front. It's all about adding that extra flair to your overall look.
There's also the jewel design that adds a dazzling sparkle, wearing these are the perfect choice for fancy special occasions. Ease of walking is ensured by the soft and comfortable slingback band. These crystal high heels are the epitome of style, comfort, and stability. Slide them on with no tension in mind and no feet pain!
Pros
Anti-slip rubber outer
Comfortable upper PVC
Extra wide straps
Rhinestone jewel embellishment
Securing Slingback band
10. Pleaser Women's Flamingo Platform Sandals
Top Pick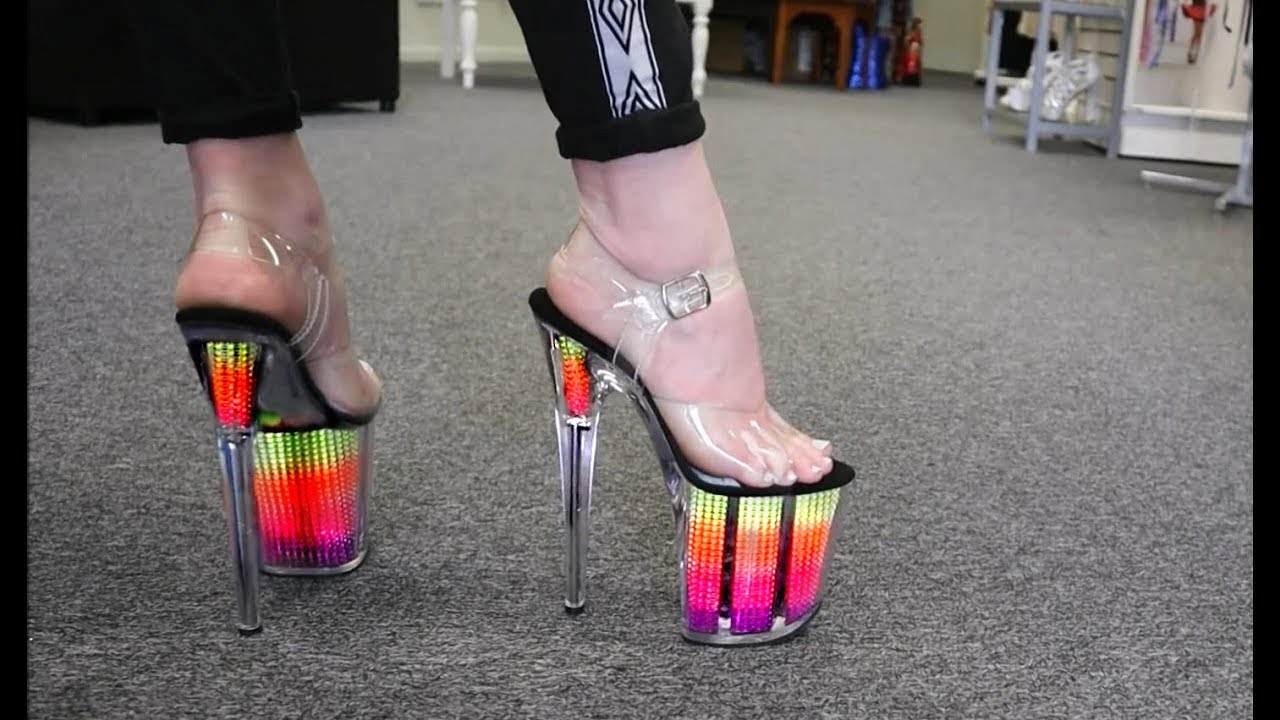 Specifications
Rubber padded insole
Adjustable ankle buckle
Soft rubber formation
Chunky design

Looking forward to being the center of attention, being edgy and fun? Then these 4-inch chunky sandals must be your go-to shoes at any party you wanna steal the show off. To enhance the style and keep you comfortable, these are equipped with a silver-toned adjustable ankle buckle and a soft rubber bottom.
The soft rubber padded footbed keeps your feet relaxed. You won't have to sacrifice comfort for fashion anymore! The crystal clear front and ankle belt adds a touch of elegance to your fit, elongating your legs to give them a toned look.
If you want to look and feel confident front of hundreds at a party, these ones are for you.
Pros
Soft rubber padded inner
Adjustable ankle buckle
Made with high quality PVC.
Conclusion
By choosing a pair of these fashionable clear heels, you ensure you're always on-trend. A transparent heel adds a touch of modernity to any outfit, making sure you never have to settle for a dull or uninspiring look again. Embrace the excitement of fashion and stand out from the crowd with a clear heel.