Asics Gel Venture 7 vs 8 is an ongoing topic among most runners. They rarely have any differences in performance and responsiveness.
Both shoes are well cushioned and made with breathable mesh. Both of them can suit your shoe collections as regular shoes. Then, why is Gel Venture 8 higher in the price?
The major difference between n Ascis 7 and 8 is their price point. As Asics 8 is an updated version, it has a little more rigid construction, insole and outsole comfort and new color options. However, many people still prefer 7 as they need to notice these updates.
Stick with this article; you will learn more about these product actions.
About Asics Gel Venture 7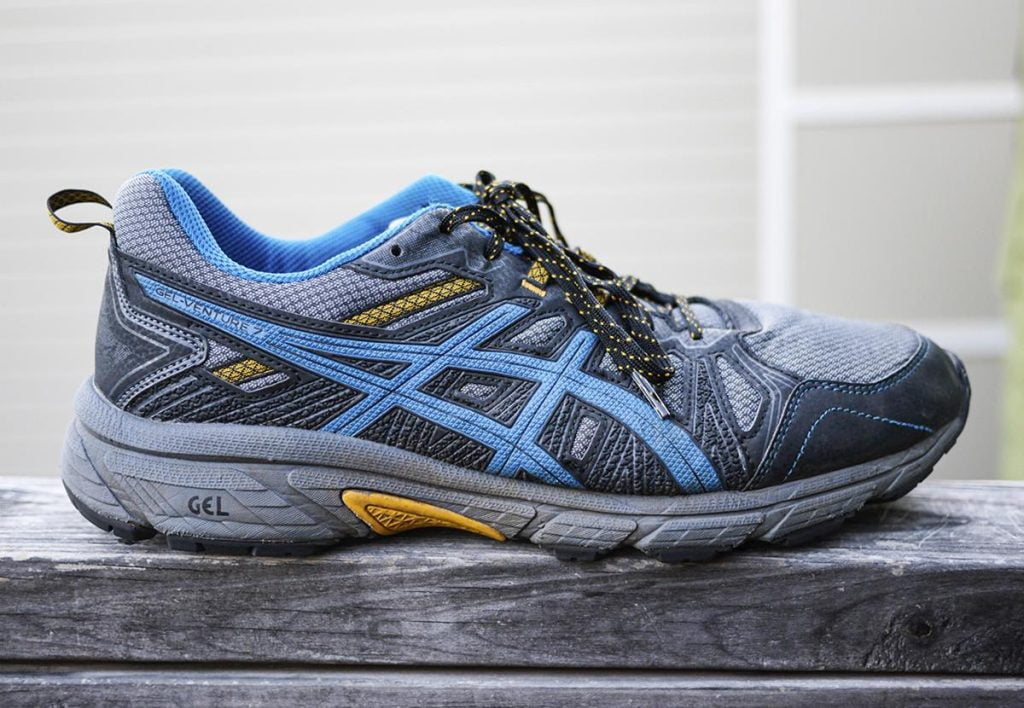 Asics Gel-venture 7 is well known for its quality at such an affordable price. The running shoe offers full foot protection with a decent amount of comfort. The material and construction ensure that your shoes last a bit longer.
This is recommended to beginners who want their shoes to be more stable and less aggressive. Well, as these are made with rigid design, you don't have to worry about sensitivity too.
Unlike other rigid shoes, Asics 7 will let you feel the underfoot situation well. The outsole is quite flexible and provides average traction while running over terrains and surfaces.
Pros
Budget Friendly
Good for safety 
Longer service life
Cons
The shoes can get overheated during the summer
Rigid materials add weight 
About Asics Gel Venture 8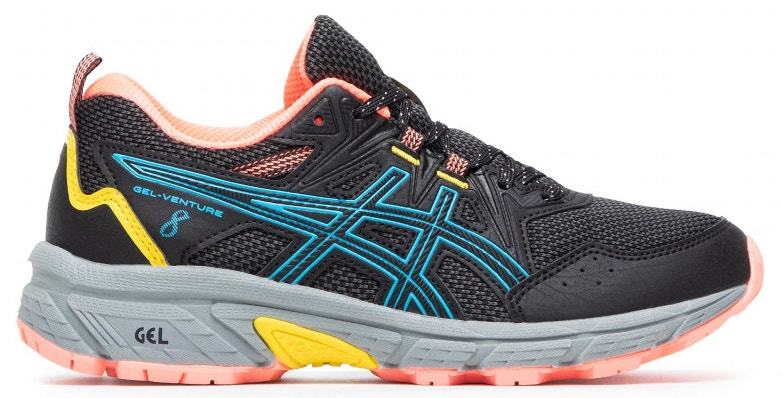 Asics gel-venture 8 is designed for great outdoor adventures. This is a good fit for people who are searching for an aggressive trail shoe. It comes with switch flat laces that will accommodate your feet securely without hurting their feet.
However, the shoe has a narrow toe box, which might not be good for people with wider feet. But the shoe seems really lightweight, and the pronation is also comfy. You can easily carry them for light hiking.
This version of Asics promises maximum durability even after using it for hundreds of miles. Its deep pattern design on the outsole gives a good grip and ensures balance. Here you will get a secure and smooth feeling after wearing them. It's because the shoe sole has plenty of cushioning, especially since the midsole seems smoother with gel cushioning. 
Pros
Secure and Smooth
Longer service life
Excellent for trail runs
Cons
Not suitable for wider feet
Asics Gel Venture 7 VS 8: What Are The Differences?
This is really tough to choose between Gel-Venture 7 and Gel-Venture 8 of Asics. Both trail running shoes are inexpensive and great options for hiking or exploring new areas. Both of them has gel technology and similar construction design.
Give a quick check on the following table to get the basic knowledge about these two tail running shoes:
| | | |
| --- | --- | --- |
| Basis Of Comparison | Asics Gel Venture 7 | Asics Gel Venture 8 |
| Durability | Less | More |
| Weight | Less | More |
| Comfort | Less | More |
| Price | Less | More |
| Breath ability | Less | More |
Comparison & Explanation- Which One is Better?
Which One is Easier to Carry?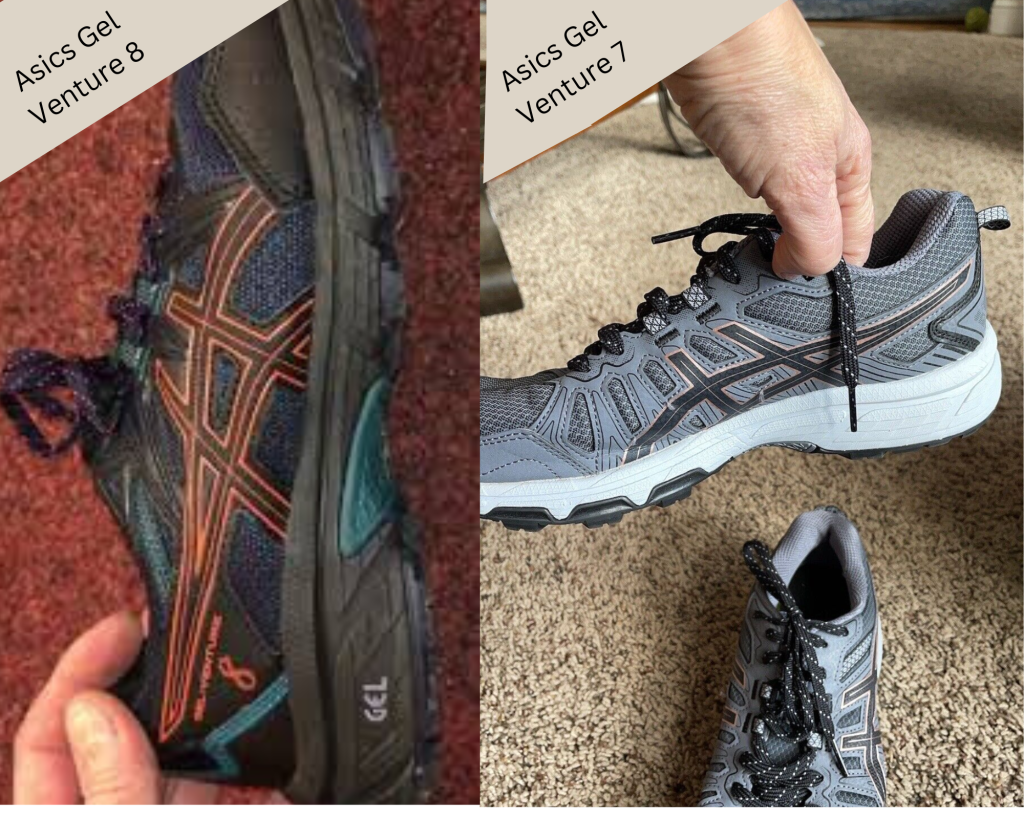 Well, Asics 7 is a good running shoe and is lighter than its 6th version. However, if you compare it with its updated 8th version, You will find 7 heavyweight shoes.
Well, the weight is more just because of its high-quality materials. Manufacturers have tried to give it a more durable and long-lasting design. Because of that, the weight is a bit more.
If you try the 8th one, you will find them extremely lightweight and grippy. When you're running around wet and dry places wearing them, you'll find them really easy to carry.
Which One is More Durable & Safe?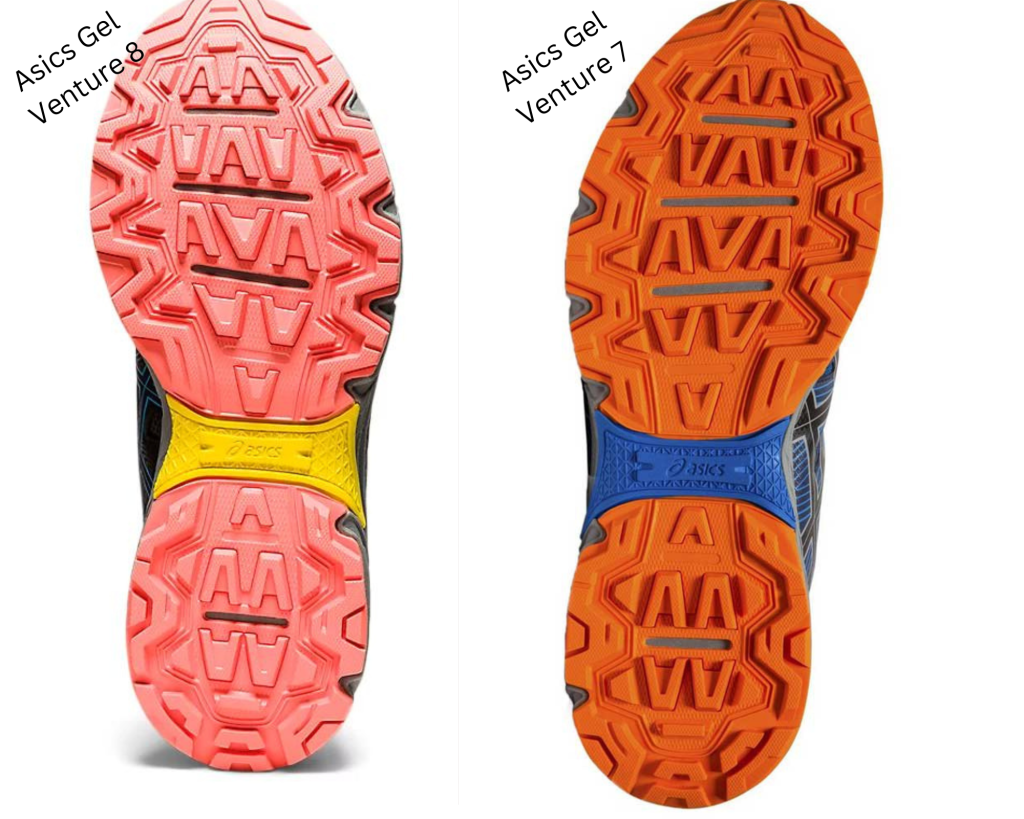 The service life of the running house depends on its construction, materials, and designs. If you compare them, the Asics 8 laces are a bit thicker on your feet overall. It has better pronate capacity on both the upper downside.
The 7th one is a bit stiffer, and the 8th one is a bit more spongy. Its rigid construction will ensure you can run the fastest with stability. If you want something for running outside and still want the shoes to look new, Asics gel venture 8 is a good version.
The 8th version can provide a better grip if we talk about traction. This ensures you can overlay your feet well and give safety while running for miles. The rear foot technology protects your feet from potential injuries and will save your joints.
It also has enough shock absorption capacity to hold the balance right. Overall, both the Asics 7 and 8 are durable, but the 8th one seems better with constructions.
Which One is More Stylish?
If you compare the designs of both Asics shoes, you will find both worth it. However, many people settle for 8 because of its more color options.
Which One is More Comfortable & Breathable?
Ascis 8 is comparatively more breathable as the upper part of the shoes is built with mesh. It has enough toe room to fit feet if you can choose the right size. You need to measure the width well to have enough breathability.
The upper side of Asics Venture 7 is comfortable but less breathable than 8. The heel area is smoother than 7, and the midsole is inward with extra padded cushion for additional comfort. However, Asics 8 is not the smoothest and softest running shoe on the market.
The Asics Gel 7 is designed with an anti-gravel upper outsole for maximum comfort and softness. On the contrary, Asics 8 has a flexion fit upper, which can seem comfy to people who don't want their shoes to be extra soft.
Honestly, you will hardly experience any difference between these two. Still, the 7 one weighs about 380 kgs, and the 8 is around 420 kgs which hardly matters.
Wrap-up
You can hardly notice any major differences between Asics Gel-venture 7 and 8. However, if you are really concerned about getting the perfect one, do a trial first. Both of them are good for light hiking and exploring around.
Both running shoes is designed with forefoot comfort, versatile usage, stable arch support, and a secure lacing system. All these together keep your shoes stable even after miles of running.
You will hardly find such durable outsoles in such expensive shoes. Gel Venture 8 is certainly better, as it is an updated version. Lastly, Gel Venture 7 is also a good shot if you're running short on budget.