You should give walking a shot if you're facing a hard time losing weight, but weight can put a lot of pressure on your joints. To prevent flat feet, overpronation, plantar fasciitis, supination, and knee problems, you should start walking with a walking shoe.
In this article, you will find exactly the things you need to know before choosing your perfect walking shoes.
What to Look for in Walking Shoes for Overweight Men?
Cushioning
The heavier you are, the more impact walking might have on you, both bad and good. You must get a shoe with good cushioning to prevent some of the bad impacts of walking on your feet, knees, hips, and lower back. Some shoes have cushioned footbeds and some have shock-absorbing insoles and outer soles. Either way, you should make sure your shoe has proper cushioning to make walking an easy job.
Cushioning walking shoes can also enhance your overall comfort, protect you from injuries by providing shock absorption, and prevent fatigue if you walk a lot or stand all day. Cushioning can also improve your posture and balance by supporting your arch and preventing overpronation.
Breathability
If you don't want your feet to reek of sweat, you should get shoes that offer breathability. Not only can overweight men feel hotter and get sweaty, but the heat can also swell your feet up and make the shoe tighter. You should get breathable shoes that allow internal moisture vapor to escape efficiently, preventing wet feet and socks, athletes' feet, fungus, bacteria, and smelly feet.
Arch Support
To avoid issues like dropped arches and plantar fascia, look for shoes with strongly arched insole. With the support, you can twist your ankle freely while playing any sports, running, or going for a walk. It will reduce the pressure on your ankles and knees.
Arch support walking shoes can also improve your foot and body alignment, prevent overpronation or supination, and distribute your weight evenly across your foot. Arch support can also help relieve pain in your heels, arches, balls of feet, and lower back.
Fit
Your comfort comes first when it comes to anything you wear. And being overweight, it is hard to find the correct fit for your feet. You should check a shoe out especially when your feet feel slightly swollen because it can be vastly different from when it is not.
Traction
To prevent slips and falls, you need to get shoes with utmost traction. You can be severely injured if you fall trying to walk on uneven or slippery surfaces. For full security, you can buy shoes with a rugged outsole so you can walk on whatever and whenever you want to.
Brand and Price
Buying a shoe is a big investment. You do not want your pair to get worn out in a week and you having to go buy a new one. To avoid such circumstances, you should choose a brand that designs durable shoes especially to assist overweight men while they are walking. To get high-quality branding, you need to spend a good amount of money too. But if you get the right pair of walking shoes for heavy people, you might see it twice as valuable as cash.
10 Best Walking Shoes for Overweight Men
Whether for walking or running, here are the 10 Best Shoes for Overweight Men. If you are overweight or suffering from diseases such as plantar fasciitis, these shoes are what you have been looking for.
1. Merrell MOAB 2 Vent Hiking Shoes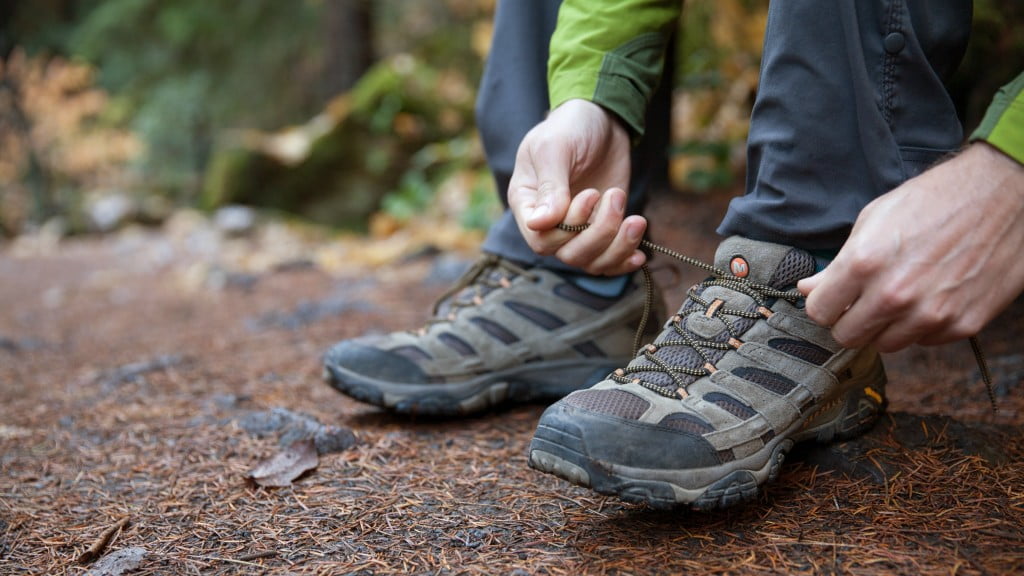 Pigskin leather and mesh upper
Breathable mesh lining
Lace closure
Protective toe cap

The MOAB 2 Venting Hiking leather walking boots really are the Mother of All Boots. Merrell is one of the leading outdoor shoe manufacturers. You can put this pair on both for a hike on Mount Everest or a walk down your front door pavement.
Its cushioning, durability, and support will stick with you through any tears and keep your ankles and joints feeling stronger than ever. Its breathable mesh upper allows air to circulate, keeping your feet cool and dry.
The sturdy Vibram sole provides excellent traction on slippery surfaces. These rugged athletic shoes are also a versatile option for hiking, camping, and other outdoor activities, offering reliable performance and comfort for long days on the trail. It is an excellent choice for overweight men.
Pros
Protective toe cap.
Hardwearing 3Vibram sole.
Bellows tongue to keep out debris.
Mesh breathable upper material.
Available in various fittings and colors.
Cons
Not suitable for fashion.
2. Skechers Men's Equalizer Persistent Slip-On Sneaker
Elastic fabric provides a perfect fit
Easy slip-on system
Breathable mesh upper
Memory foam insole
Shock-absorbing rubber outsole

You can slip on these flexible rigid sneakers whenever you need to go out for a walk. The memory foam within the shoe provides excellent cushioning and support for your feet. Every step you take will feel like you are walking on a cloud.
The breathable mesh upper hugs your feet and keep them cool and dry. Its flexible outsole allows for natural movement and traction. The rubber bottom comes with shock absorbers and a good grip, preventing you from slipping and making your walking experience more pleasant.
Pros
Elastic fabric.
Rubber sole with good grip.
Memory foam cushioning.
Breathable outer material.
Easy slip-on and lightweight.
Available in various colors.
Cons
Cushioning may feel too full.
3. New Balance Men 877 V1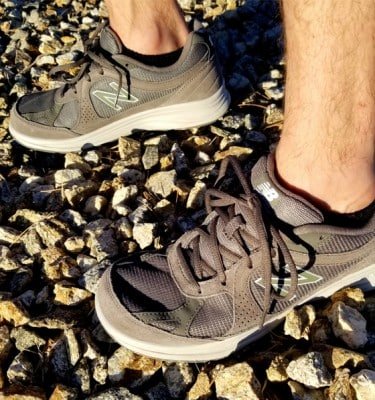 Rubber sole
Breathable and mesh upper
Cushioned footbed
Eva midsole

Along with its versatility in fashion, the New Balance Men 877 V1 suede shoe is perfectly robust and supportive to be your regular walking shoe. The heel counter is very supportive, attached to a fully cushioned footbed and a breathable upper.
Its rubber sole is perfect for pavement pounding or walking on any slippery surface. It is available in various sizes and colors to be the perfect fit for both your feet and your fashion sense
Pros
Rubber sole.
Breathable suede and mesh upper.
Lightweight.
Cushioned footbed.
EVA midsole.
Available in various colors and sizes.
4. ASICS Men's Gel-Venture 6 Running Shoe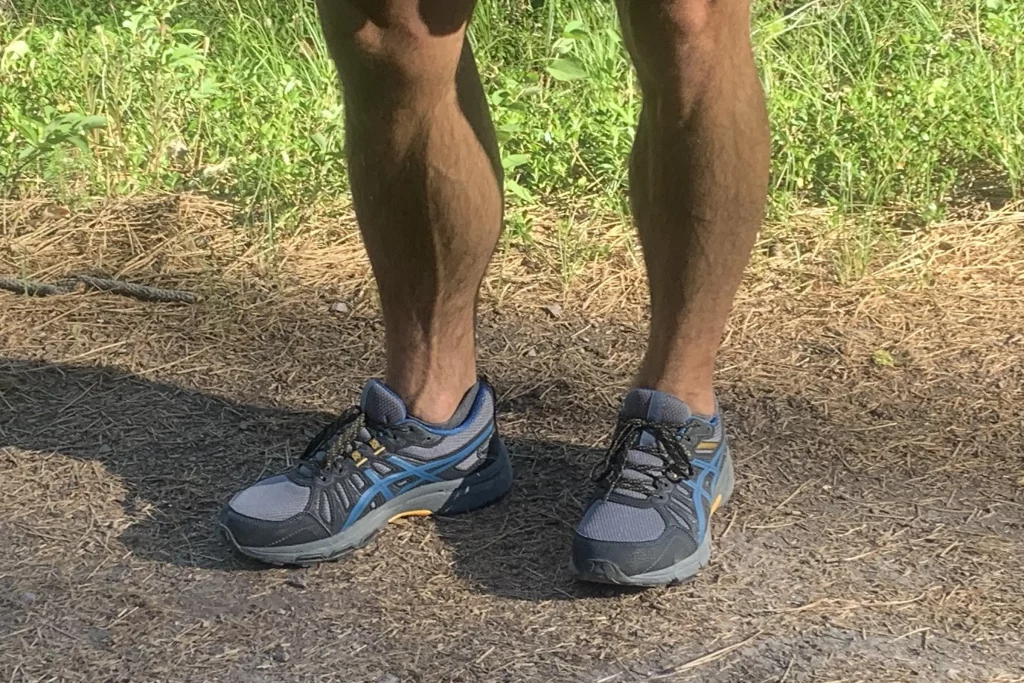 Thick sole for shock absorbance
Gel Cushioning
Abrasion rubber outsole for traction and grip
Removable sock liner 

This neutral shoe is designed especially for heavy walkers and hikers. Its thick sole acts as an excellent shock absorbent and provides your feet with maximum support and cushioning. The heel even has gel cushioning for preventing any sort of bruises.
The shoe features a premium material abrasion rubber outsole which provides traction and grip and enhances its durability. The removable sock liner of the shoe will make life easier for you if you need to use medical orthotics.
Even though it is one of the most rigid shoes on the market, it feels light as a feather on your feet.
Pros
Heel gel.
Removable insole.
Premium quality abrasion rubber outsole.
Available in different sizes.
Lightweight.
5. Saucony Men's Grid Omni Walker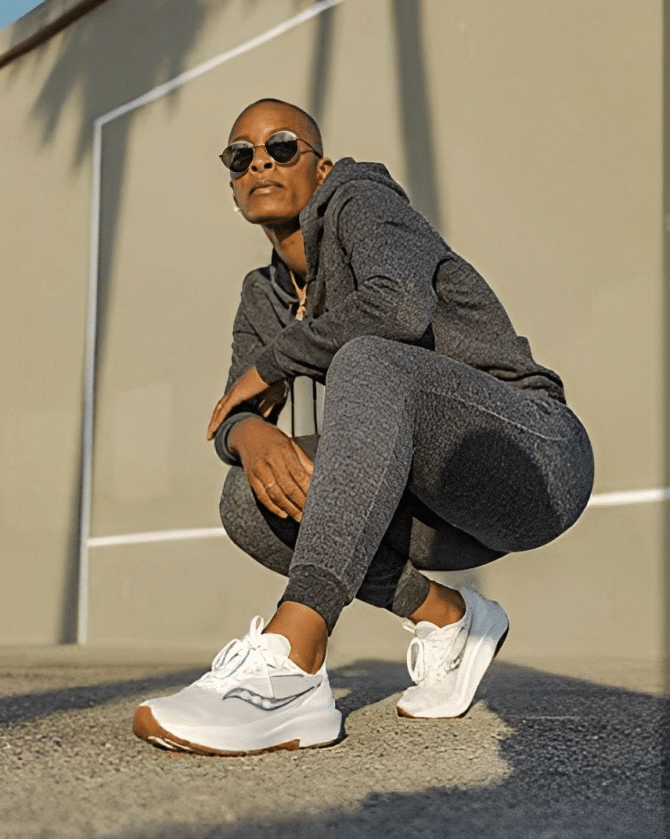 Leather upper
EVA cushioned midsole
Rubber outsole

These cushioned and supportive feet huggers are great walking shoes for heavy walkers. The leather uppers make them very hardwearing and stylish. The Grid cushioning system in the midsole offers exceptional shock absorption and support for a comfortable stride, while the non-slip outsole provides excellent traction and stability.
But if you are planning to go on walks on surfaces other than pavements and tarmac, these are not the best shoes for you.
Pros
Naturally waterproof.
Leather upper.
Cushioned and supportive EVA midsole.
Rubber sole.
Available in white or black.
Available in regular and wide fittings.
Cons
Cannot walk off-roads in these.
Might slip on wet surfaces.
6. Brooks Men's Adrenaline Gts 18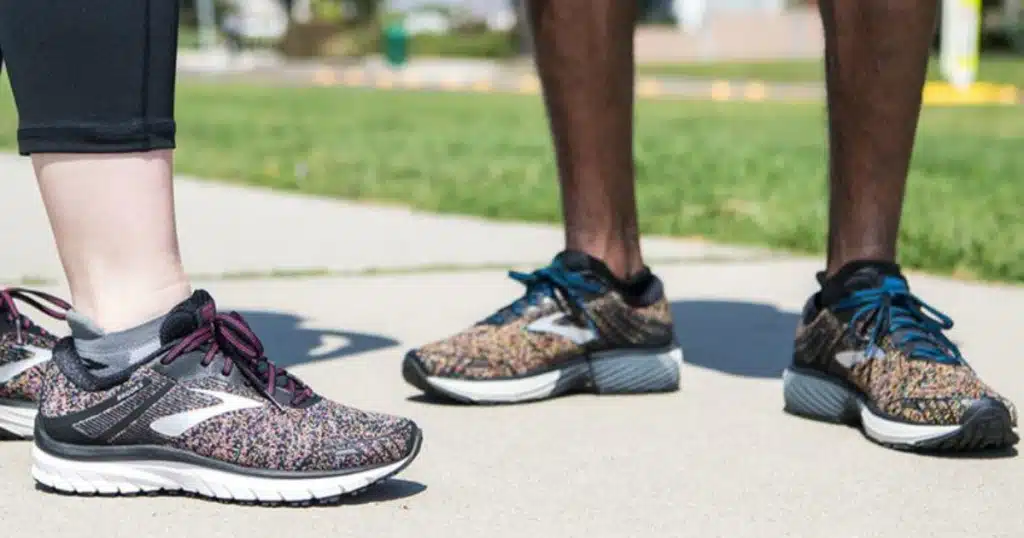 Breathable mesh upper
Removable BioMoGo DNA cushioning
Durable rubber outsole
Paddle heel
These comfortable shoes are specially designed especially to assist heavy men in their walks. The breathable mesh upper allows your feet to stay cool and odorless while the shoe is perfectly fitted around your feet for its lace-up closure. The removable BioMoGo DNA cushioning system in the midsole offers exceptional shock absorption and arch support.
It also comes with a durable rubber outsole so that the shoe is suitable for wearing on various surfaces. It is a stability shoe for pronators and flat feet walkers.
Pros
Breathable mesh.
Padded collar in the heel counter.
Removable cushioning system.
Rubber sole.
7. Skechers Performance Go Walk 5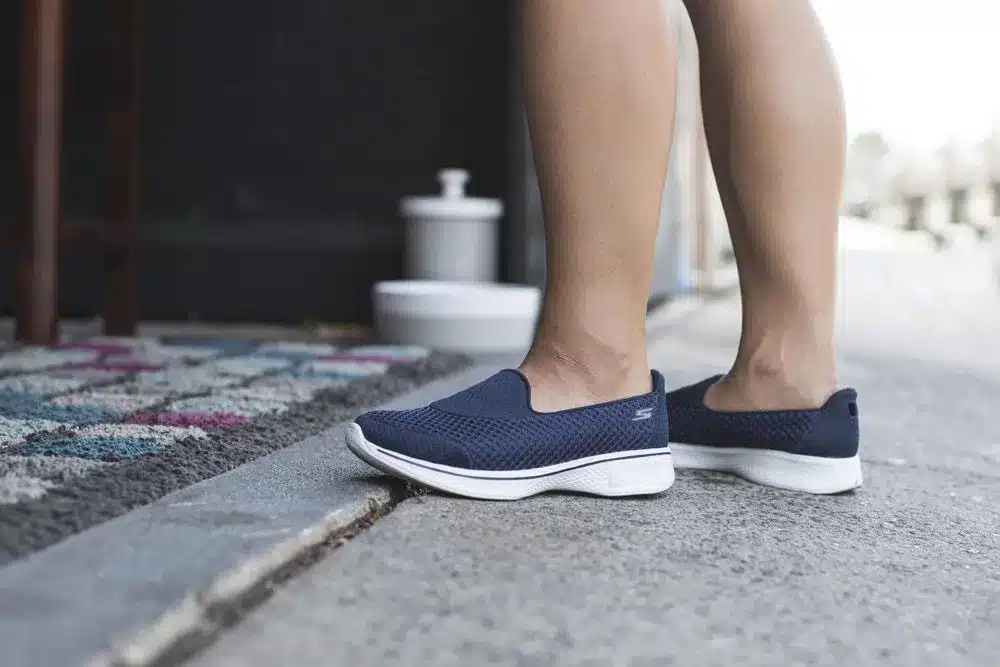 Stretchy knit upper
Responsive Ultra Go cushioning
Anti-bacterial memory foam shoe liner
Rugged rubber outsole

Skechers is known for its walking shoes for overweight walkers and this particular pair of shoes is as light as a cloud, yet provides good enough cushioning and support that heavier walkers might need.
The shoe's breathable and stretchy knit upper provides you with a comfortable and secure fit. The responsive Ultra Go cushioning inside the shoe are great for arch support.
You can use it on various surfaces with no fear of slipping because of its durable rubber outsole with multi-directional traction. If you are not looking for getting tired of walking because of how much it hurts, this is the right shoe for you.
Pros
Breathable and stretchy knit upper.
Anti-bacterial memory foam shoe liner.
Available sizes for narrow and wide feet.
Rugged outsole for a non-slip grip.
Cons
Not the best shoe in the hardwearing part.
8. New Balance 847 V4 Walking Shoe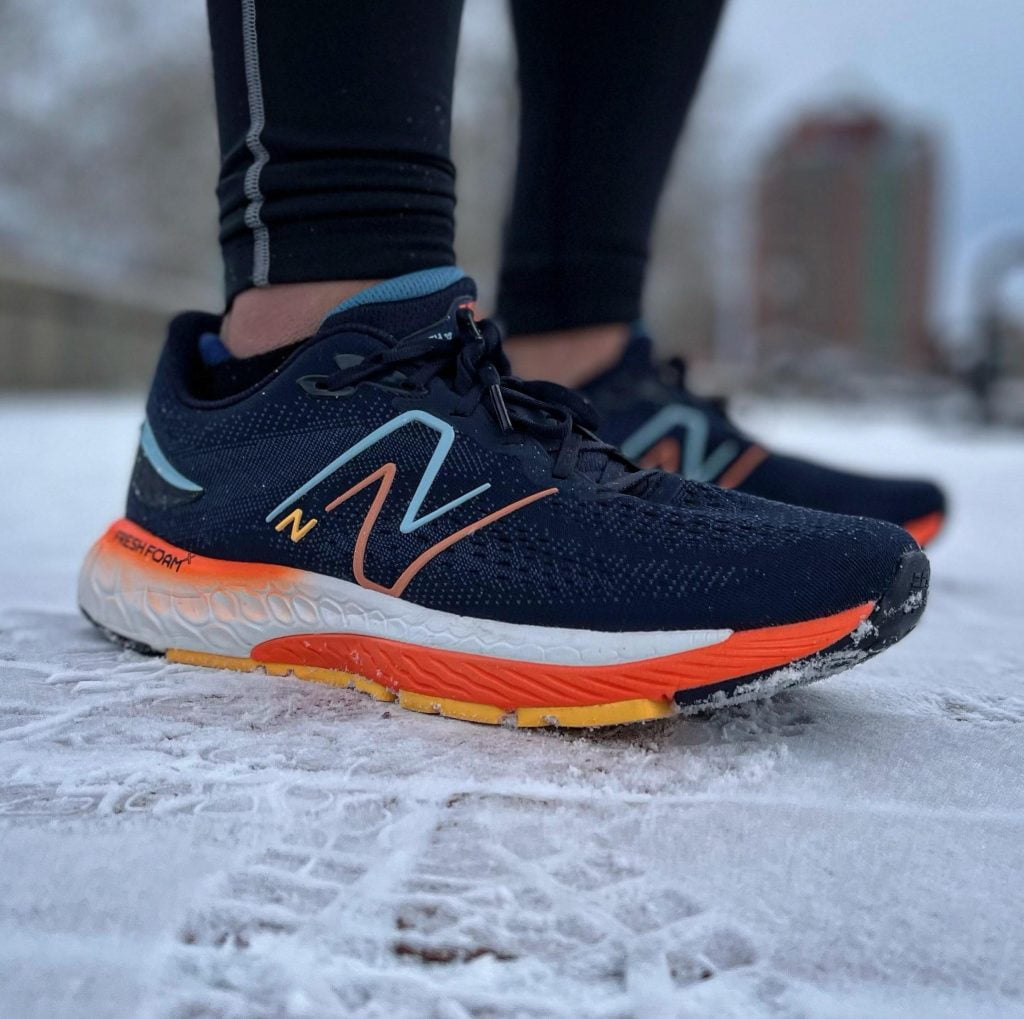 Trufuse insole
Sturdy heel counter and roomy toe box
Breathable mesh upper
Rubber outsole

New Balance shoes are always perfect for overweight people who are looking forward to taking care of their feet and joints while walking. Its true insole provides cushioning and ample shock absorption, while the upper mesh allows for breathability, keeping your feet cool and dry during long walks.
The rollbar stability offers arch support and the roomy toe box enhances the comfort. The rubber outsole ensures you a safe walk by providing traction. The shoe is a perfect blend of quality, comfort, and stability for walking.
Pros
Trufuse insole for enhanced cushioning.
Sturdy heel counter and roomy toe box.
Breathable mesh is upper.
Durable rubber outsole.
Available in various colors and sizes.
Cons
Very expensive compared to other shoes of the same quality.
9. Rockport Men's Eureka Walking Shoe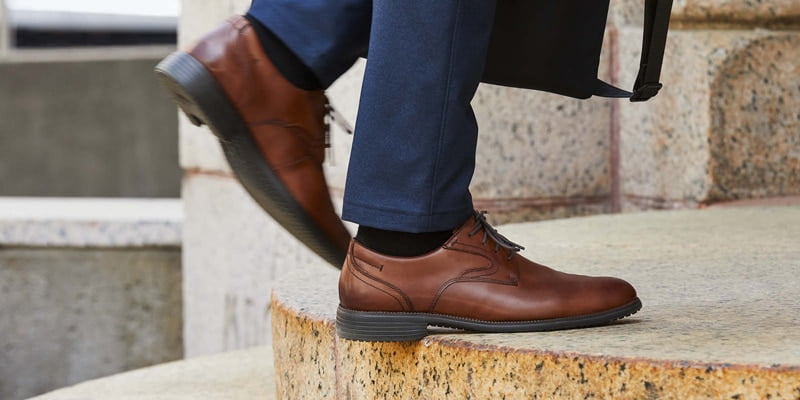 100% leather upper
Breathable mesh lining
San Crispino construction and padded collar
Removable latex foam footbed
Rubber outsole
This pair of waterproof walking shoes has both style and quality for you in the store. It is made of 100% leather upper with a removable latex foam footbed. The flexible hardwearing rubber outsole helps it to be sturdy and durable. It has a breathable mesh upper lining with moisture-wicking properties.
Its San Crispino construction provides stability while the padded collar provides cushioning, comfort, and arch support. They are fashionable, yet durable, so you can be on the right track with your style, even while walking.
Pros
100% waterproof leather upper.
Anti-slip rubber outsole.
Breathable mesh upper lining.
San Crispino construction and padded collar.
Removable latex foam footbed.
Smart, stylish design.
Available in different sizes and three colors.
Cons
Comparatively expensive.
The leather upper might be damaged.
Not ideal for off-road walking.
10. Brooks Adrenaline GTS 22 running shoes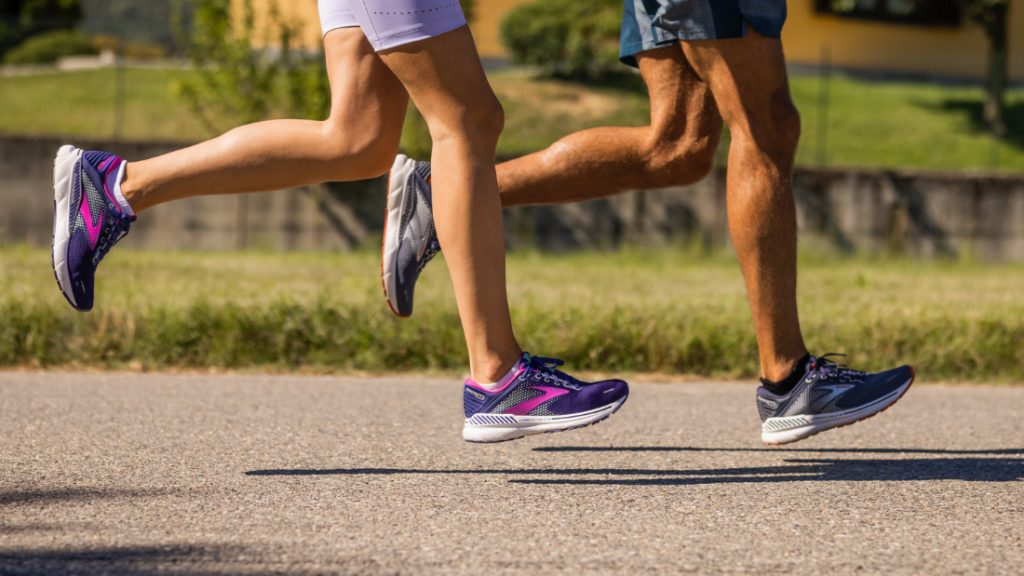 100% DNA Loft midsole
Rubber outsole
Segmented crash pad
The Brooks Adrenaline GTS 22 is known to be runner's and walker's favorite. The 100% DNA Loft midsole offers cushioning and support for a soft and smooth ride. The outsole is made of anti-slip rubber material.
Its soft Brooks GuideRails technology midsole and segmented crash pad act together for easier flow while heavy work. It is the right shoe for everyday running and walking.
Pros
100% DNA Loft midsole for cushioning.
Anti-slip rubber outsole.
Segmented crash pad.
Available in various sizes and colors.
Cons
Might feel tighter than the size.
Conclusion
Whether you are an overweight person looking to burn those calories or just someone wanting to live an active lifestyle, the right pair of sneakers will help you take that step further and work those fats out. The wrong pair can turn walking into a miserable experience, harming your feet and joints.
You don't want to return with terrible foot ache when you go for a walk, that is just going to set you back. So before you hit those miles, take a moment to invest in the right pair of shoes.
You need to consider various things before choosing the right pair for you. Shoes for overweight walkers must be wide, cushioned, flexible and breathable. The shoes on our list have all the properties that one might look for in a comfortable walking shoe.
They are going to mold to your feet and feel like a part of you. Check out each shoes' specifications and decide which one is going to be the valuable addition to your weight loss journey.