You've probably experienced how wearing the incorrect pair of shoes can spoil your day. The improper footwear can cause injury that takes months to heal, which is not the kind of keepsake you want to take home from your journey.
To help you avoid a shoe disaster, we performed some research and put together a list of shoes that embody the comfort, durability, and style you require for happy, tireless, traveling feet.
No matter where you go, if you are not dressed comfortably, you will most likely not enjoy yourself fully.
Investing in high-quality travel shoes, like Loom waterproof & breathable travel shoes, is one of the most important things you can do to ensure your trip is as comfortable as possible.
If you are looking for the best comfortable travel shoes, here's the only list you need to see.
We made this list based on our personal preference and sorted it based on their features, prices and quality, durability and reputation of the manufacturers, and customer feedback also, we've included options for every type of customer.
So read on!
Best Travel Shoes For Men
1. The North Face Men's Hedgehog Fastpack II Waterproof Hiking Shoes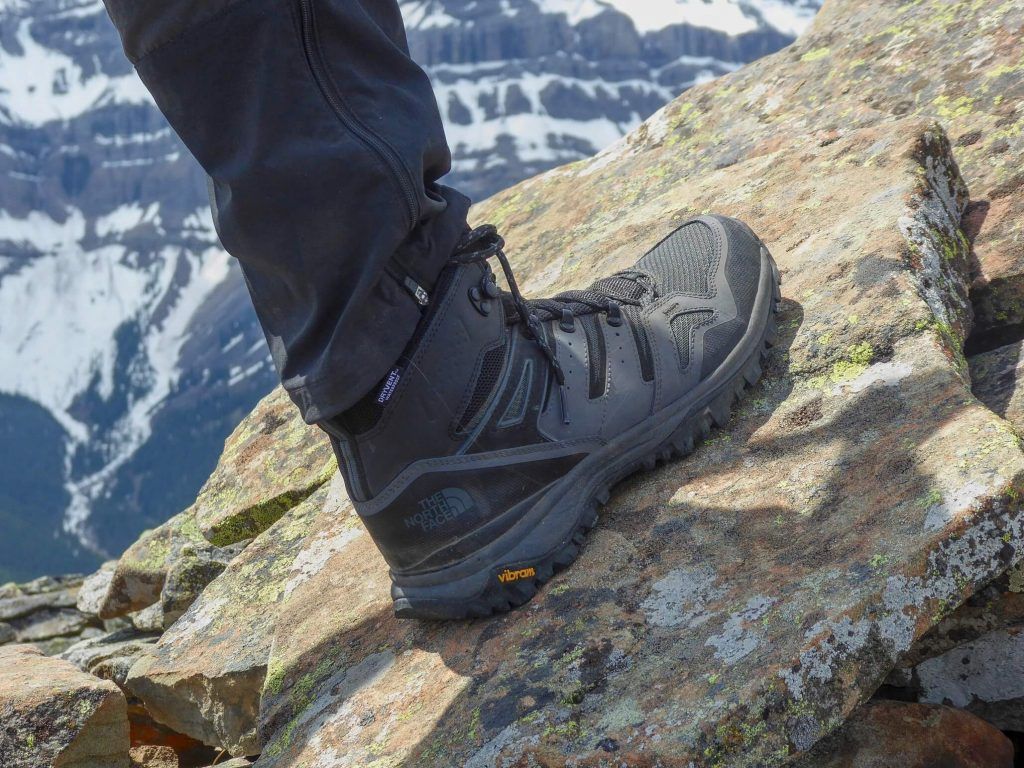 At the first position on our list, we have a North Face Hedgehog Fastpack GTX. For my overall top pick regarding the best travel shoes for men.
Meet the North Face Men's Hedgehog Fastpack II Waterproof Hiking Shoes. You can rock the north face hedgehog for over a decade. Even if there was one shoe to pack along for just about any adventure, the north face hedgehogs are where it's at, a broke backpacker founder.
They perform at the highest level for just about every kind of backpacking scenario short of technical tracking and mountaineering.
The outside material of the hedgehog features polyurethane-coated leather uppers and a waterproof breathable gore-tex membrane. It does an excellent job of keeping your feet protected from water penetration.
For chaffing management and control, the abrasion-resistant breathable textile mesh lining virtually eliminates unwanted movement and rubbing for versatile lightweight.
This tough waterproof shoe is up for any adventure that you are. The north face hedgehog fastback shoes are sure to bet even better is the price tag.
For USD 129, you can score a perfect pair of hiking shoes without breaking the bank.
2. Five Ten Men's Access Mesh Approach Shoes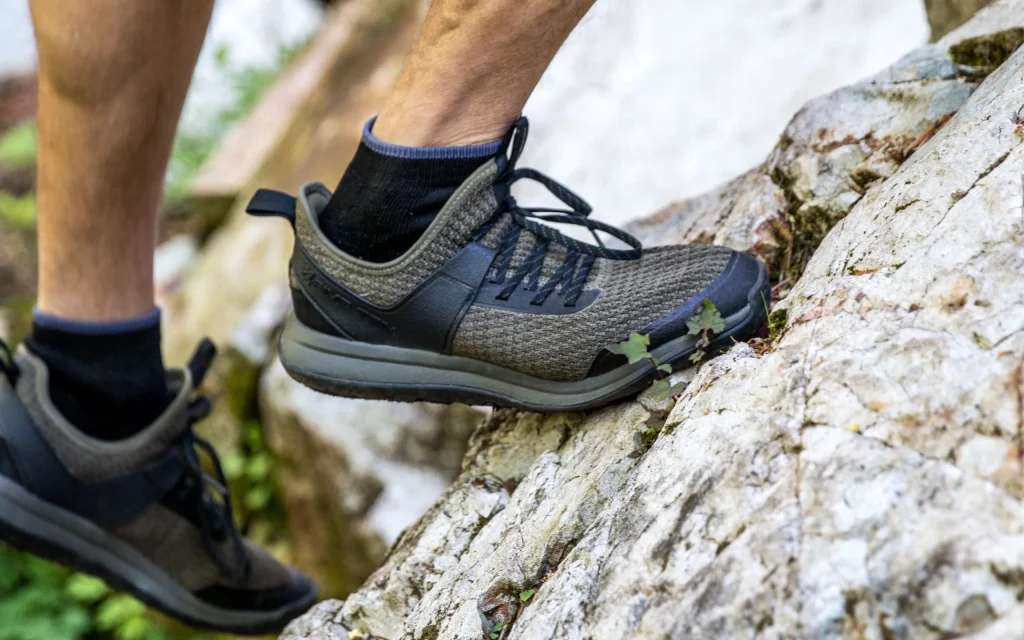 For hiking, walking, scrambling, sanding, and moving this is the ultimate durable versatile movement shoe.
The five-ten access is technically what's called an approach to shoe originally designed for backcountry climbers who need the all-in-one movement shoe which is ultimately the ideal travel shoe.
Stealth-sewn rubber lines the bottom of the shoe. That means the rubber that comes standard on the bottom of climbing shoes in most places general hiking shoes/boots will lose traction.
The stealth zone rubber allows you to commit to that delicate step without any concern.
Imagine hiking after a large rainstorm, you come across a stream that crosses right in the middle of the trail, trying to cross that stream you accidentally swamp your feet.
Thanks to the comprised sandwich mesh for one reason breathability. The synthetic mesh is also ideal for quick drying so at the end of the day you can just take the damp sweaty shoes and stick it in the sun and they will be dry by sunset.
3. Merrell Men's Moab 2 Mid Waterproof Hiking Boot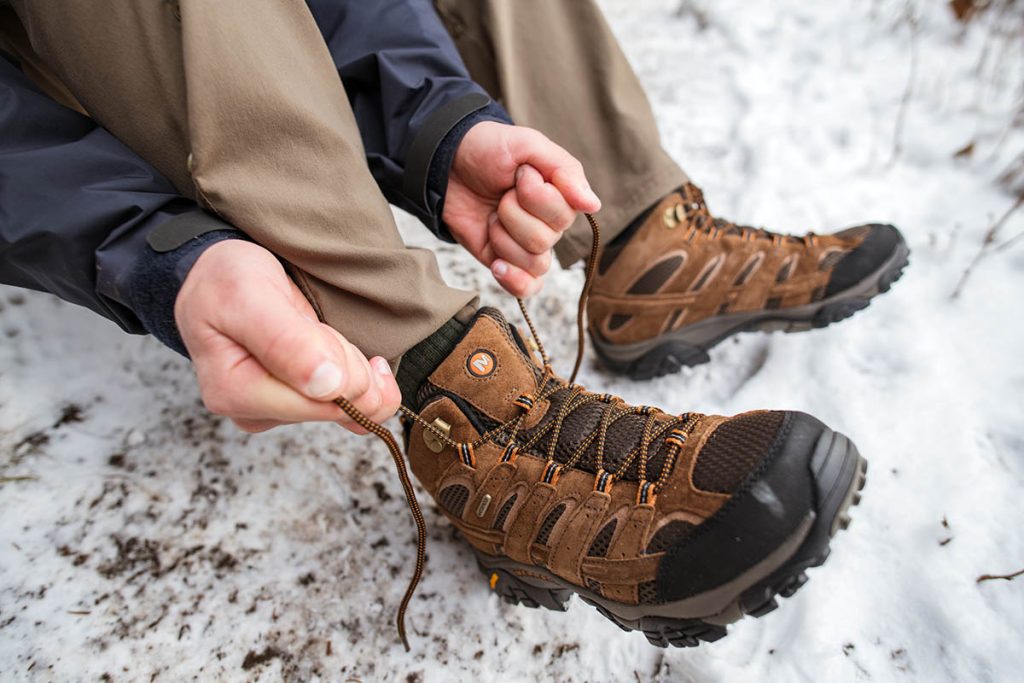 The Merrell Men's Moab Mid Waterproof Hiking Shoes are one of the best walking shoes for travel for men on the market. Their versatility comfort and waterproofness make them stand out.
You'll be satisfied with their performance at any given adventure whether you want to set off into the jungle desert or the mountains, with these Merrell Moab boots you'll be able to take on most outdoor activities with confidence.
These shoes are supremely comfortable for walking around cities, too. They feature waterproof breathable membranes that protect your feet from wet weather.
The breathable mesh lining in the interior of the shoe allows for ventilation.
For comfort, these shoes come equipped with Merrell air cushioning technology in the heels which absorbs shock and adds to stability and balance.
Merrell Moab also comes in a nonwaterproof version for even more hiking-related awesomeness.
4. Adidas Outdoor Men's Terrex Swift R2 GTX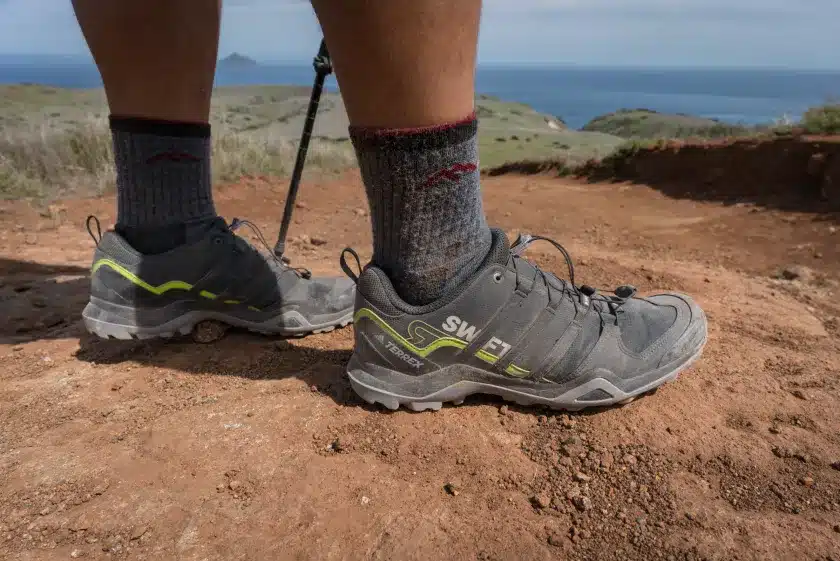 In recent years Adidas has expanded into a whole new line of adventure footwear. The AdidasTerrex Swift R2 GTX shoes are ultra-light, waterproof, attractive, and designed to crush warm climate travel.
These shoes are best for backpacking Southeast Asia but they are perfect for the warm region of the world from my personal experience. They are very light and super flexible.
If you are carrying only a 40-liter backpack you can easily strap them to the outside or you can easily fit them in your backpack.
The gore-tex lining will keep your shoes waterproof and breathable for the days when you head out into the mountains and jungle.
All said these styling walking shoes will keep your feet happy while you are backpacking your way around the warmer parts of our planet.
5. Vasque Men's Juxt Hiking Shoe – Best Casual Sneaker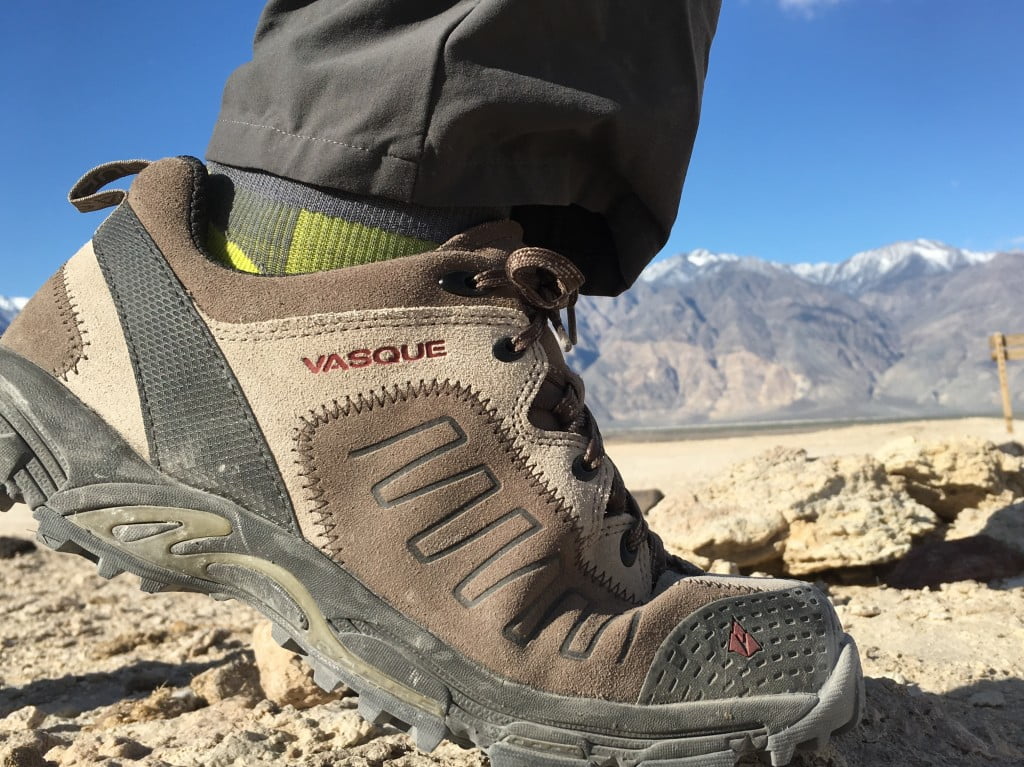 If you are not a super keen hiker but still wanna have the best walking shoes for travel and a bit of light hiking, Vasque Juxt Hiking Shoes make for a new balance.
If you have ever done a little bit of backpacking abroad before, you may be on the street walking for hours. That's when you really need comfortable walking shoes.
These Vasque shoes will keep your feet comfortable during all-day sightseeing escapades.
Whilst not a shoe I would recommend for long-distance hikes, Vasque Juxt is certainly up for the challenge of walking around cities and even on extended day hikes.
These shoes come equipped with vibromyback soles which are molded with two grippy rubber compounds hydra grip for wet rock traction and a mega grip for maintaining balance.
6. KEEN Men's Targhee III Mid-Height Waterproof Hiking Boot
Evolving from the beloved target II model, these new Targhee III received a few improvements to make these shoes even sweeter.
The Targhee III is now leaner, tougher, and gritter for an even better hiking performance. First of all, the keen dry waterproof membrane keeps feet dry while allowing perspiration to dissipate.
Despite what society might say, you are prone to get more sweaty feet when you are taking a stroll in the cities.
To combat that these shoes feature clean sports next treatment to combat foot functor.
It also provides great ankle support, traction, waterproof protection breathability, and with style point, it's easy to see why they are best for traveling, plus they can handle the inherent abuse of any given backpacking.
7. Adidas Men's Alphaboost Parley Running Shoe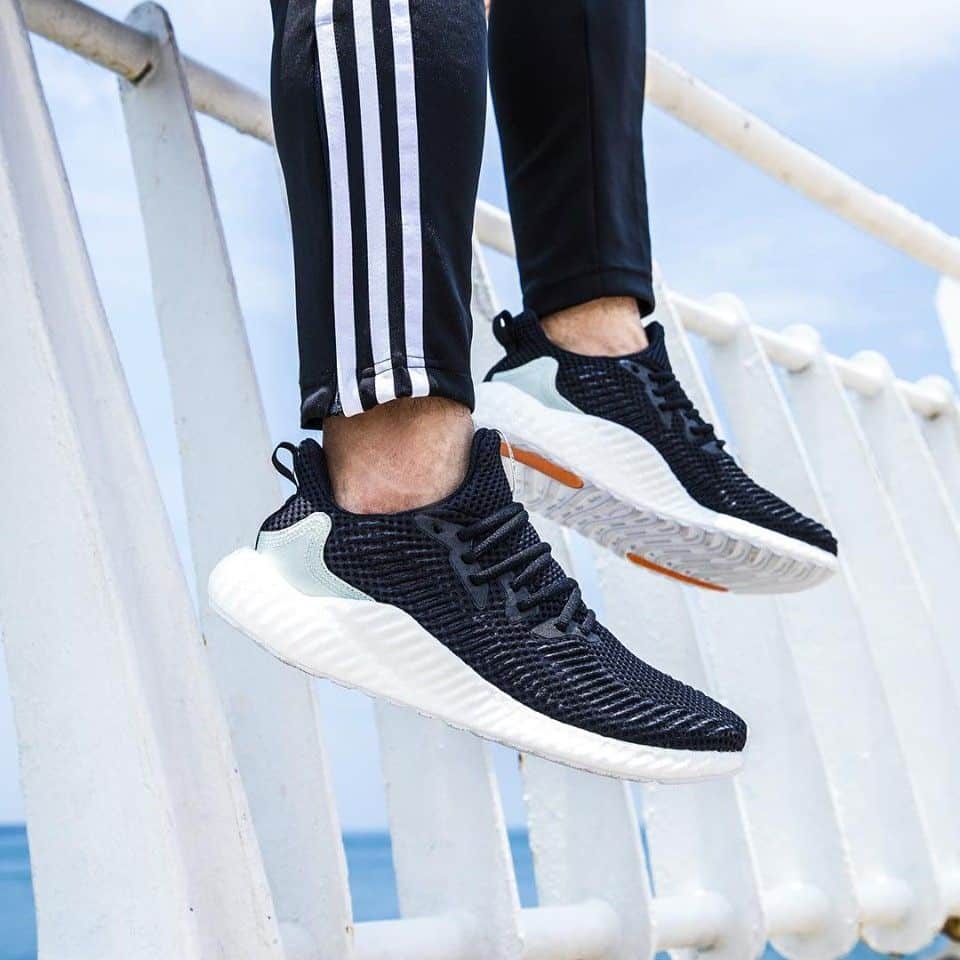 If you need to get a workout in while on vacation but don't want to bring two pairs of shoes, this Adidas pair performs equally well on the streets or the treadmill.
Their ultra-lightweight mesh upper helps feet to breathe during speed training while still looking cool enough to be worn on the street.
They feature excellent cushioning, and they also performed admirably during our testing in more challenging weather than we had anticipated.
In all respects, the Adidas Alphaboost appears to be a touch more substantial and massive.
The fact that the Adidas Alphaboost is lighter is rather surprising. Not just a little. We only managed to get around 300 grams.
Furthermore, they're part of Adidas' Parley collection, which means they're constructed from ocean-recycled plastic.
8. Clarks Men's Shoda Walk Waterproof Sneaker – Best Leather Sneaker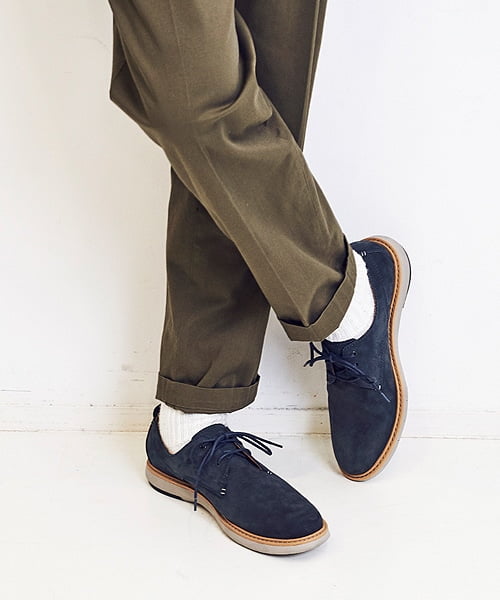 The Shoda Walk is a stylish sneaker with superior leather or waterproof nubuck uppers, making it a year-round wardrobe staple.
Its detachable OrthoLite footbed and cushion soft padding offer considerable arch support and impact absorption, making it ideal for long walks in all weather conditions.
It looks great with jeans or slacks.
Clarks has been creating high-quality men's dress shoes in a range of styles for over a century.
Clarks offers a large choice of high-quality components, giving you the alternatives you want in the quality you need.
Is the sky getting darker? No worries. Take these sneakers with you and go. These are not only waterproof but also extremely supportive in the arch and heel.
They are also a sensible alternative for all sizes of feet.
9. Skechers Men's Moreno Canvas Oxford Shoe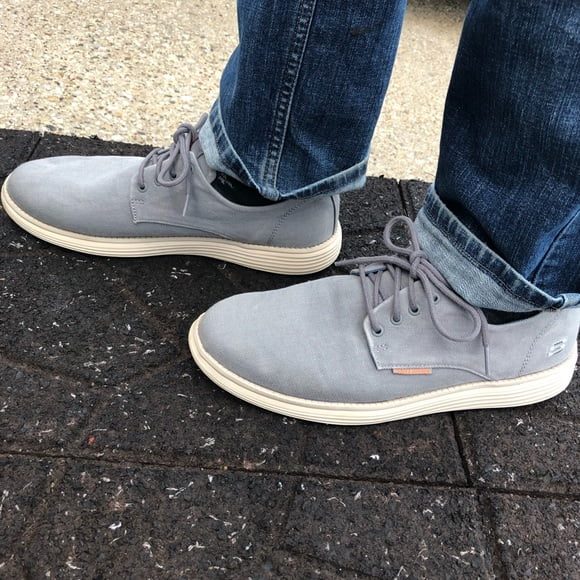 In Skechers Moreno – Ederson, take it easy with a classic style and enhanced comfort. Vintage-washed soft canvas fabric upper with Air-Cooled Memory Foam insole in a lace-up comfort casual.
The Skechers Moreno Ederson Sneaker gives your casual style a stylish update.
This vintage-inspired sneaker has a gently padded collar and tongue for additional comfort, and the Air-Cooled Memory Foam insole keeps your feet cool all day.
Every step is supported and stabilized by the Goga Mat Arch cushioning and shock-absorbing midsole.
These are one of the greatest sneakers for traveling since they provide all-day comfort.
These are exceptionally lightweight thanks to the fabric material, making them ideal for long runs, city walks, and hiking.
These lightweight travel footwear become furthermore supportive, reducing soaring and pinching.
10. Adidas Grand Court Sneaker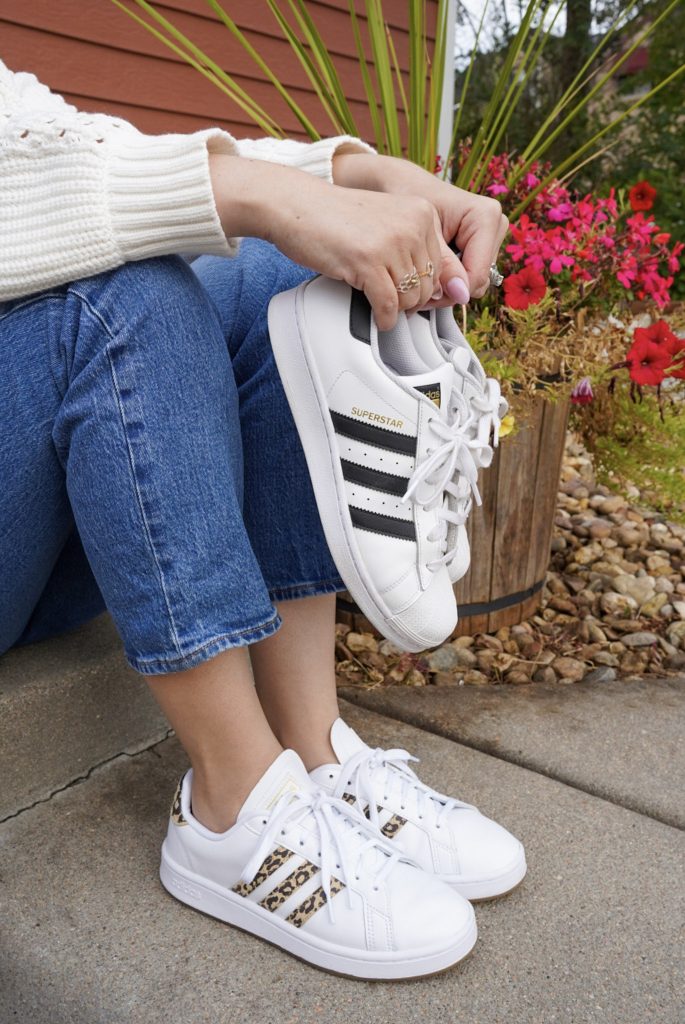 The Adidas Grand Court Sneaker is primarily a tennis shoe that has made a resurgence since the 1970s.
But that doesn't stop it from sticking out and being incredibly popular in today's world. It takes past inspiration and applies it to the future.
They include a smooth and sleek upper, Adidas' distinctive 3 stripes, and a cushy midsole for comfort.
The rubber outsole is flat and wide, providing excellent stability, particularly when playing tennis.
A cloud foam sock liner adds even more comfort, keeping you supported and pain-free all day.
Adidas emphasizes "soft," "plush," and "comfort."That seemed to be the best way to characterize them.
They are also exceptionally comfy, according to thousands of online evaluations. They fit like a glove, making it feel snug but not constricting.
They feel like you're walking on clouds, and many people claim they're the most comfortable shoes they've ever worn!
No doubts about these shoes and can confidently state that the Adidas Grand Court is quite comfy.
Best Travel Shoes For Women
11. Clarks Pure Viola Trim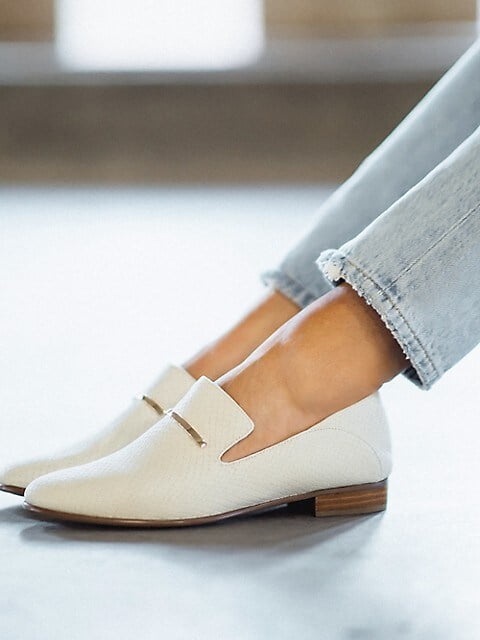 Clarks footwear has nearly 200 years of shoemaking experience, It was founded in 1825, so when it comes to travel shoes, the brand offers a wide range of styles to choose from.
Clarks' Pure Viola Flat, on the other hand, is the ideal all-around shoe. Wear them at a business dinner or party, a museum visit, or a family gathering.
Their iconic smoking-slipper form and sleek design are ideal for any occasion. Clarks Cushion Plus technology also provides excellent heel support. One reviewer described it as "walking on air."
12. Superga Women's 2750 Cotu Classic Sneaker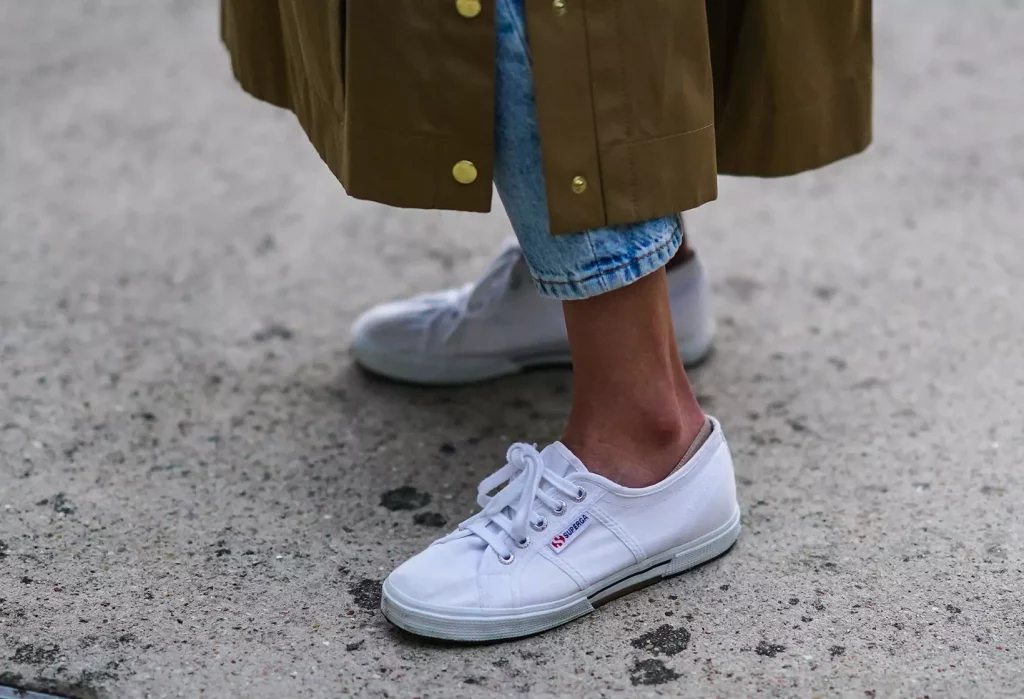 The Cotu Classic Sneaker by Superga is a true classic. Basic white cotton shoes for ladies have been a go-to for vacations near and far for decades.
It goes with practically every outfit and is low-profile and lightweight enough to meet the demands of most travelers.
The sneakers have a cushioned footbed and a rubber outsole with a crepe-textured pattern for grip and durability. They take about a day to wash and air dry in a washing machine.
13. Dr. Scholl's Shoes Women's Insane Loafer – Best Comfortable Flat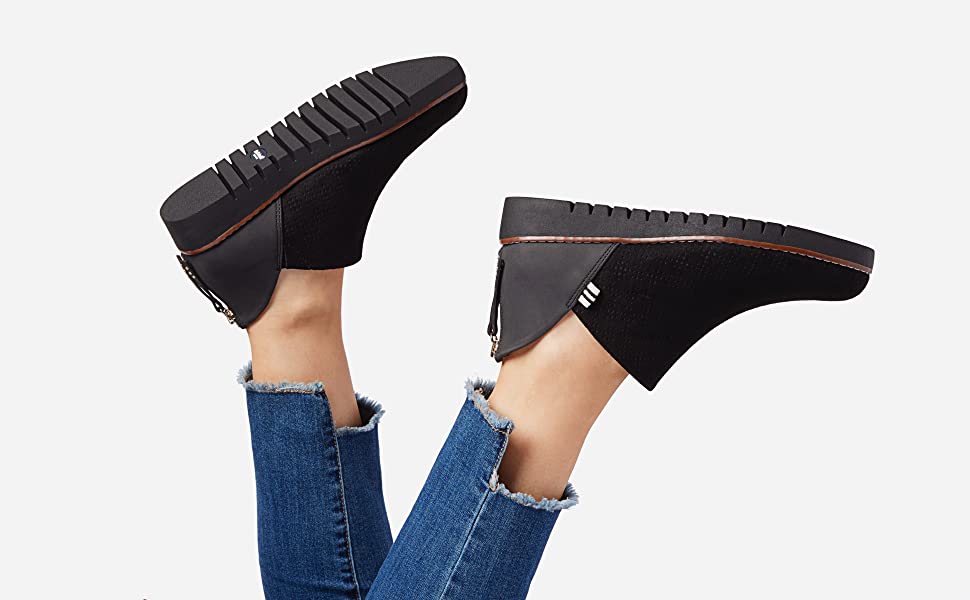 Dr. Scholl's Insane Loafers are the way to go if you want to stroll about all day without getting blisters or sore feet.
And because Dr. Scholl's is committed to sustainable manufacturing and production, you can feel good about wearing these travel shoes, which include a micro-suede upper and an 80 percent recycled bottle inner.
Extra support under the toe box, high-recovery foam at the ball, and dense foam around the heel make the loafers' "be free energy technology" footbed one of the most comfortable slip-one ever.
The flexible sole allows your feet to breathe while still providing a supportive footbed.
14. ECCO Women's Soft 7 Sneaker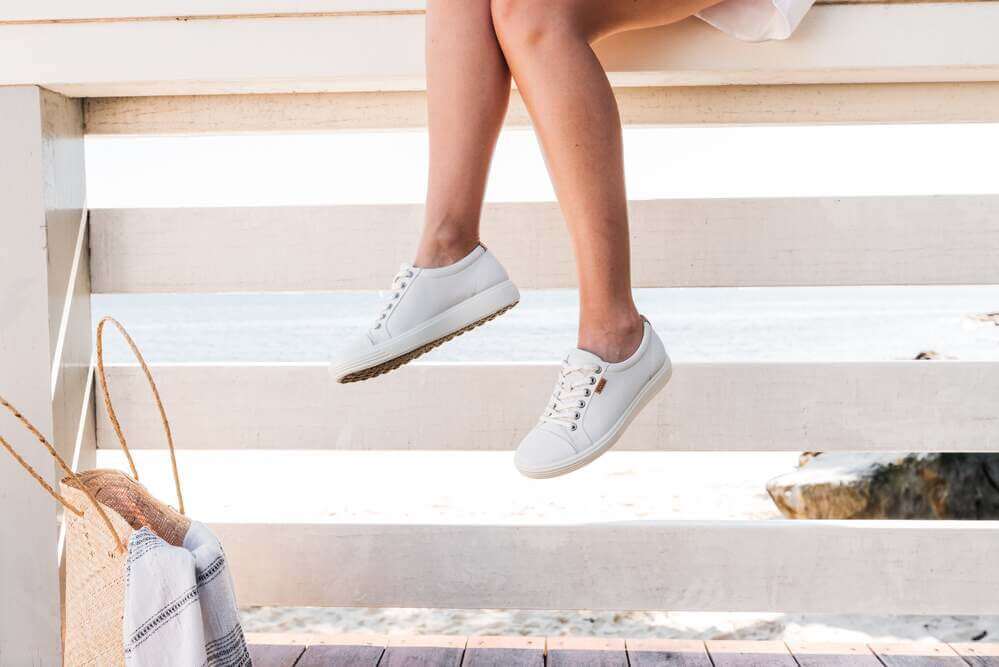 For a long time, the Ecco Soft 7 has been a traveler's favorite, and with good reason: it provides arch support and high-quality materials in a simple, Scandinavian design.
Though the soft leather upper comes in eight colors ranging from floral designs to metallics, neutrals are the easiest to work with when packing.
These are Europe's best walking sneakers, as they are durable yet lightweight and supportive.
It's a continent encircled by beautiful cobblestone alleys and vast countryside best explored on foot.
So you've decided on a comfortable pair. However, you also want to seem attractive and not out of place in your running shoes.
The difficulty is solved by this pair. It will allow you to handle steep roads, overcast weather, and muddy countryside while remaining fashionable.
15. Bensimon Women's Low Trainers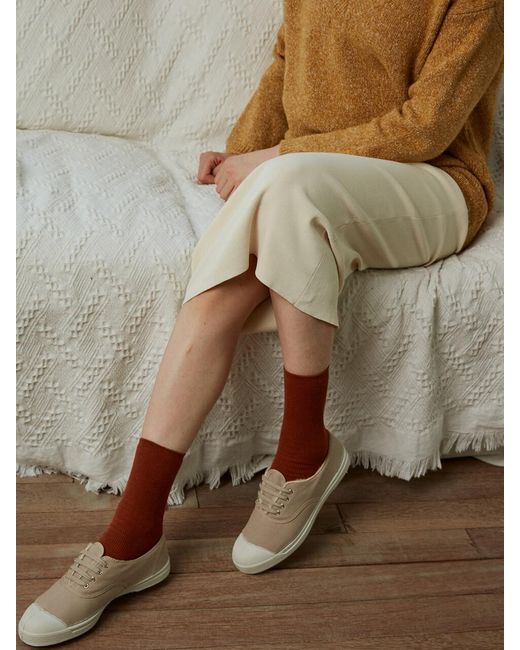 In France, BENSIMON sneakers are trendy and attractive casual sneakers. During the summer, you'll find a lot of fashionable Parisians wearing them.
They come in a variety of colors and styles, but finding the complete range of styles and colors in the United States might be challenging.
Shoes that do not require tying. It's even more difficult if you're someone who walks a lot.
They're a flatteringly low vamp, FRENCH, and floppy enough that you can just slide your foot into them and flip up the heel.
Although they do have laces, you may leave them loose enough that your feet can simply glide in and out without having to undo them.
This brand has a lot of stores in Paris. But you will find great deals on these shoes on Amazon as well.
16. Adidas Women's Cloudfoam Pure Running Shoe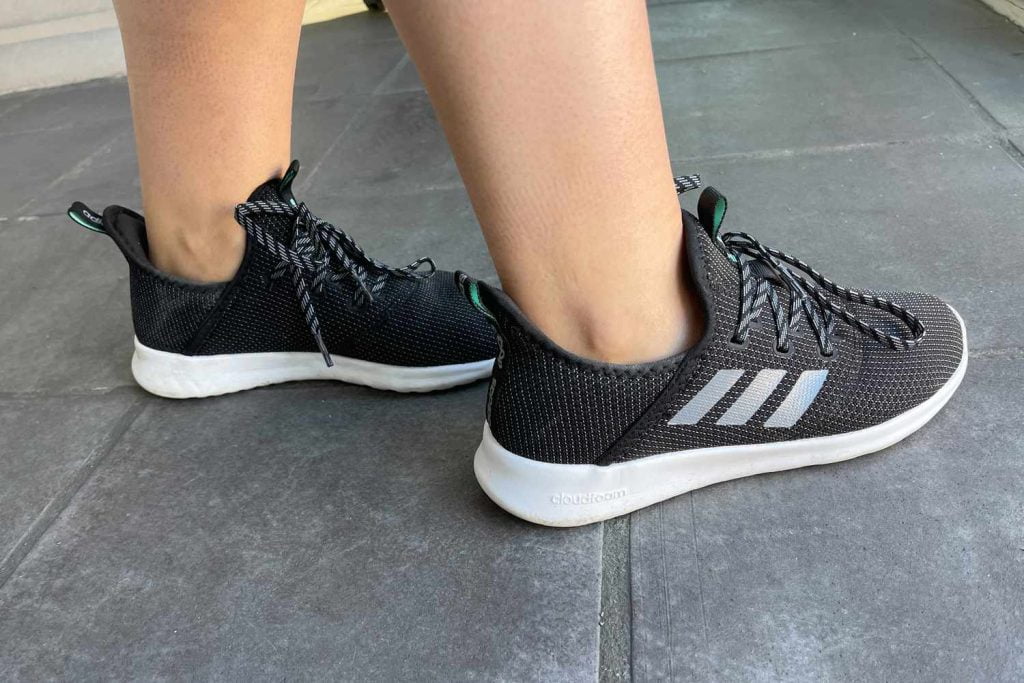 Watch out, ladies! If you're looking for sophisticated, stylish sports shoes that work with almost any casual outfit, you've come to the correct place.
Adidas' Cloudfoam Pure is a new model designed just for ladies. You can get a man's version as well, but the majority of the shape and design variations are reserved for ladies.
The Adidas Cloudfoam Pure has no tongue. The one-piece upper of the shoe goes over the arches and is finished with shoelaces.
These Adidas running shoes include a female-friendly fit and a foot-hugging knit upper. As you go out for coffee or explore a bustling side street, the soft midsole cushioning gives comfort.
17. Sorel Out N About Plus Sneaker Ancient Fossil 6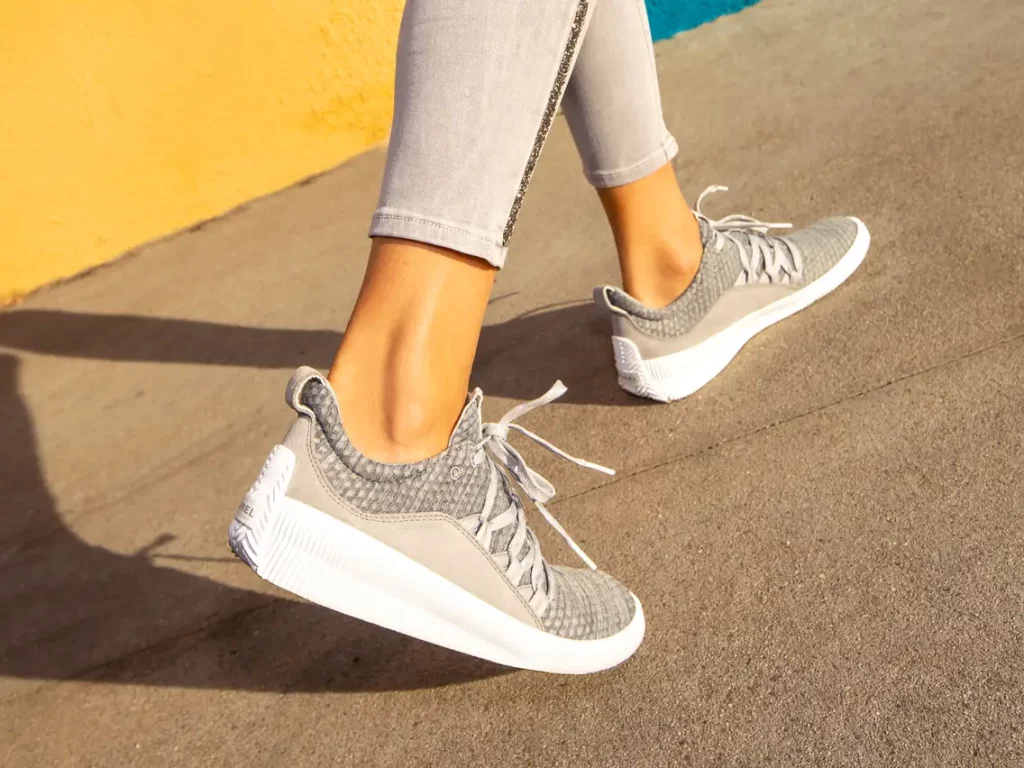 For the urban explorer, the Sorel Women's Out N About Plus Sneaker is an athletic shoe with waterproof capabilities.
Start your weekend off right by going to the farmer's market, but not before stopping by the greatest bagel and coffee businesses in town.
While exploring the city, the EVA footbed provides all-day comfort. Whether it's sunshine or rain, your feet will stay dry and comfortable no matter what the weather throws at you.
Trust the vulcanized rubber outsole for wet and dry traction as you walk from place to place.
When you're going on a monsoon adventure, these waterproof travel sneakers are a must-have.
Don't let the terrible weather get in the way of your travel plans; slip on these sneakers and take the precipitation in stride.
18. Skechers Women's Flex Appeal 3.0-Insiders Sneaker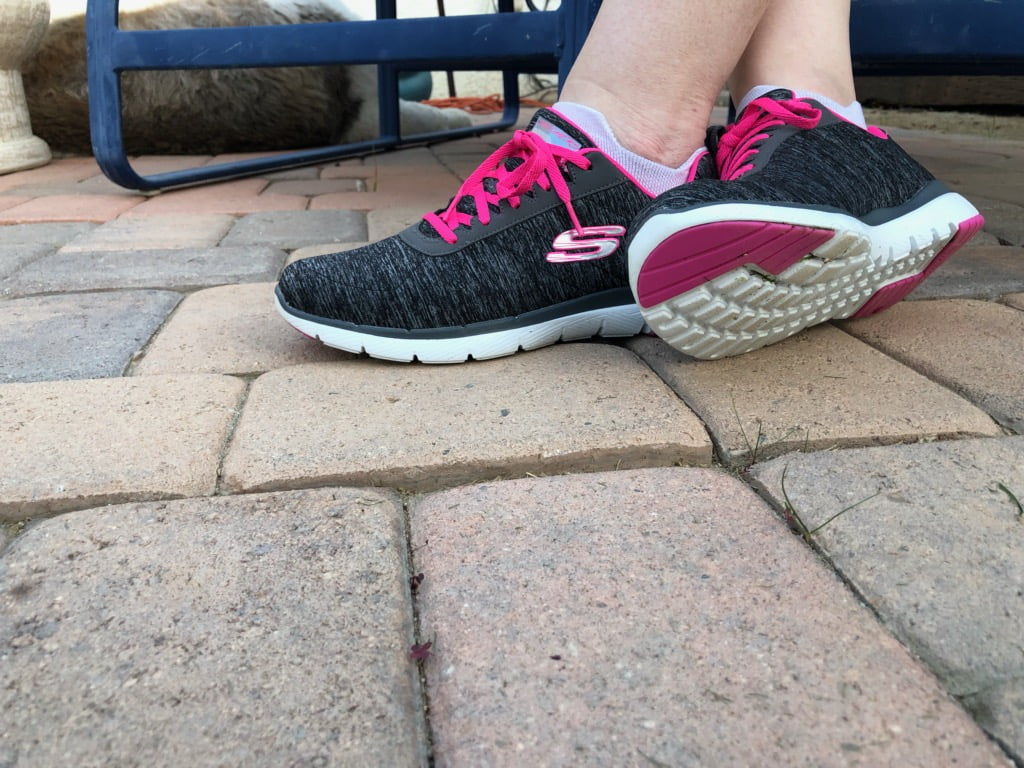 The Skechers Flex Appeal 3.0 – First Insight sneaker takes the lead in athletic style and comfort.
A smooth flat mesh knit top with synthetic trim and a cushioned Air-Cooled Memory Foam insole are featured on this lace-up sneaker.
Skechers Flex Appeal 3.0 – Insiders bring soft responsive comfort and sporty style to your workout.
This pair of Sketchers is no exception to the brand's reputation for lightweight travel sneakers.
Their athletic style goes great with slacks, shorts, and jeans.
They're sturdy and comfy, making them ideal for trekking, walking tours, and lengthy city walks.
19. Adidas Women's VL Court 2.0 Sneaker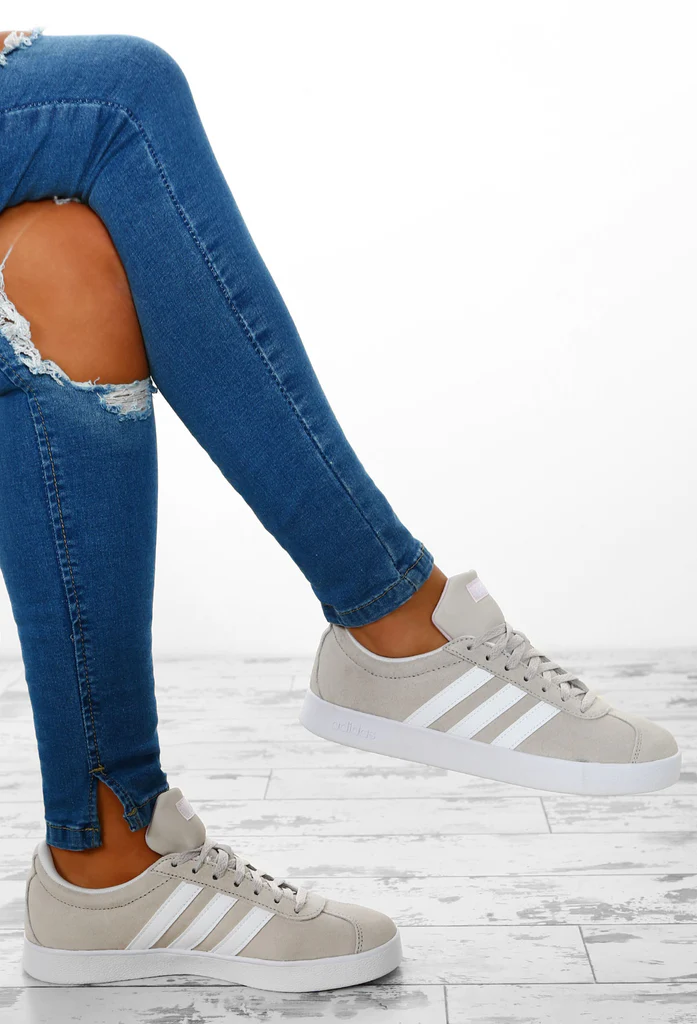 From court to curb, the original T-toe design pops. These women's suede shoes float on a rubber cup sole. The lightweight fabric lining contributes to hands-down comfort.
These are the types of shoes that become comfier with each wear. That's impressive, considering they're quite comfortable walking shoes right out of the box.
They appear to be of excellent quality and are comfy. These have a modest amount of arch support, which is more useful than you might expect. Not to add how well the blue goes with pants!
20. Sperry Women's Soletide 2-Eye Boat Sneaker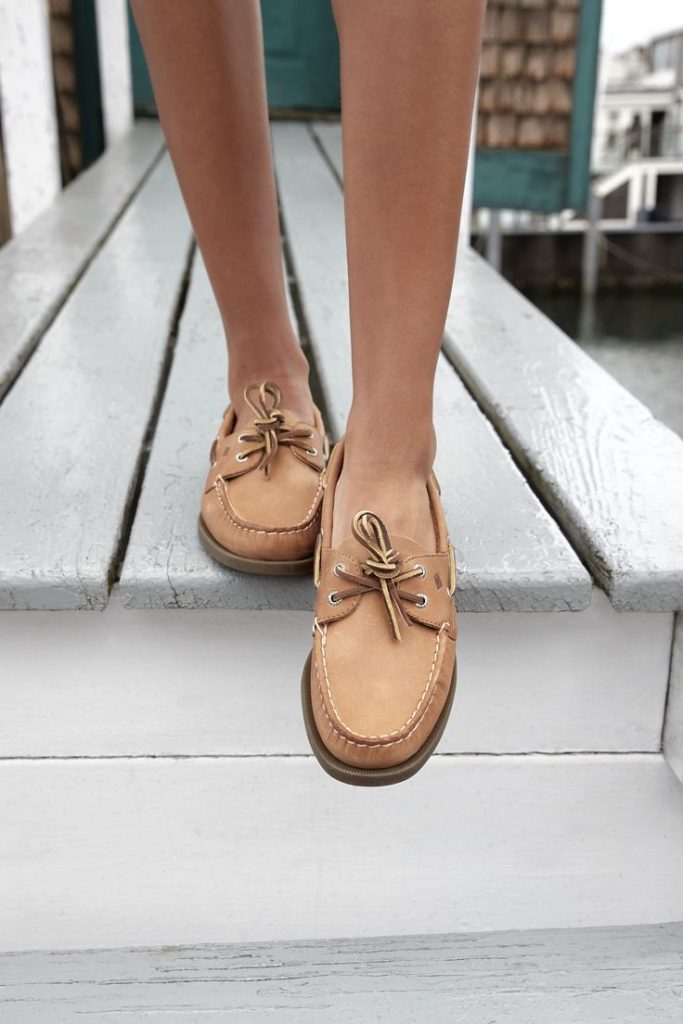 Going to the beach? Choose Sperry's refined take on the deck shoe. The memory foam-cushioned shoes have a 360-degree lacing mechanism that allows you to customize the fit to your needs.
Furthermore, the perforated leather upper will keep your feet dry and comfortable. The soft material provides ample support.
These shoes have excellent quality. Although these might take a little getting used to, once you do, they genuinely are incredibly comfy.
FAQ's