Walking may be the only action performed by humans that have actually been done in every style of shoe. However, if you're searching for a pair of "walking shoes," you're really looking for shoes that will be cosy for extended periods of walking. The good news is that a variety of outdoor shoes can help you find your stride.
The Hoka One One is one company that has gained popularity in the world of walking. This company, which has a line of supportive, comfortable, and long-lasting footwear, has earned the reputation of being a favourite of podiatrists for a variety of wonderful reasons.
If you're wondering what are best Hoka shoes for walking, I'd recommend the Hoka ONE ONE Shoes because they're super light, have thicker full-length EVA foam cushioning, and have a breathable upper. A pair of Hoka walking shoes feature a meta-rocker mechanism in the outsole for better propulsion without feeling the weight of the body on the lower legs. Hoka shoes have propulsive and shock-absorbing features in addition to being fashionable and coming in a range of colours to flaunt when out and about.
How Do We Pick The Best Walking Shoe?

We put walking shoes through a variety of tests before we recommend them.
We look at how they feel after walking in them for a while. We also look at the soles of the shoes to see if they are worn down.
We test for comfort, support, and stability. We also make sure the shoes are lightweight and have good traction.
Hoka walking shoes are a great option for people who need extra support and stability.
Top 10 Best Hoka Shoes For Walking

Best for Plantar Fasciitis

Hoka One One Bondi7

EVA midsole, which helps reduce Plantar Fasciitis pain.

The virtually seamless, airy mesh upper relieves pressure on bunions.

The patented HOKA Meta-Rocker technology imitates your natural gait.

Best for Maximum Comfort

Hoka Clifton 7

The EVA compression-moulded midsole provides supple support and comfort.

The meta-rocker toe relieves pressure on your feet, legs, and knees by simulating the natural walking motion.

The upper has a seamless engineered mesh that is ideal for people with bunions.

Best for Athletes

Hoka Elevon

Quantic midsole for a highly cushioned feel, especially in the midfoot.

Updated upper with a more secure lacing system.

Has the brand's signature foot-shaped toe box to prevent blisters or black toenails.
1. Hoka One One Bondi 7 – Overall Best Hoka Shoes For Walking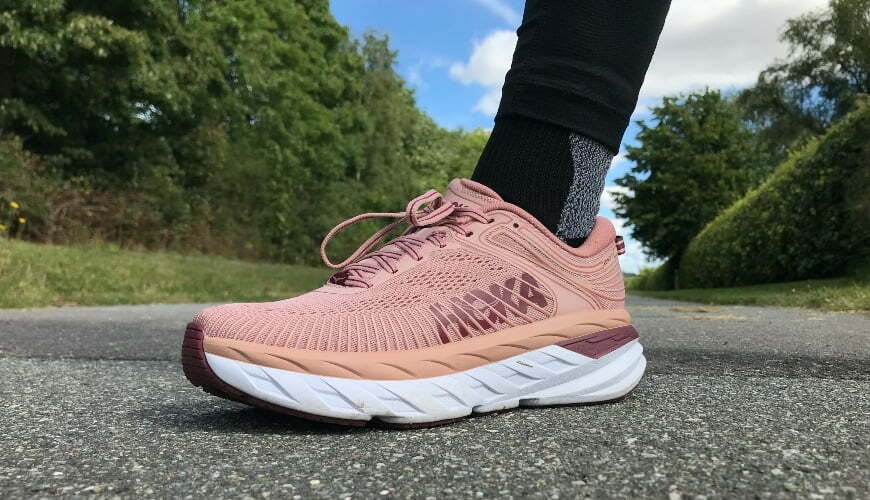 Best Features:
Upper Mesh is engineered to be breathable.
For comfortable, cushioned ankles, wear a memory foam collar.
Really plush memory foam.
TPU overlays give the important midfoot area more support and structure.
Full-length, compression-molded EVA midsole.
Meta rocker in the early stages for a quick transition.
The heel is locked into place by an internal heel counter.
Strobel lining with holes atop a thick Ortholite foam insole.
For a comfortable fit, use flat laces.
The tongue has wide wings to keep out debris but is not gusseted.
A sturdy rubber outsole that has blown rubber in regions that get a lot of use.
Wide foot base: extremely stable at all foot strike angles.
Heels with thin reflective stripes.
Favourable to vegans.
The Hoka One One Bondi 7 swiftly takes the top spot on our list of the finest walking footwear after we went through a ton of Hoka walking shoes. We chose this model as our top option for a number of reasons.
This walking shoe provided incredible comfort to our feet even after wearing it all day. It is bursting with comfort. This shoe raised the bar for comfort because to its well-cushioned design, which provided a plush ride.
This shoe gives us a smooth ride as we run or walk. We adore how it was created for both the roads and the trails.
You will enjoy city walks and trail runs longer because to the comfort, style, and durability of this maximalist footwear.
Additionally, this design secures the feet incredibly well! The collar's memory foam conforms to the shape of our feet and then astonishingly and dependably secures them.
The comfort, style, and durability of this maximalist footwear are maximized, allowing you to enjoy your trail runs and city walks longer than ever!
What We Don't Like About This Shoe?
Feels heavy on feet.
Expensive.
2. Hoka Elevon – Best Hoka Shoes for Standing All Day at Work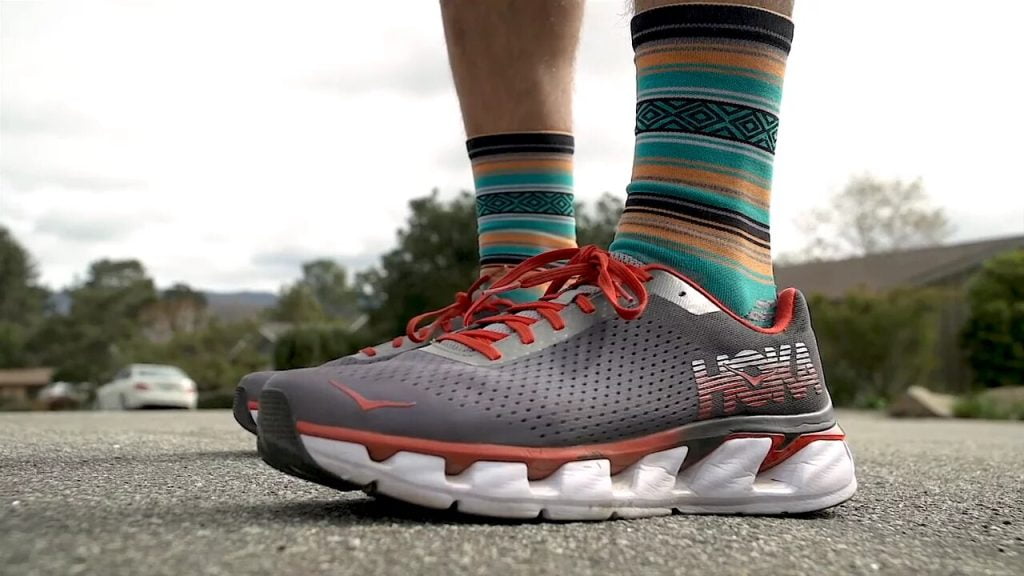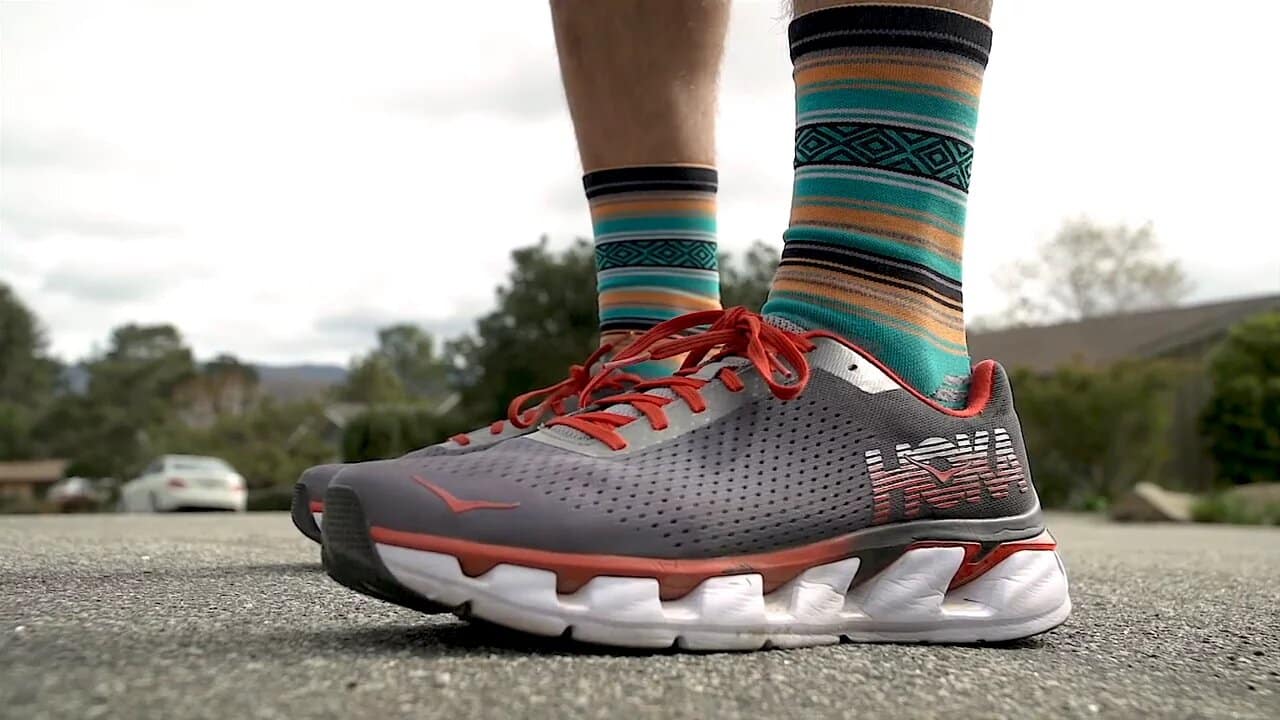 Best Features:
Lightweight and highly effective upper made of engineered mesh.
Anatomical internal support wings that are individually fitted.
Asymmetrical tongue with extra perforations for improved ventilation.
It improves toe-off and is shock-absorbing. PROFLY layer in the upper midsole.
Improves transition: extended heel.
Enhanced support thanks to a deeper midsole active foot structure.
Enhanced forefoot flexibility by deliberate grooving.
More flexible padding
Removed insole.
5 mm of heel drop
Vegan Friendly
This shoe is extremely comfortable, but it also offers the support your body needs to feel good all day long thanks to its design, which places greater support in the midfoot and forefoot. Aches result from your body shifting out of alignment when your arch begins to collapse from exhaustion.
It features a lightweight, breathable upper, an asymmetrical tongue to avoid hotspots on the foot's bridge, and a padded ankle collar for all-day comfort.
Asymmetrical internal support wings located in the midfoot offer additional support.
The asymmetrical tongue works in conjunction with the internal support wings to give your foot the sensation of being locked in. You may modify the fit to your heel with the help of these elements.
You may have noticed that the Elevon's heel is a little bit stretched. This improves the cushioning and facilitates a seamless heel-to-toe transition. Additionally, the forefoot has distinctive grooves that help the shoe be more flexible when you toe-off.
What We Don't Like About This Shoe?
Too wide
Sloppy when making turns.
3. Hoke One one Arahi 5 – Best Hoka Shoes For Flat Feet
Best Features:
As part of the styling, the neutral heel is lower (5mm drop from heel to toe).
Excellent padding and a large footbed.
J-Frame technology to control overpronation and provide stability.
For greater stability, the midfoot and heel wrapping have denser foam.
Rubber with high abrasion for a long-lasting outsole.
Engineered mesh upper with a single piece is more breathable and has fewer friction areas.
Geometrical early meta rockers.
Favourable to vegans.
Numerous Hoka walking shoes for flat feet later, we settled on the Hoka One One Arahi 5 as the top option. We evaluated it independently and identified a number of factors that contribute to this kick's ranking.
This shoe has a ton of cosy space. It emphasizes the pleasant and stable ride we had thanks to the ride's maximally comfortable padding. It sports a soft midsole and an Ortholite insole that is unbelievably soft to provide flat-foot wearers with a wonderful experience.
This walking shoe provided a solid grip as we traversed cement and asphalt. Because of how well it adheres to the earth, it keeps us standing.
This shoe is a monster when it comes to weight! Despite its bulky appearance, it weighs less than we anticipated!
Our heel was also secured in this shoe! It helps with stability because of the hard plastic heel counter.
Additionally, this kick was fun to ride on because of how stable it felt. We had a comfortable and consistent ride thanks to the wide base; rolling our ankles in and out has never been an issue.
Enjoy all of these benefits and more with our top flat-foot walking recommendation, the Hoka One One Arahi 5!
What We Don't Like About This Shoe?
Cushioning is too firm.
The lacing system is not good.
4. Hoka One One Bondi SR – Best Hoka shoes for walking all day at work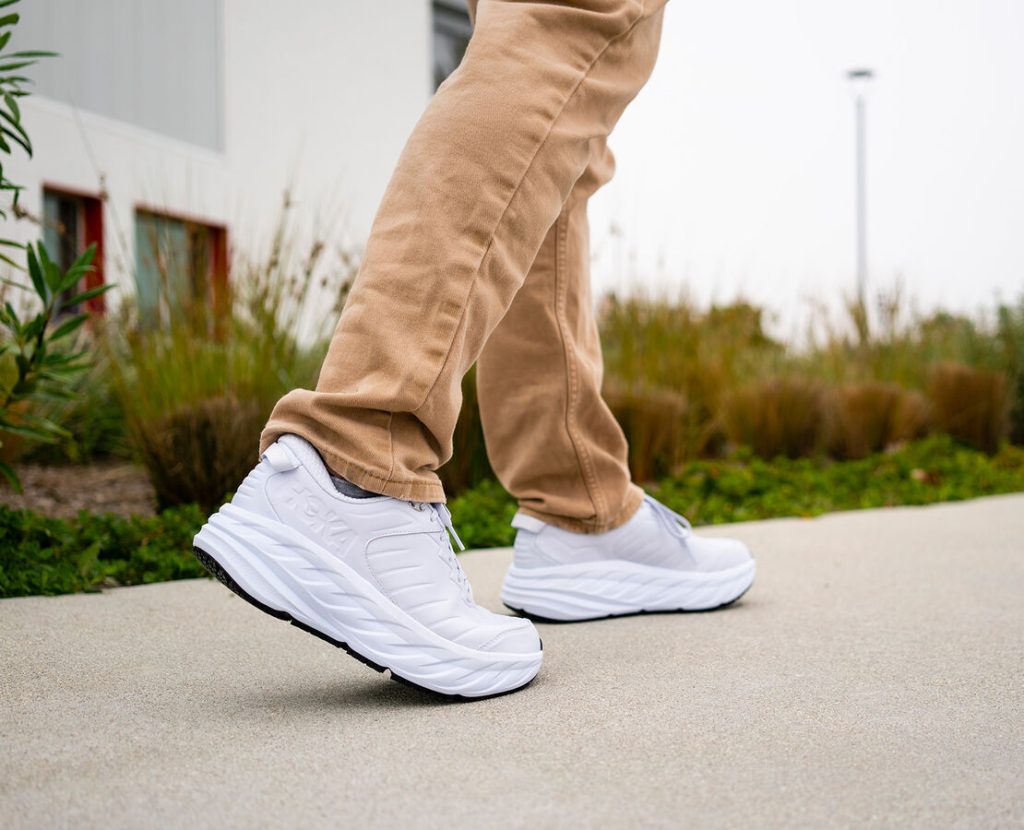 Best Features:
Water-resistant, full-grain leather upper with little upkeep in either black or white.
Padded collar made of memory foam for a better fit.
Full-length Hoka EVA midsole as standard for enhanced cushioning.
Meta rocker in its early stages.
The outsole has rubber that is non-slip (tested with water, soap, and oil) and has been designed with improved traction in mind.
Non-slip soles.
Heel drop of 6mm.
These Hoka One walking shoes are designed to meet the demands of service sector workers and medical professionals who spend a lot of time walking on hard surfaces. The recognizable cushioned platform from Hoka is there in these walking shoes, but the upper is more office-appropriate.
For walking in a changing climate, the leather upper's ease of upkeep and superior water resistance make it the perfect choice. Thanks to the anti-slip rubber, you can confidently maintain your grip on slippery roads, and plenty of cushioning is still available to enhance comfort and lessen fatigue.
This footwear is held up after being used for everyday walks and commutes to work. After repeatedly taking it to rocks, sand, and slippery surfaces, we were impressed by its structure's durability.
This kick provided a dependable, comfortable feeling. We used it for hours with no discomfort at all. We appreciated its plush padding, which snugly cradled our feet like a pillow. It also miraculously helped with some of our foot issues.
If your workplace is slippery, the Hoka One One Bondi SR won't let you down, so don't worry. No matter what terrain you might be standing on, it provides dependable traction that will keep you upright.
To seem elegantly laid-back and at ease at work, this shoe is unquestionably a pair that every walking enthusiast has to add to their collection.
What We Don't Like About This Shoe?
Bulky.
Makes the heels chafe.
Does not breathe well.
5. One One Clifton 7– Best Lightweight Hoka Shoe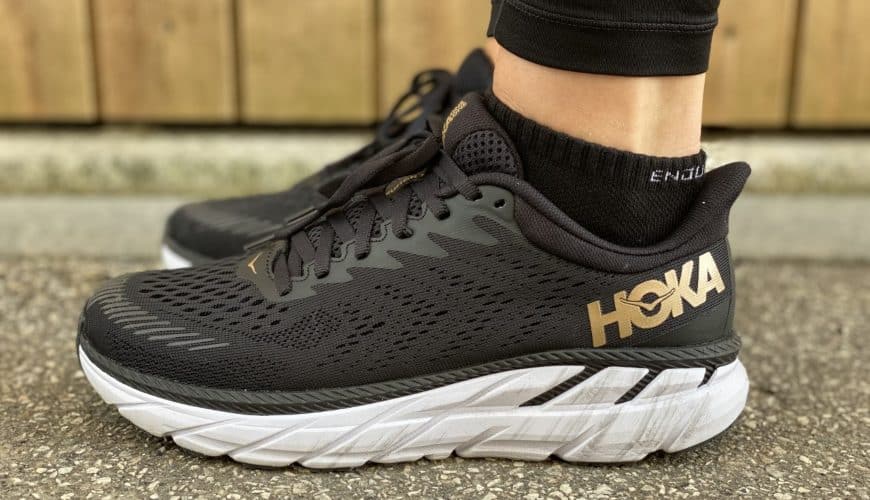 Best Features:
Engineered mesh top for comfort and breathability.
The tongue is kept in the ideal position by the mesh gusset.
Sturdy eyelets with reinforcement.
The collar tab has been modified to replace the heel loop for dependable pull-on and off support.
Meta rocker in its early stages.
With a full compression-molded EVA midsole, the trademark cushioning.
Slight heel bevel
With a flat-waisted shape, stability was improved.
Fantastic ground contact
The outsole's strategically placed high abrasion rubber zones increase durability without increasing weight.
Flat laces provide a snug fit on foot.
A heel-to-toe drop of 5mm.
Favourable to vegans.
We can't speak highly enough of the Clifton 8 if you're looking for a long-distance or recovery shoe! It keeps the foot comfortable and stable by acting as a physical sofa. You will glide through with ease because the ride is likewise buttery smooth. It also isn't at all hefty despite providing a lot of padding (a shocker really).
In terms of price, the Hoka One One Clifton 7 is less expensive than the Hoka Bondi 7, so if you like to save a little money while getting a pair of hoka, choose these over the Hoka Bondi 7 instead.
All in all, the Clifton is a reasonably-priced actual goodie bag!
What We Don't Like About This Shoe?
Faster paces do not benefit from softness.
Insufficient pop through the toe-off
6. Hoka Speedgoat 5– Best Hoka Walking Shoes For Technical Trails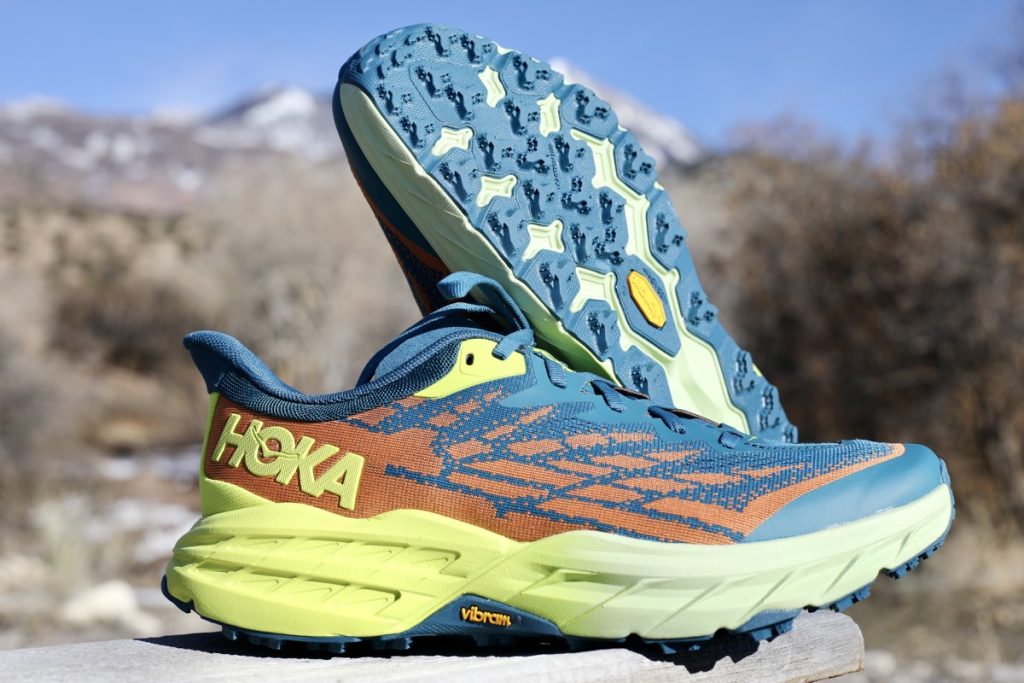 Best Features
Technical mesh that has been upgraded for breathability and a tight weave to repel grit and dirt.
Overlays made of 3D printing for support and lightness.
The gusseted tongue has ventilation cutouts.
Gore-Tex is used in the lining material to provide waterproofing and breathability.
Updated eyelets for a tight fit.
It uses a thinner foam for the midfoot's cushioning.
A wider forefoot improves fit and stability.
Better traction in dry and rainy weather thanks to the Vibram® Megagrip rubber outsole.
The outsole has 5mm of the tread.
Additional rubber in key locations for action stability and support
A neutral 4mm drop heel.
Favourable to vegans.
If you like to venture off the usual path and walk in tough, rocky, and damp places, the newest Hoka Speedgoat 5 trail runner is an outstanding pair of Hoka walking shoes.
The Speedgoat 5 from Hoka is still your go-to, trustworthy, and extremely affordable trail shoe. But rapid runs on extremely tricky terrain can work wonders for getting the most out of it. Additionally, it fulfils every requirement for a superior trail shoe.
You also receive cushioning and superior traction with a Vibram outsole. Due to the Vibram outsole and weatherproofing, these shoes stand out as exceptional Hoka One Walking shoes that are better suited for treks in more demanding terrain and wetter conditions. The brilliant colours and ample padding are helpful if you wish to take lengthy, leisurely walks over distances.
Conquering the vast outdoors is simple, thanks to its amazing gripping, robust, and supportive design. Overall, if you want to go quickly and extensively, wear the Hoka Speedgoat 5.
What We Don't Like About This Shoe?
Not for wide feet.
The tongue is short.

7. One one Speedgoat 4 GTX – Best waterproof Hoka Shoe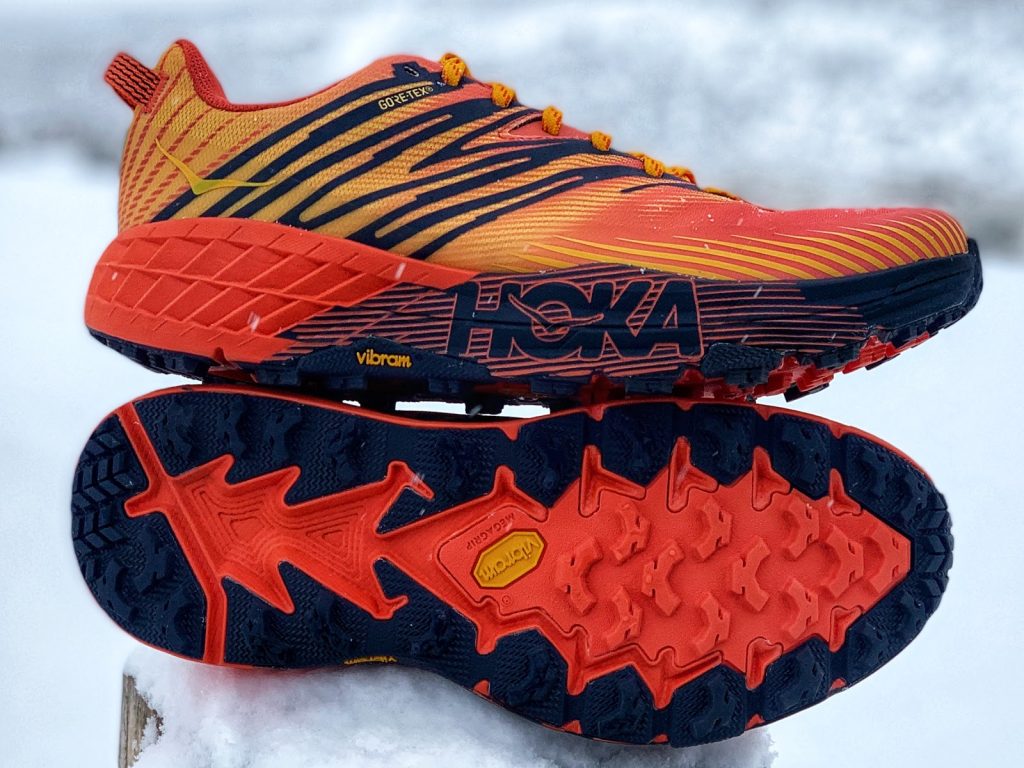 Best Features:
Technical mesh that has been upgraded for breathability and a tight weave to repel grit and dirt.
Overlays made of 3D printing for support and lightness.
The gusseted tongue has ventilation cutouts.
Gore-Tex is used in the lining material to provide waterproofing and breathability.
Updated eyelets for a tight fit.
It uses a thinner foam for the midfoot's cushioning.
A wider forefoot improves fit and stability.
Better traction in dry and rainy weather thanks to the Vibram® Megagrip rubber outsole.
The outsole has 5mm of the tread.
Additional rubber in key locations for action stability and support
A neutral 4mm drop heel.
Favourable to vegans.
People have generally responded well to the Speedgoat 4 GTX. The majority of users generally have favourable things to say about this shoe. Both the grip ability of the outsole unit and the waterproof yet breathable upper have received praise. However, there has also been a sense of stiffness and claustrophobia.
What We Don't Like About This Shoe?
Even though it can tackle flat trails, it could be too big for that use.
The shoe can be excessively heavy for certain people.
8. Hoka Arahi 6- The Stability Trainer In Hoka Walking Shoes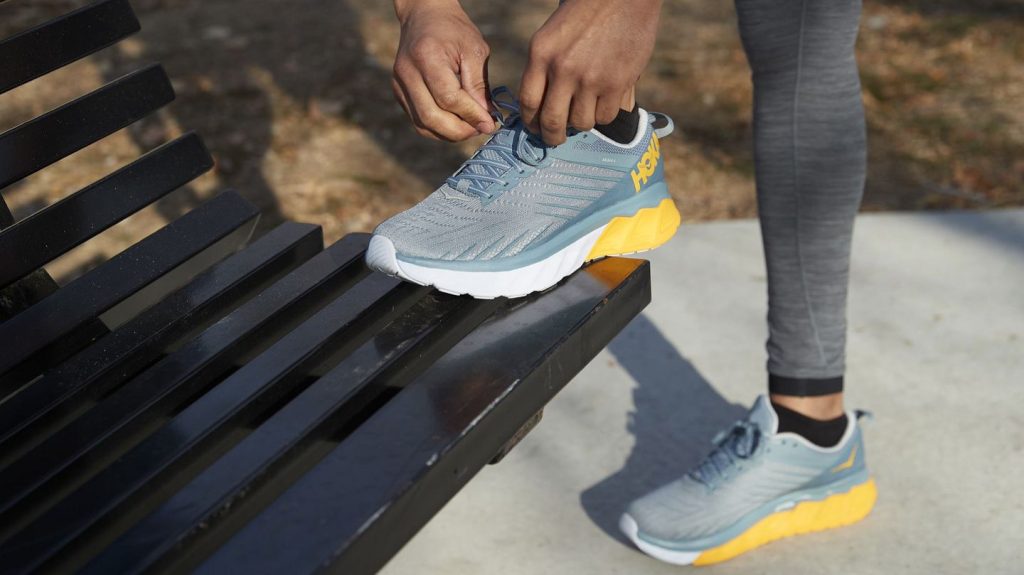 Best Features
Lower neutral heel (5 mm drop from heel to toe) for style purposes.
Wide footbed and excellent padding.
J-Frame technology for stability and overpronation management.
Denser foam in the midfoot extends to the heel wrapping for improved stability.
For a long-lasting outsole, use high-abrasion rubber.
Engineered one-piece mesh upper: more permeable and with fewer points of contact.
Rocker geometry from the early meta.
Vegan Friendly.
Hoka Arahi 6 still checks all the boxes if you're seeking for supportive, stable Hoka One walking shoes, even though a newer model is available. It offers a cosy, flexible, and soft top that is also breathable. Additionally, whether you decide to run or walk, an internal heel counter will maintain your foot snugly in the proper place for a natural stride.
For midfoot support against twisting and additional rigidity, Hoka uses a stiffer composite foam rather than the midsole shank technology. The firmness of the midsole and the low 5mm heel drop, according to many runners, require some getting used to, but they also contribute to the dependable comfort of Hoka walking shoes.
The lightweight, airy mesh upper is not waterproof. Although it dries rapidly, you shouldn't go strolling in a downpour or splashing through puddles. These Hoka walking shoes are equally good for neutral walkers as for overpronators, thanks to their stability characteristics.
What We Don't Like About This Shoe?
It must be broken in or may be too stiff for some people.
Certain parts were tight, according to some runners.
On our pair, the tongue would occasionally slip out of place.
9. Huapana Flow– Casual Hoka Shoes for Travel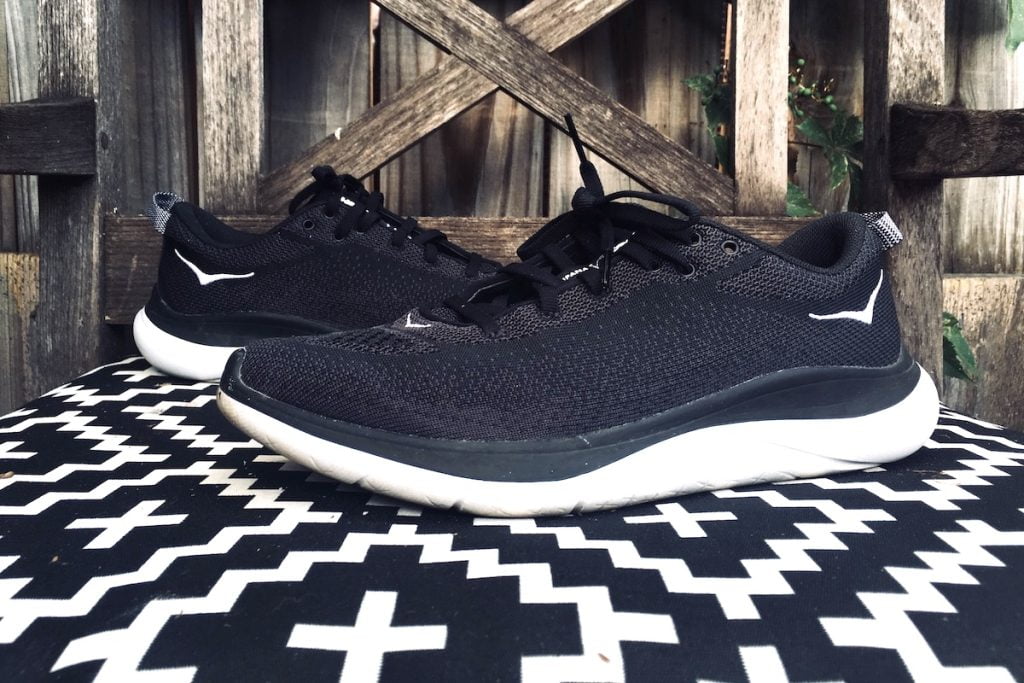 Best Features
Engineered knit upper provides a comfortable fit, structure, support, and breathability.
More airflow is provided by the open-knit structure throughout the midfoot and forefoot.
Additional lockdown is created across the instep by double eyelets.
In every activity, the Balanced Meta-Rocker gives versatility.
A snappy, dynamic ride is provided by the rubberized foam midsole.
The Hupana Flow, a member of the Hupana family, is versatile. This shoe will keep you at ease and prepared to dive into any activity, whether it be running, exercise courses, gym sessions, or simply walking down the street.
It's a shoe that may seem casual but still provides the comfort we need since we frequently walk more than 20,000 steps when on vacation.
In contrast to the other shoes on the list, we would not run or perform a hard workout in these shoes, but I enjoy them for just moving around all day while running errands or exploring and feeling comfortable.
What We Don't Like About This Shoe?
Tongue slip improperly.
A bad sidewall.
Inadequate reinforcement for the sole surface.
10. Hoka One One Cavu 3– Hoka Walking Shoes With Lowest Cost And Lightest Weight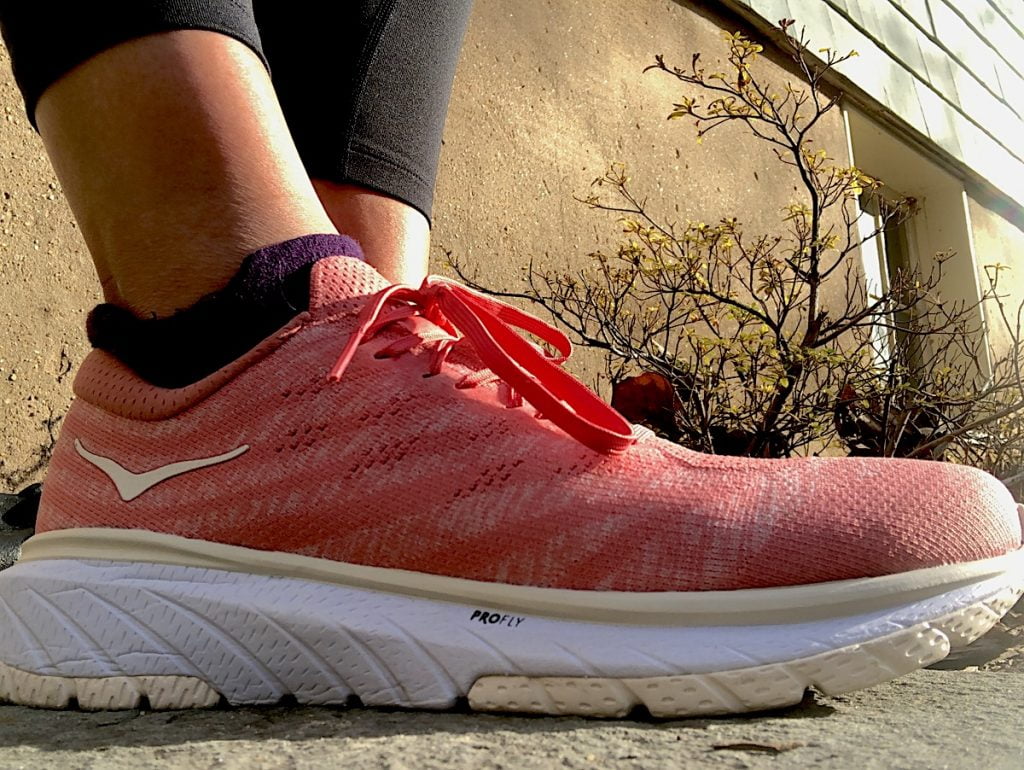 Best Features
A foot-hugging adaptable stretch knit upper provides a superior fit.
On the upper, certain perforated zones increase breathability.
Knit uppers don't have tongues, so they fit better and have fewer spots where dirt can get inside the shoe.
Superior meta rocker.
Deep midsole dynamic foot structure.
Shock-absorbing PROFLY layer in the upper midsole enhances toe-off.
EVA full-length midsole update with softer cushioning.
Rubberized EVA outsole for durability and bounce.
Vegan.
Heel drop of 6mm.
Are you wondering where the name came from? CAVU is for Ceiling and Visibility Unlimited, a term from the aviation industry that matches the notion that these shoes are from Hoka's "fly" line, which allows your feet to glide across the ground on cushy softness with each step.
These are one of the most adaptable shoes on the market, and for $120, it offers excellent value.
The Hoka walking shoes eliminate areas that rub and irritate your skin since they fit like socks. The ProFly layer gives you a softer heel and a stiffer forefoot for energy return.
Most walkers find knot uppers to be excessively warm, but perforated panels provide adequate airflow to keep your foot feeling cool while you walk. It is portable and appropriate for walking on dry pavement or preparing for your next marathon at the gym.
What We Don't Like About This Shoe?
Constricted forefoot area.
Skin is irritated by the collar lining.
Features of a Good Walking Shoe
To make your search for a pair or two of Hoka walking shoes quick and simple, we have created our recommendations under different categories.
When you are looking for a walking shoe, you want to find something that has a lot of cushions. This will help protect your feet when you are walking. You also want to make sure that you get a pair of walking shoes that fit well.
When you're considering buying any walking shoes, keep the following factors in mind:
Achilles tendon Protector- locks the shoe around the heel to lessen stress on the Achilles tendon.
Instep collar- Provides comfort around the heel and guarantees a good fit.
Upper- It is typically constructed of leather, mesh, or synthetic material that keeps the shoe on your foot. Mesh is lightweight and provides improved airflow.
Insole- Supports and cushions the arch of your foot. Removable insoles can be washed or left outside between walking sessions to air dry.
Outsole- Smacks down on the surface. Treads and grooves can support continued traction.
Air, gel, or foam midsole- Helps to absorb impact and lessen its force when your foot hits the ground.
Spacious Toe box- Allows room for the toes. Calluses can be avoided by having a wide and rounded toe box.
Are Hoka Shoes Good For Walking?
Hoka shoes are good for walking because they provide cushioning and support for the runner's heel and bondi. They are also breathable and comfortable, making them ideal for walkers and runners alike. Additionally, Hoka shoes offer a plush, cushioned ride that is perfect for walking or running.
Hoka One One shoes are a brand of shoe that is becoming increasingly popular among runners. The company's slogan is "time to fly," and they certainly live up to that with their shoes.
Their unique design makes them look like a cross between a traditional running shoe and a moon boot. They also have a very cushioned sole, making them ideal for runners looking for a shoe that will provide them with extra support and cushioning.
The company's website claims that its shoes are "like running on clouds," and many runners who have tried them say that they definitely live up to that claim.
Are Hoka One One Shoes Good For Plantar Fasciitis?
Hoka One One shoe is a great choice for people with plantar fasciitis. The extra cushioning in the forefoot and heel area of the shoe can help to take some of the pressure off the plantar fascia, which can help reduce pain and inflammation.
Additionally, the shoe's meta-rocker design can help promote a natural gait, which can also help reduce stress on the plantar fascia. So, if you are looking for a shoe that can help to ease your plantar fasciitis pain, then Hoka.
Why Do Podiatrists Like Hoka?
Numerous podiatrists advise using Hoka walking shoes, and the American Podiatric Medical Association has even granted its Seal of Acceptance to a few of the company's designs. This indicates that the shoes have been proven to be advantageous for foot health.
The majority of walking shoes that podiatrists advise aren't particularly attractive, right? Thankfully, the days of putting up with unsightly shoes out of comfort are behind us. That's in part because of Hoka, a shoe brand that has won the admiration of both customers and foot specialists.
Because of how well-designed they are, several podiatrists even frequently wear Hoka walking shoes. Dr Wendy Stinson, a board-certified podiatrist with over 30 years of experience who focuses on the medical and surgical therapy of foot and ankle diseases, declares, "I am a huge fan of Hoka shoes. I have been wearing them myself and recommending them since I first learned about them in 2016."
In addition to listing Hoka One One as one of his favourite sneaker manufacturers, Dr Miguel Cunha, a podiatrist and the founder of Gotham Footcare, said he routinely suggests the footwear to patients, particularly those with broad feet. Hoka's shoes have a wider toe box than other well-known models of sneakers, allowing for a more comfortable fit for people with broader forefoots and lowering the possibility of developing painful conditions like bunions or ingrown toenails, he added.
Conclusion
Hoka One One makes superb walking shoes that are outstanding in terms of comfort, support, and stability. Hoka walking shoes feature a variety of alternatives that would be suitable for you if you tend to overpronate or need extra forward propulsion as you walk to get more energy back. Hoka also offers walking shoes that are appropriate for your needs if all you're searching for is superb cushion and support for extended walks over various terrains.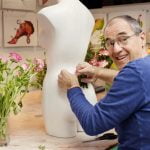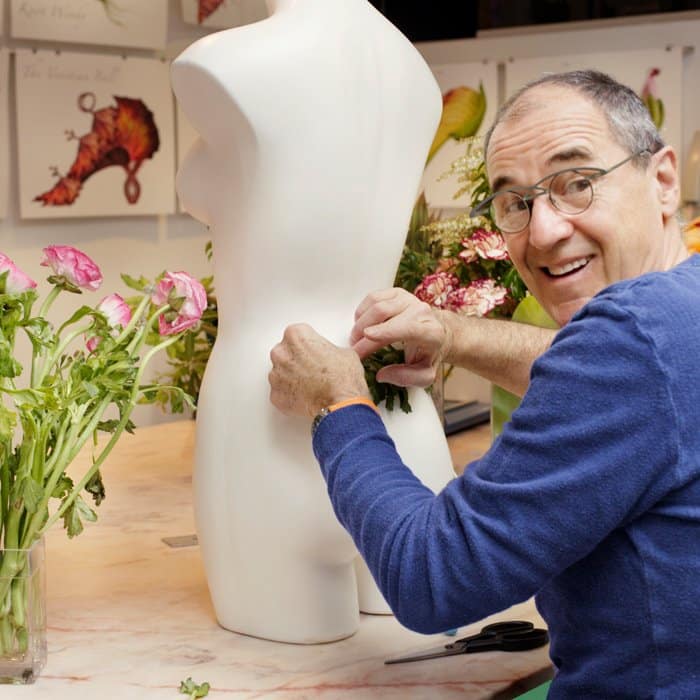 Michel's passion for shoes and flowers is evident in his acclaimed "Shoe Fleur" photography series, which features shoes transformed into stunning floral arrangements. His work has been exhibited in galleries and museums around the world, including the International Center of Photography in New York City and the Maison Européenne de la Photographie in Paris.