Introduction
For those who pass their whole workday on their feet, such as those working in the medical and hospitality industries, Steel Toe Crocs shoes were created.
The customized footwear collections provided by Crocs are up to the high standards expected by these sectors. Even though you didn't expect this brand to make it to your top 100, Crocs Work shoes integrate the necessary certification with the finest arrangement for the work surface with plenty of options made both leather and non-leather and with free shipping and delivery options to some extent.
You can go for steel-toed crocs if you're searching for comfortable, low-top, slip-on design everyday steel-toe work footwear. I'll give you an overall idea about these shoes in this article. So let's get started.
Benefits of Wearing Steel Toe Clogs
Products from this renowned brand are as light as air. They use Croslite, a foamable EVA (ethylene-vinyl acetate), a patented substance that develops in a mold. Because of the foaming process, the shoes are incredibly light, which is excellent if you intend to be on your feet for long days.
In addition to being lightweight, the EVA material can be molded to fit your feet. That makes these very comfortable to wear on long shifts. They are waterproof.
That makes them easily washable and even wearable on rainy days without hesitation. They also have cushioned insides that make them comfortable to wear on long shifts. These are the slip-on shoes that you've dreamed of. That makes them super convenient for rush hours.
Types of Steel Toe Clogs
This selection of seel-toe shoes are basically two types. They are briefly discussed below:
The Bistro Clog
The restaurant, food service, hotel, and healthcare industries are the target markets for the Bistro clogs. It's more suitable for job settings because of its slip-resistant outsole tread pattern. This is a feature that the Classic ones lack.
Like the Classic ones, the Bistro contains the customary pivoting heel strap. Also, they are made of the same "Croslite" foam for a cozy, lightweight construction. They are now available in LiteRide form, which offers an even softer inside.
The Classic pair have a lower heel height than the Bistro. To comply with specific working regulations, this heel is higher. Compared to other vented variants, their design with no ventilation on the upper part makes them more suitable for work conditions.
Crocs on-the-clock
Insoles are a feature that On-the-Clock shoes offer. These are more suitable for workplaces because they lack ventilation and have a closed heel.
This selection of work shoes is heavier than the Croc Bistro due to the closed design's slight weight increase, even though they have a more comfortable sole. This On-the-Clock footwear will offer less breathability than other brand styles because they lack trademark air holes.
Advantages of Steel Toe Clogs
Steel-toed safety shoes help protect against various injuries, not just those caused by falling objects. Injuries brought on by falls, wounds, lacerations, burns, and punctures can also be avoided with their aid. Such injuries are less likely to occur when wearing a solid protective boot.
Comfort: The toe caps of these shoes are made of steel, so wearing them all day is obviously uncomfortable. But you can wear it sometimes for security purposes.
Durability: These safety clogs are made of a very durable substance, resistant to firm pressure and impacts and lasting long.
Protection: These shoes can save your leg from various kinds of injury. The safety rating of these also shows that they have a safety guarantee.
Disadvantages of Steel Toe Workwear
When choosing protective footwear, a steel toe is your best option. These tend to weigh more than others by nature. They are metal so they may become uncomfortable in very hot or cold conditions.
But remember that these drawbacks are relative and do not warrant skipping the protection a steel toe provides if you require it for your work.
Shoes with composite protective features are an option if you're concerned about those problems. In contrast to steel, however, they are less durable and frequently have lower security ratings.
Cost: Steel-toe crocs are so expensive. The basis of Crocs' success is Croslite, a material that is highly expensive to create but is used to make the shoes. Crocs's quality, comfort, distinctive style, and brand recognition contribute to their high price.
Heavyweight: Average weight for steel-toe boots is from 3.5 to 4.5 pounds. Remember that these won't weigh the same as conventional ones because adding material like steel adds a little weight.
Limited Color and Style Options: As steel toes are work shoes, they don't come with a wide range of color and style options for both men and women.
How to Choose the Perfect Steel Toe Crocs
There are several things to consider when selecting the ideal steel-toe Crocs.
Make sure your feet fit comfortably in the Crocs, both in size and fit. Be sure the steel toe is sturdy enough to protect your toes in hazardous work situations and complies with safety regulations.
Moreover, search for Crocs constructed from sturdy materials that survive wear and tear.
Choose a pair of Crocs that best suits your needs by considering the type of labor you will do, whether a clog or a slip-on style.
By considering all of these factors, you may choose the ideal steel-toe Crocs that will keep your feet secure and at ease throughout the workplace.
5 Best Steel Toe Crocs That You Can Buy Now
1. Crocs Women's Neria Pro Li Clog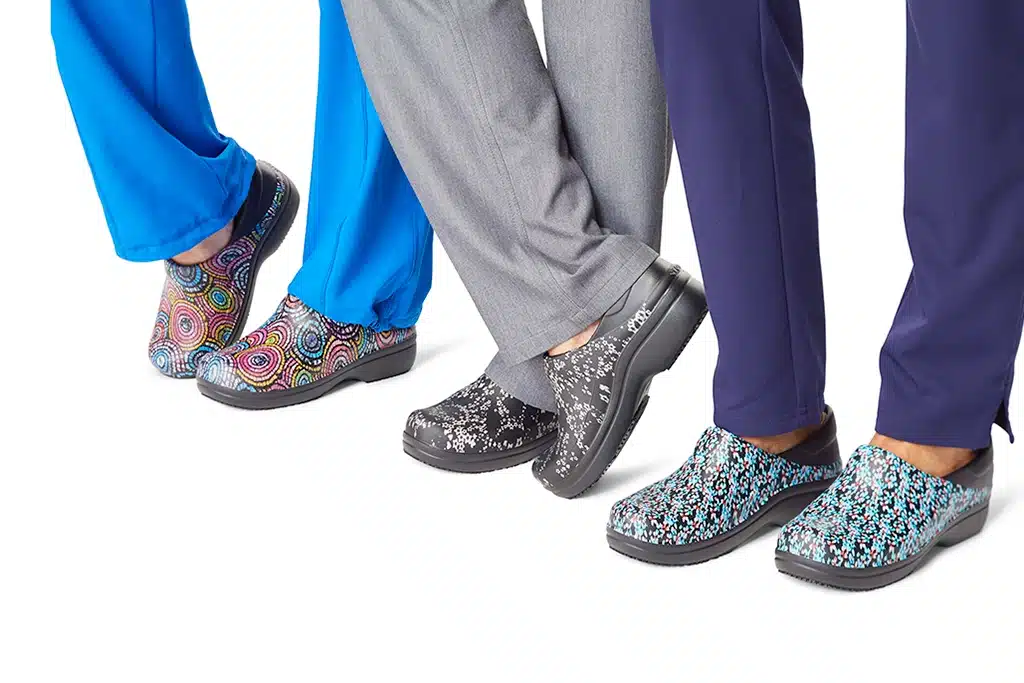 The Women's Neria Pro Embellished Clogs offer a comfortable but supportive fitting. The toes and heels of these include ample padding for the utmost comfort throughout hard workdays.
With the outsole's Lock slip-resistant tread, you can stay safe and stable around spills and slick environments. These shoes are available in sizes 4 to 11, 15 different color and pattern combinations, and various colors.
2. Crocs Bistro Graphic Slip Resistant Work Shoes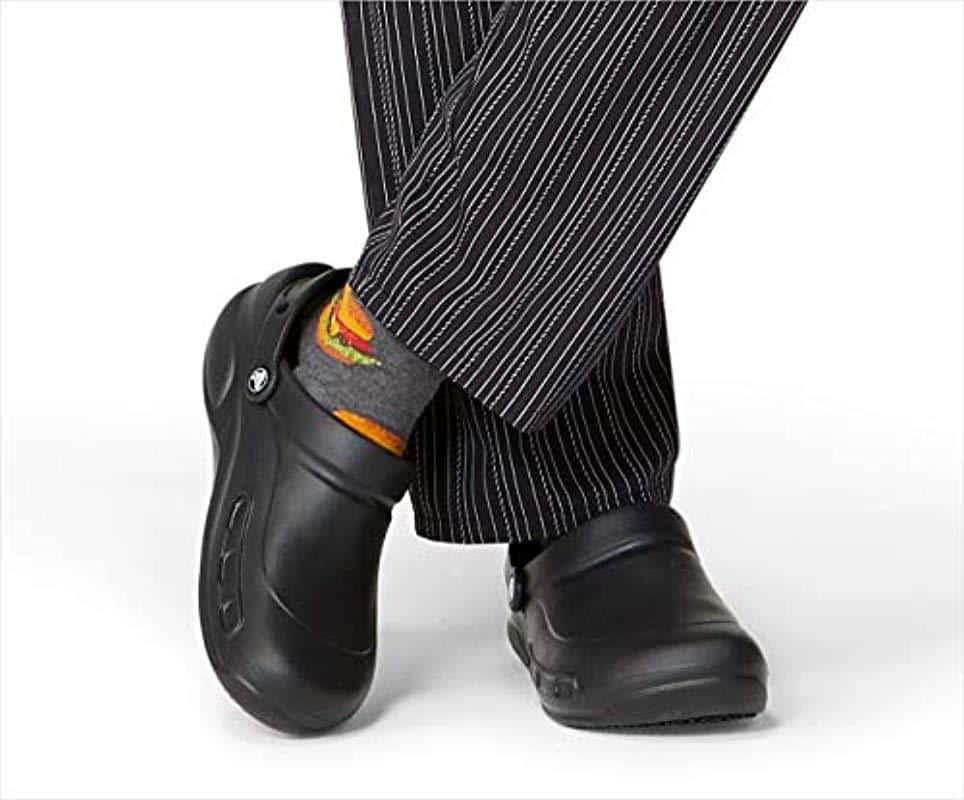 For people who prefer a wider shoe for work, the Crocs Bistro Graphic Slip Resistant Work Shoes are made for roomier wear. These shoes include a closed-toe box and the traditional Croc slingback design to protect your feet from accidents.
Thanks to the contoured footbed and Croslite foam padding, your foot will be supported and cushioned. You are almost certainly to find a pair matching your personality, outfit and sense of look among the 12 unique patterns these shoes come in.
They'll make anyone stand out from the crowd as they come in women's sizes from 6 to 17 and are considered unisex shoes.
3. Crocs Literide Pacer Sneaker Shoes for Nurses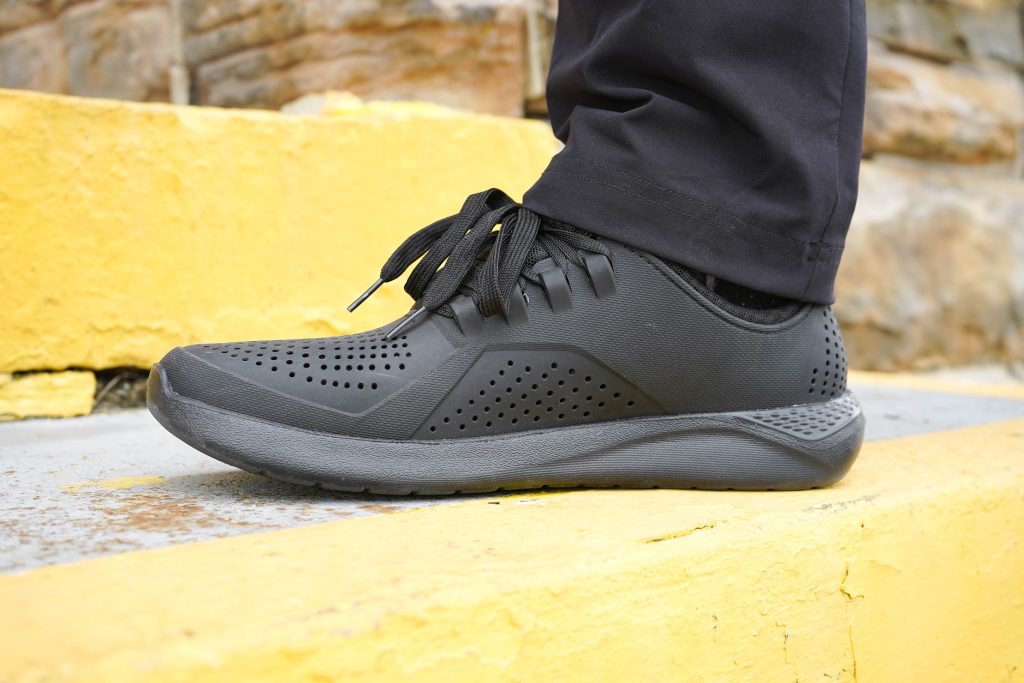 Our next suggested shoe by Crocs is an example of their line of shoes that extends the outside world. The lightweight, athletic-style Crocs Literide Pacer Sneaker Shoes for Nurses give you the same level of comfort the brand is known for.
These shoes have a loose attachment and an easy lace-up fastening that let you customize the clog to your needs. These shoes come in sizes 4 to 11 and 18 different color combinations.
4. Crocs Women's Mercy Work Nurse Shoes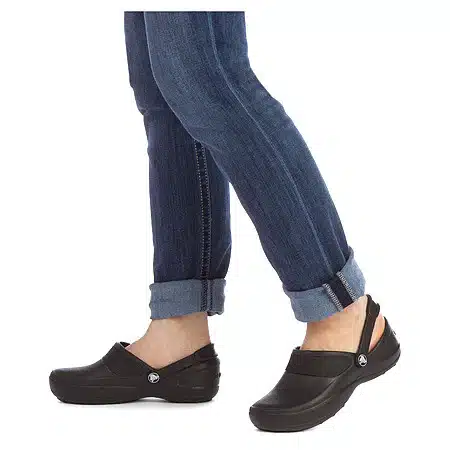 The Crocs Women's Mercy Work Nurse Shoes are similar to the Classic ones in that they have a nice slingback style and a broader, more flexible, and wider arrangement to prevent spills and possibly contaminated needle sticking in the event of a syringe drop.
These contain an enclosed toe and heel area, which gives arch support to your feet. The sizes of these shoes vary from 4 to 12, and they are available in five colors.
5. Crocs Women's LiteRide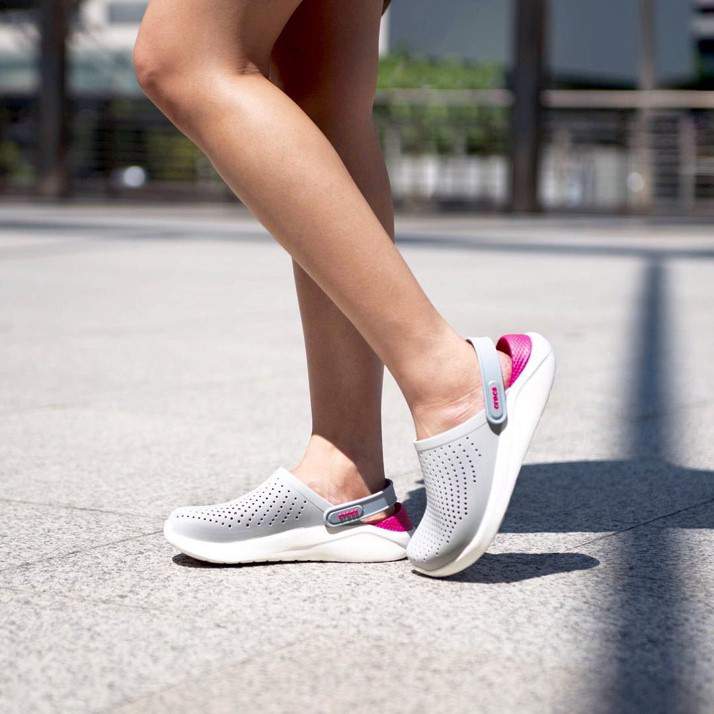 The Crocs Women's LiteRide Mesh Lace Nursing Shoes are a great option if you enjoy casual athletic-style sneakers. These specific shoes are designed to withstand the daily abuse that comes with the daily life of a medical worker.
They are, therefore, particularly excellent for nurses and other medical professionals. These nursing shoes are available in sizes 4 to 11 and in black and white.
Conclusion
Crocs earned their notoriety due to their usefulness, just like many other so-called essential items and classic clothes. Despite being quirky, the shoes are very functional.
They've proven themselves in the field, much like a pair of Goodyear welted workwear, and have received accolades from many non-fashion types for being comfortable shoes and waterproof.
Although it might not be what we often consider a classic aesthetic, "form follows function," as the saying goes. Although you wouldn't become a Patreon on your first day wearing them, Crocs will be your favorite if you seek something durable and functional.