These two terms have been associated with Crocs shoes- comfortable and casual. For these two reasons, Crocs are my all-time favourite.
Most popular crocs shoes are now available for men, women, and children in more than 100 different styles. Due to how flexible and versatile this footwear is, there are Crocs for every season and event.
Despite giving the maximum, there is still some confusion about Crocs shoe sizing. So, you could be wondering, do crocs run big? Is it better to size up or down in crocs? Or else, how are they supposed to fit?
While you consider buying shoes similar to crocs to wear. So, in this article, I will try to give you all those questions and answers and give you an overall idea about crocs shoes.
Do Crocs Run Big or Small?
In general, crocs fit widely and comfortably and run true to size. It mainly depends on the model and fit you're buying; either Crocs run small or large. The casual models usually suffer from running big, but it's essential to take the fit into consideration as well.
This is so because some models are designed for pleasure, but others are specifically designed for the workplace.
Some Crocs are designed for Plenty of room that you will like to wear in your house for the sake of comfort. For professionals who must stand for long periods of time on their feet, some Crocs are made.
Your foot will not slip out of these Crocs because of the tight fit they provide. Therefore, it would be inaccurate to assume that all Crocs run big.
Do Crocs Come in Half Sizes?
Crocs generally come true to size and don't provide half sizes. On the other hand, as was previously said, their sizes can change based on the kind of shoe you wish to buy.
It's important to pick the right model because some are made for comfort while others are made for work. Since the Classic Crocs are primarily made to provide a more generous and comfy fit, you have no problems with them.
By ordering your regular size, you can get a perfect fit. However, the situation is different regarding other designs like the Crocs Bistro Clog. First of all, a contradictory design was intended when the Crocs Bistro was created.
Despite having a closed toe and top, this shoe is a little bigger than others. However, this may be good news for some people, so that's something.
For instance, if your feet are wide, this model would be ideal for you because of the excellent comfort that your feet would receive from its roomy and flexible fit. The Crocs Crocband model, on the other hand, gives you a small room.
They will actually fit if you decide to buy them and have a regular foot. On the other hand, if your feet are wide, it will be challenging to try to squeeze into them.
Crocs shoes Sizing Guide
Since 2002, Crocs shoes have been sold commercially. Crocs have created shoes in various styles, such as clogs, slippers, sneakers, boots, and sandals.
As previously said, the targeted uses and the necessary fit type are considered when designing each Crocs model. Men's, women's, and children's crocs sizing guides/charts are created.
For your convenience, Crocs has included size conversions for the US, UK, and Europe in each chart. Moreover, some unisex shoe styles are available for both men and women to wear.
For some models, there is a different sizing chart. The most well-liked Crocs models are made in a unisex model. Such shoes are sized using the unisex crocs shoe sizing chart given below.
Crocs Men's Size Chart
| US Size | UK Size | EU Sizes | Inches | MM |
| --- | --- | --- | --- | --- |
| 4 | 3 | 36-37 | 8 5/8 | 221 |
| 5 | 4 | 37-38 | 9 | 229 |
| 6 | 5 | 38-39 | 9 3/8 | 238 |
| 7 | 6 | 39-40 | 9 5/8 | 246 |
| 8 | 7 | 41-42 | 10 | 255 |
| 9 | 8 | 42-43 | 10 3/8 | 263 |
| 10 | 9 | 43-44 | 10 5/8 | 272 |
| 11 | 10 | 45-46 | 11 | 280 |
| 12 | 11 | 46-47 | 11 3/8 | 288 |
| 13 | 12 | 48-49 | 11 5/8 | 297 |
| 14 | 13 | 49-50 | 12 | 305 |
| 15 | 14 | 50-51 | 12 3/8 | 314 |
| 16 | 15 | 51-52 | 12 5/8 | 323 |
| 17 | 16 | 52-53 | 13 | 331 |
Crocs Women's Size Chart
| US Size | UK Size | EU Sizes | Inches | MM |
| --- | --- | --- | --- | --- |
| 4 | 2 | 33-34 | 8 3/8 | 212 |
| 5 | 3 | 34-35 | 8 5/8 | 221 |
| 6 | 4 | 36-37 | 9 | 229 |
| 7 | 5 | 37-38 | 9 3/8 | 238 |
| 8 | 6 | 38-39 | 9 5/8 | 246 |
| 9 | 7 | 39-40 | 10 | 255 |
| 10 | 8 | 41-42 | 10 3/8 | 263 |
| 11 | 9 | 42-43 | 10 5/8 | 272 |
Crocs Unisex Size Chart
| US Size | UK Size | EU Sizes | Inches | MM |
| --- | --- | --- | --- | --- |
| M4 | W6 | M3 | W4 | 36-37 | 8 5/8 | 221 |
| M5 | W7 | M4 | W5 | 37-38 | 9 | 229 |
| M6 | W8 | M5 | W6 | 38-39 | 9 3/8 | 238 |
| M7 | W9 | M6 | W7 | 39-40 | 9 5/8 | 246 |
| M8 | W10 | M7 | W8 | 41-42 | 10 | 255 |
| M9 | W11 | M8 | W9 | 42-43 | 10 3/8 | 263 |
| M10 | W12 | M9 | W10 | 43-44 | 10 7/8 | 272 |
| 11 | 10 | 45-46 | 11 | 280 |
| 12 | 11 | 46-47 | 11 3/8 | 288 |
| 13 | 12 | 48-49 | 11 5/8 | 297 |
| 14 | 13 | 49-50 | 12 | 305 |
| 15 | 14 | 50-51 | 12 3/8 | 314 |
*With the help of these charts, you can easily select your own size for buying Crocs*
How Do Crocs Fit?
Your feet will end up fitting different types of Crocs clogs in different ways. So let's learn more about how the various Crocs clog models fit before you decide whether to size up or down. Three types of crocs fits are discussed in detail below:
Roomy Fit
Some people want to have a lot of room in their shoes so they can comfortably move their feet around. Shoes with this type of fit are typically comfortable for walking from room to room or sitting at the table for long periods of time.
Models in this category often resemble clogs and have a back strap that hugs the back of your heels to provide comfort and support for your feet.
The backing strip also wants to ensure that your feet stay put and that you don't make any unsteady movements. The fit makes sure that your feet do not touch the sides of the shoes from length to width.
Moreover, these have a large toe box, so your toes won't rub against the front of the shoe. This kind of shoe style ensures good breathability because there is enough room between your toes and the tops of the shoes.
If you are considering purchasing shoes of this nature, you might want to purchase a smaller size to wear for lengthy walks.
Relaxed Fit
This style of fit does not give you as plenty of room for your feet as a roomy fit does. You can get a relatively tighter fit by using Crocs. Your toes won't touch the shoes, yet there is still room in the front. Moreover, there is a small amount of space surrounding your feet.
Your feet may sometimes come into contact with the sides of the shoes, which will aid in stabilizing your walking motion while allowing for a tight and comfortable fit. Some models featuring a relaxed fit also include laces or straps to provide a nice fit.
In this way, Crocs shoe models with a relaxed fit are the most suitable for long-distance walkers or for professionals who have to stand for long hours on their feet.
Some models with a loose fit may come with laces or straps to ensure a good fit. Thus, long-distance walkers or professionals who must spend a lot of time standing up are best suited for Crocs shoe models with a relaxed fit.
Standard Fit
This designed sung fit totally encircles your feet on all sides without being constricting or uncomfortable. Standard-fit Crocs shoes offer a glove-like fit to the shape of your feet with little sliding while you move about.
In order to avoid motion and to rub on the back of your ankles, the heel of the shoes also offers a solid and snug fit. Finally, this fit still provides plenty of freedom for your toes to move about in the front of the shoes. Most Crocs footwear with a standard fit often has a loafer style.
How Do Classic Clogs Fit?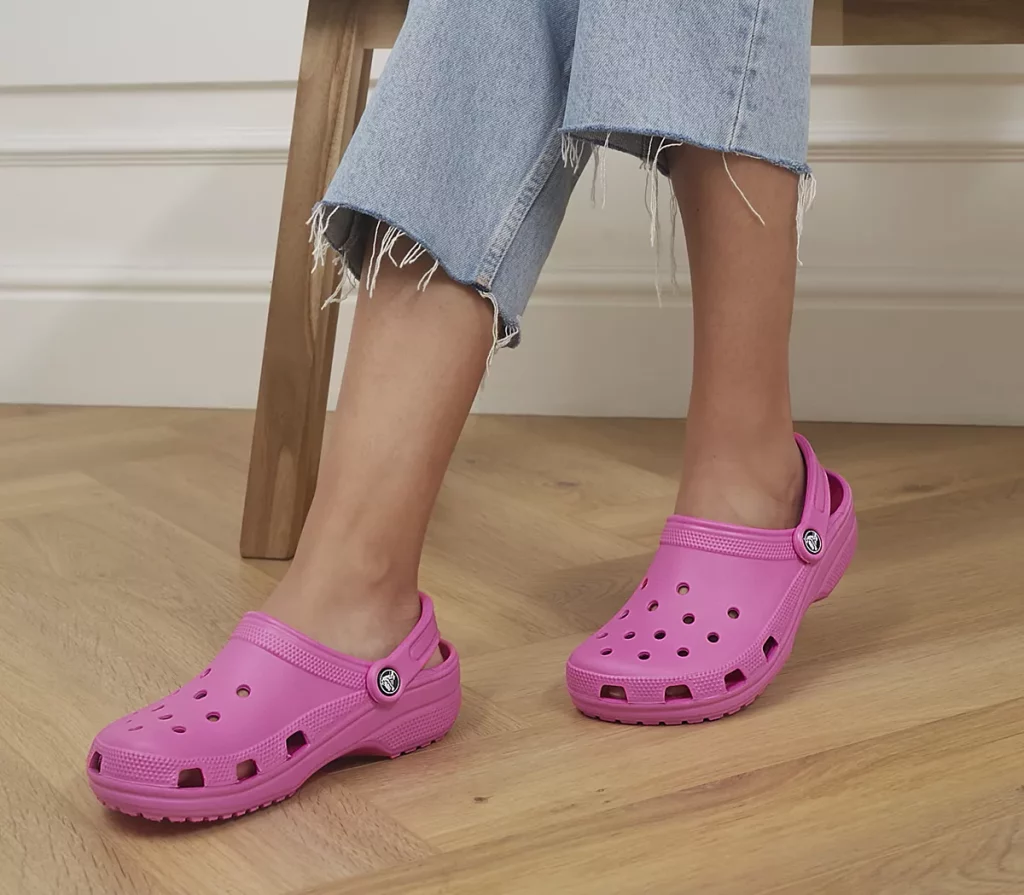 While offering a roomy fit, the Crocs Classic Clogs fit largely true to size. Some will be shorter, and others will be longer than them when you compare them to shoes of the same size from other brands.
The Crocs Classic clogs are designed to fit loosely and have a rotating backing strip on the heel's rear to support your feet. You might need to order a full-size smaller for Crocs Classic clogs.
How Do Crocs Bistro Clog Fit?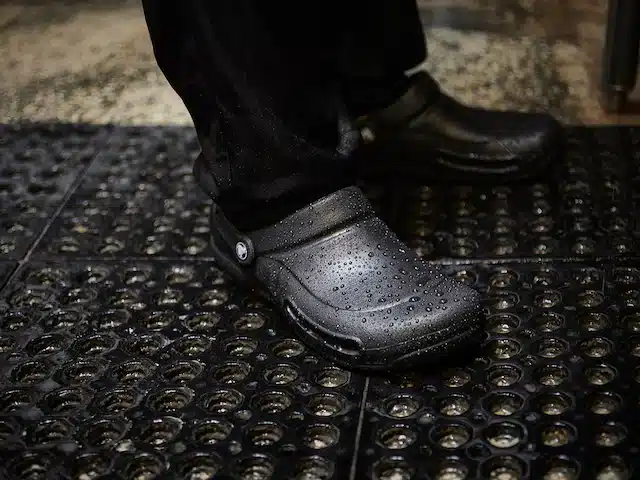 Crocs is a well-known manufacturer of sturdy, functional footwear. The Bistro Clog is a style of footwear made by Crocs for use in the chaotic, fast-paced, and busy kitchen.
The exclusive Crocs Lock traction system holds any surface and guards against the slip-and-fall mishaps that can happen all too frequently in a busy kitchen.
The Crocs Lock tread technology surpasses national industry standards for slip resistance on a range of slick surfaces, including greasy, damp, or soapy floors.
They offer a good roomy fit, just like traditional clogs. These clogs have a closed toe and top, which sets them apart from the preceding pair. Additionally, the tops of them are not ventilated.
This prevents liquid from seeping into your feet through the shoes. As a result, compared to the Crocs Classic Clogs, their fit is a little bit narrower.
How do Crocs on the Clock Clogs Fit?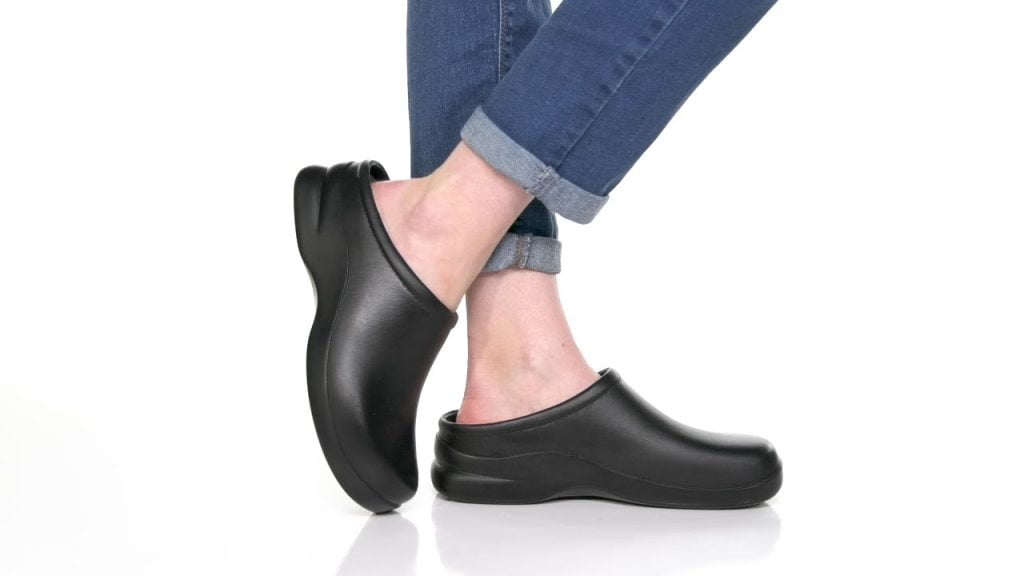 Crocs offer these specialized pair of clogs for professionals who have to stand all day long. The slip-on application, relaxed fit, and the provided cushioning inside make these the croc of choice for many professionals in the field.
According to several customer reviews, these pair of crocs run true to size for people with flat and wide feet. If you have narrow feet, you should buy them in one size down from your usual shoe size.
Crocs Sizing Guide Based on the Type of Crocs
Each style of Crocs shoe has been created with a specific fit in mind, considering various purposes. Some shoes are made for strolling around the house, while others are made for professionals who spend a lot of time standing.
Crocs are shoes with a relaxed fit and come in different sizes according to the intended application. Crocs Baya Clogs and Crocs Specialist are crocs with a roomy fit.
While the Crocs All Terrain clogs tend to have a wide fit, they fit true to size when it comes to length. Crocs Bistro Pro Clogs and Crocs Specialist ll Clogs run bigger just up one size than the right fit for other shoes.
Sizing for crocs may be different for various clogs. But one thing for all of them is the same – they don't come in half sizes.
After wearing, do Crocs stretch?
We are all aware that when you wear shoes for the first time, they usually tend to stretch a little. Would Crocs be in the same situation? Crocs will stretch a little over the first few uses like any other shoe.
You won't have to worry about such things again when that time period is through. They probably won't stretch that much unless you leave your Crocs out in the hot summer sun for a few hours.
Conclusion
People like crocs for their comfy and secure fit. Consumers who usually prefer a loose fit tend to wear crocs more often than the ones who like a standard fit.
Although crocs do come in different fits varying from clog to clog and usually fit perfectly when bought cautiously, sometimes consumers just fail to get the perfect fit.
To avoid this, always review the Crocs sizing chart and the retailer's return policy before making a purchase. In this method, you can return the shoes and get a different size if Crocs are too big or too tiny for your feet.
FAQs
Do all Crocs Fit the same?
No, don't expect that every pair of Crocs will fit equally. According to the style you select and your foot size, Crocs might vary in width, as we discussed above. The widest choice for some Crocs Clogs is the Roomy Fit, while other Crocs Clogs come in the Relaxed Fit, which is a little bit narrower. And the length of a Crocs size might change based on the style.
Why Do Crocs Shrink?
Since Crocs are made of rubber, they may shrink if you use them in a very hot environment. If such incidents happen, don't be concerned; it's only a temporary problem. They will transform back into their original shapes when the heat is reduced. They will likely shrink to some extent due to that constant sun exposure if you leave them in your hot car or dry them in the hot sun after washing.
Is it ok to wear socks with Crocs?
Socks are optional; you can wear them or not. You have the option. I have noticed that most guys do not wear socks with Crocs, despite the fact that they are quite comfy and are designed to keep your feet cool. The majority of women wear flip-flops or thong sandals, though some do wear them as well.
How do you know if Crocs fit?
It is simple to determine if they do so by looking at how firmly the crocs fit your feet. It's not a good fit if they're slipping while moving around or jogging. Wearing crocs without straps is another simple approach to appreciate croc fitting. If you can, try wearing them without straps to see if the shoe comes off while you're walking. They should bite the toe without straps, but if they don't, they are generally too loose and have too much room in the toe box. They break in when you wear them for a while, making them even more difficult.
Do Crocs damage your feet?
Long-term use of crocs can result in foot pain due to their flexible shank and inadequate heel support. They can be helpful for treating plantar fasciitis and metatarsalgia, but they can also increase toe deformities, induce tendinitis, and cause nail issues, corns, and calluses.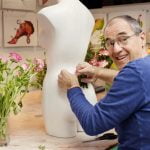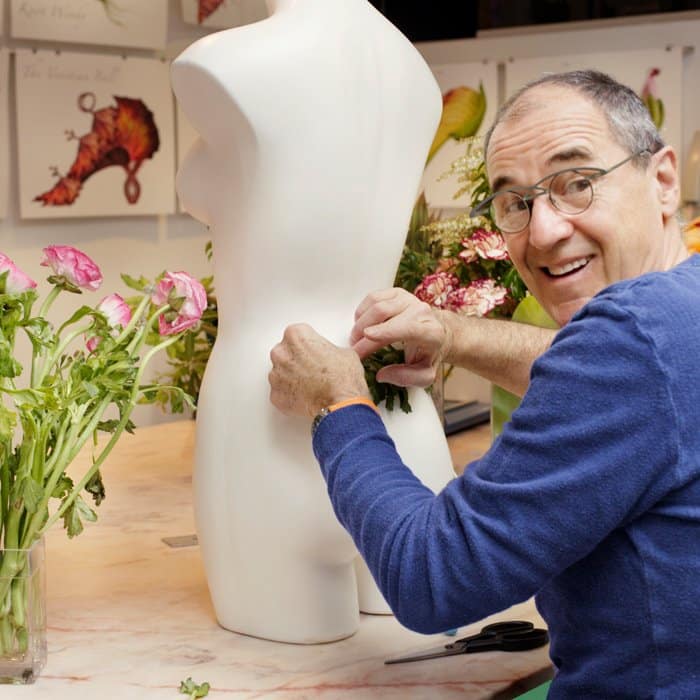 Michel's passion for shoes and flowers is evident in his acclaimed "Shoe Fleur" photography series, which features shoes transformed into stunning floral arrangements. His work has been exhibited in galleries and museums around the world, including the International Center of Photography in New York City and the Maison Européenne de la Photographie in Paris.