DC shoe brand is well-known for its premium grind shoes, snowboard thrills, and other footwear. These shoes are a favorite of skaters, athletes, and fashionistas alike since they combine style and performance.
One of the most recognizable and admired brands in skateboarding culture, DC Shoes sponsors several pro skateboarders and organizes events like the DC Shoes Invitational.
The company's products are also widely liked by fans of other action sports, including snowboarders and BMX riders, and by fashion-conscious customers who enjoy the company's edgy, street-inspired style.
Yet, a common query from customers is whether DC Shoes run big or small. In this article, I will try to give you an overall idea about DC shoes, including a DC shoe size chart. So, keep reading this article.
Do Dc Shoes Run Small or Big or Fit True to Size?
Sizing DC Shoes might be a little hard because it primarily depends on the particular model of shoe you are looking at. Generally speaking, many individuals believe that DC Shoes run true to size or slightly larger, so if you are in between sizes, you might want to think about doing so.
This is especially true with their skate shoes, which are made with a little more space in the toe box to allow for flexibility and movement. It's always a good idea to try on the shoes if you can because some customers have claimed that specific models, like the Court Graffik or Trase TX, may run slightly trimmer and tighter than intended.
Remembering that a shoe's fit might vary greatly depending on a person's preferences is also critical. Some might appreciate extra room, while others prefer a tighter fit. The way a shoe feels can also be influenced by things like foot form, arch support, and desired fit.
For instance, you might need to size up or look for shoes with a wider toe box if you have a broad foot or a high arch. In the end, trying on the shoes if at all possible or consulting the brand's sizing chart and reviews before making a purchase are the best ways to ensure a correct fit.
Dc Shoes Conversion Chart
Ken Block and Damon Way established DC Shoes in 1993, and thanks to their creative designs and premium goods, the firm immediately became well-known among skateboarders and snowboarders.
Since its inception, DC Shoes has increased the scope of its product offering by adding clothes, accessories, and even a line of women's shoes. The DC Shoes sizing guide or size chart is given below, and I hope it will help you to buy the best DC Shoe for yourself.
Size Chart for Men
| | | | |
| --- | --- | --- | --- |
| US | UK | EU | CM |
| 6 | 5 | 38 | 24 |
| 6.5 | 5.5 | 38.5 | 24.5 |
| 7 | 6 | 39 | 25 |
| 7.5 | 6.5 | 40 | 25.5 |
| 8 | 7 | 40.5 | 26 |
| 8.5 | 7.5 | 41 | 26.5 |
| 9 | 8 | 42 | 27 |
| 9.5 | 8.5 | 42.5 | 27.5 |
| 10 | 9 | 43 | 28 |
| 10.5 | 9.5 | 44 | 28.5 |
| 11 | 10 | 44.5 | 29 |
| 11.5 | 10.5 | 45 | 29.5 |
| 12 | 11 | 45.5 | 30 |
| 13 | 12 | 47 | 31 |
| 14 | 13 | 48.5 | 32 |
Size Chart for Women
| | | | |
| --- | --- | --- | --- |
| US | UK | EU | CM |
| 5 | 3 | 36 | 22 |
| 6 | 4 | 37 | 23 |
| 6.5 | 4.5 | 37.5 | 23.5 |
| 7 | 5 | 38 | 24 |
| 7.5 | 5.5 | 38.5 | 24.5 |
| 8 | 6 | 39 | 25 |
| 8.5 | 6.5 | 40 | 25.5 |
| 9 | 7 | 40.5 | 26 |
| 9.5 | 7.5 | 41 | 26.5 |
| 10 | 8 | 42 | 27 |
| 10.5 | 8.5 | 42.5 | 27.5 |
| 11 | 9 | 43 | 28 |
By following this DC shoe fit guide, you can easily select the right size for DC shoes while buying DC shoes.
Benefits of Wearing Dc Shoes
Dc shoes are fashionable, comfortable, and high-quality shoes. For your help, here I will mention some Benefits of Wearing Dc shoes. So, let's get started.
Comfort: DC shoes are made with premium materials that support and comfort your feet, making them perfect for everyday wear and sports like skateboarding.
Style: DC shoes are available in various designs, colors, and styles, so you may pick a pair that fits your tastes and style.
Durability: DC footwear is made to withstand regular wear and tear, making it a wise investment for people who need reliable footwear for work, sports, or outdoor activities.
In my opinion, if you are involved with sports, you can try these shoes. It won't disappoint you.
5 Best Dc Shoes That You Can Buy
DC shoes are very comfortable to wear. For your convenience, five types of high-quality DC shoes are discussed below:
1. DC Men's Manteca 4 Low Shoe Skate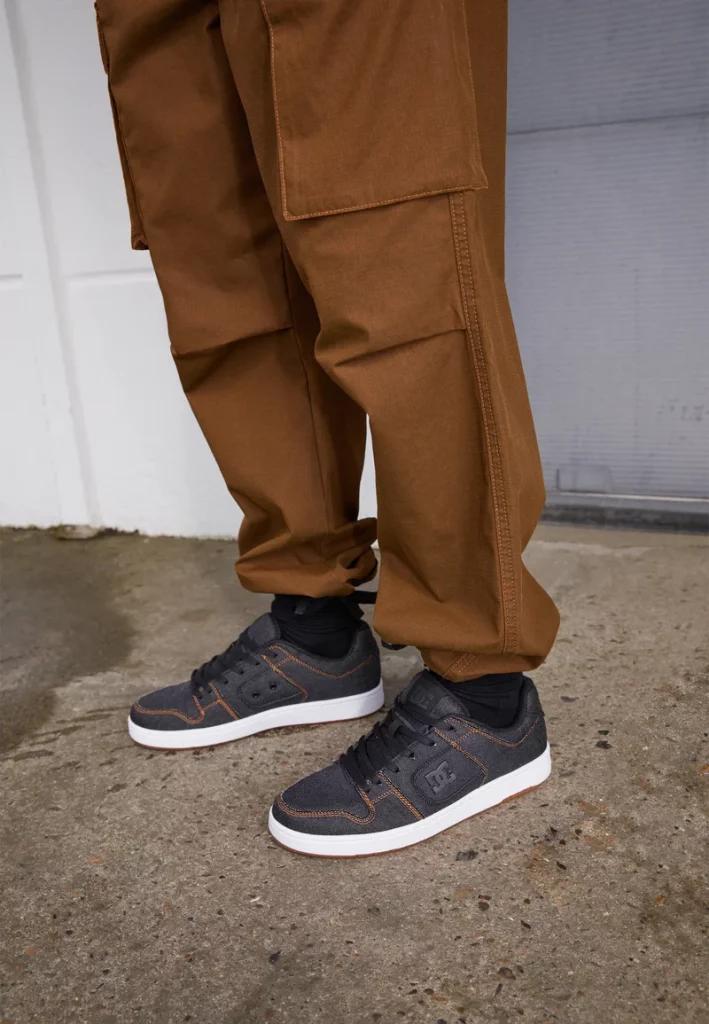 A style of skateboarding shoe made specifically for men is the DC Men's Manteca 4 Low Shoe Skate. It has a low-cut design, a padded tongue and collar, and a rugged leather and nubuck upper.
Other shoe features include a foam-padded footbed, a cushioned midsole, and a rubber outsole with DC's recognizable "Pill Pattern" tread for traction and grip on skateboards.
The shoe is appropriate for casual use, skateboarding, and other activities and is offered in various hues and sizes. These shoes are available in sizes 11.5 to 12.
2. Men's DC Cure Shoes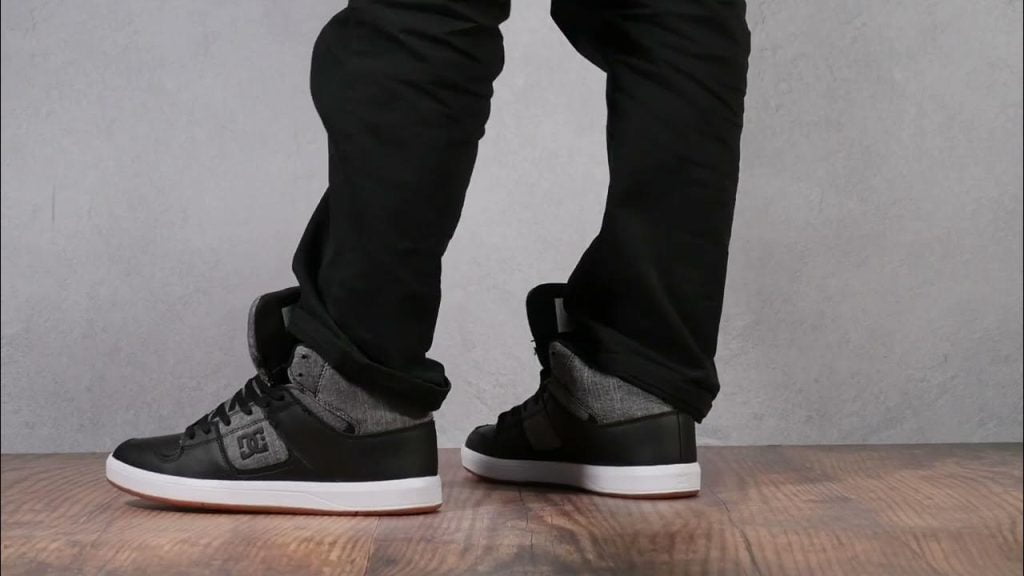 A stylish and long-lasting solution for daily wear is the Men's DC Cure Shoes. This pair of sneakers has a traditional skate shoe design with a suede and leather top for additional durability and a rubber outsole for superb grip and traction.
In addition, the shoes offer a cushioned footbed for enhanced shock absorption and a padded tongue and collar for added comfort and support.
The Men's DC Cure Shoes are a fantastic option for anyone searching for a versatile and comfortable shoe because of their classic design and dependable performance.
3. DC Shoes Men's Pure High-top Wc Shoe Skate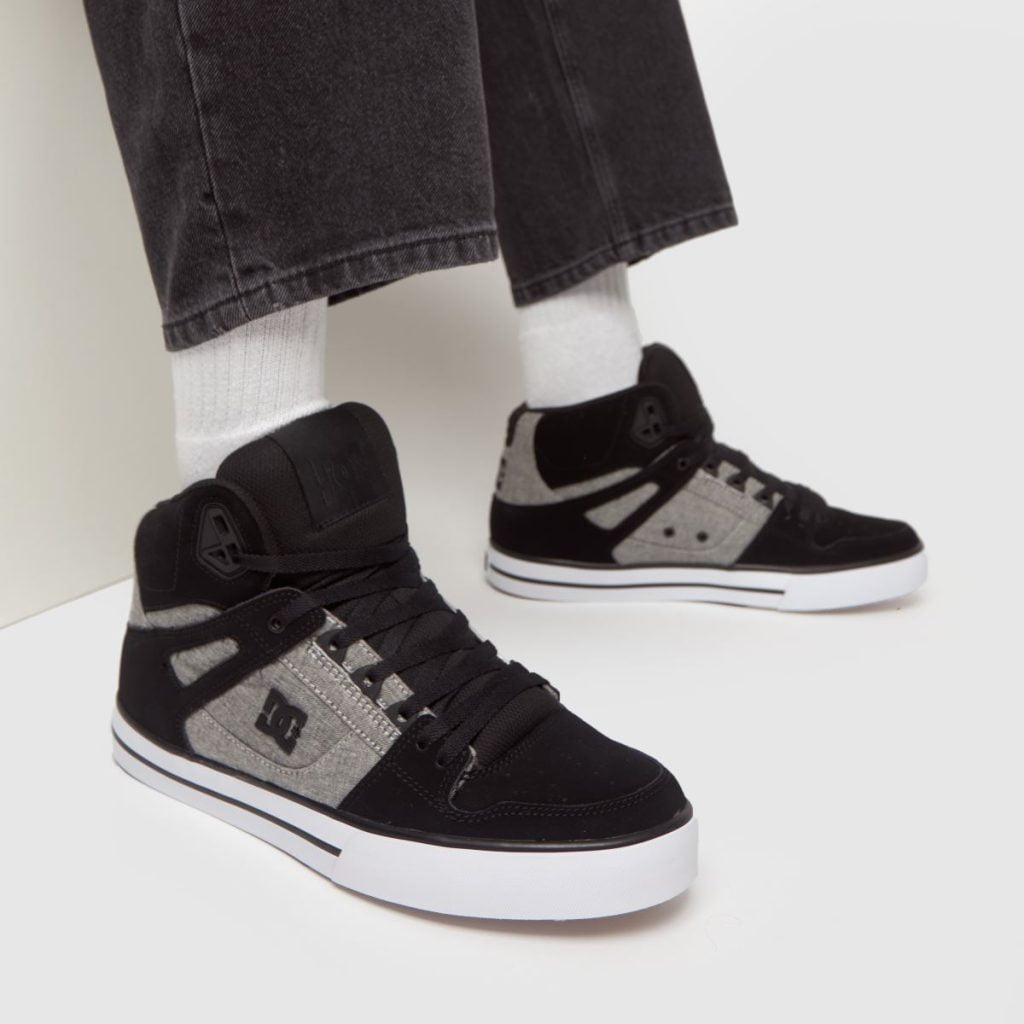 This is a special edition of DC shoes. The DC Shoes Men's Pure high-top WC Shoe Skate is a type of men's athletic shoe made for skateboarding. It has a high-top style with a padded tongue and collar for additional comfort and support.
Depending on the colorway, leather, nubuck, and/or suede materials are used to make the shoe's upper. Moreover, the shoe has a metal eyelet lace-up closing mechanism that provides a secure and perfect fit.
The rubber sole offers excellent traction and durability, which are crucial for skating. Overall, the Men's Pure High-top WC Shoe Skate from DC Shoes is a fashionable and helpful shoe for skateboarding enthusiasts who prioritize support, comfort, and longevity.
4. DC Shoes Men's Court Graffik Skateboarding Shoes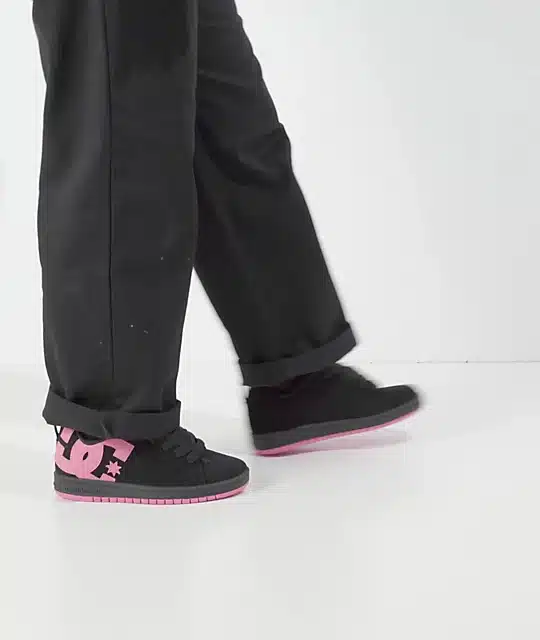 Both casual wearers and skateboarders favor the DC Shoes Men's Court Graffik Skating Shoes. There are many different colors and designs to choose from, and they have a traditional, low-top design with a large DC emblem on the side.
The sneakers have a durable rubber sole for increased durability and a robust leather upper to resist the wear and tear of skateboarding. They also offer comfort with a padded collar, tongue, and cushioned footbed.
The rubber sole's exceptional board grip makes more control and precision possible when skating. The DC Shoes Men's Court Graffik Skating Shoes are a fantastic alternative for anyone seeking a long-lasting, cozy, and stylish pair of skateboarding shoes.
5. DC Shoes Men's Net Shoe Lace Up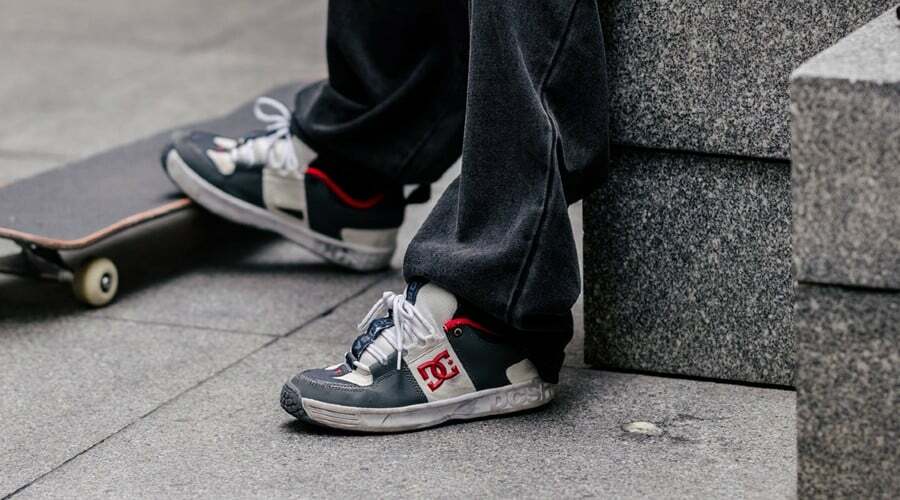 Men's footwear of the style DC Shoes Men's Net Shoe Lace Up is manufactured and designed by the company DC shoes. It is a lace-up style shoe, meaning the laces allow the wearer to customize the fit.
The Net Shoe is a stylish footwear option with a low-profile silhouette, rugged leather and textile upper, and a sporty, skate-inspired style. The sole is also designed with DC Shoes' patented Pill Pattern tread for improved traction and grip.
The DC Shoes Men's Net Shoe Lace Up is a well-liked option for casual wear, skating, and other outdoor activities.
How to Clean Your Dc Shoes
It's simple to clean your DC shoes. Some steps are given below, which can keep them looking brand-new and increase their longevity. So let's get started:
Use a specialized cleaner or conditioner to prevent damage if your DC shoes are made of leather, suede, or other delicate materials.
Avoid using bleach or other harsh chemicals on your shoes since they can harm the material or fade the colors of your shoes.
Use a soft-bristled brush to clean hard-to-reach areas or crevices, or laces.
Make sure to clean your DC shoes properly to prevent damage or fading of any unique features or decorations, such as reflective elements or printed graphics.
You may maintain the quality of your DC shoes by following these steps.
Conclusion
DC Shoes is a fantastic choice if you're seeking an excellent pair of running shoes. They are cozy and come in a selection of fashionable styles. It has so many different styles. Due to the variety of styles, choosing the shoes you like is very easy. However, if you're unsure which size to order, it could be advisable to choose the larger size. You might be better served by ordering a size bigger because many customers appear to believe that DC Shoes run small.