Proper skateboarding footwear may make a world of difference. Skateboarding shoes are crucial because they improve your grip and board feel, absorb shocks, and guard against injuries.
There are many factors to take into account while choosing the best skate shoe for you because no two feet are alike. So how do you pick the best skateboarding footwear?
The ideal skateboarding shoe should fit your skating style, be comfortable to wear and provide support without compromising the board feel. Best skate shoes must have flat bottoms because they give riders more control over their boards and enhance their ability to balance themselves.
Additionally, the design as a whole needs to offer adequate cushioning. Impact protection is essential when you're literally throwing yourself into the air. Although suede shoes are advised, you can wear any kind of shoe you like.
So after doing a lot of research and a lot of skateboarding with the skater experts, we have compiled this list for you to choose the right pair of shoes for your style, budget, or ability level, whether you just need some shoes to cruise around in occasionally or you skate every day.
How We Test Sneakers
We've tested how long they withstand wear and tear.
We've put the sneakers on the go and checked if you can perform tricks easily; how does the board feel?
When will they really break in?
Can they manage seven steps and massive ollies?
What is the best option for narrow or wide feet in terms of comfort and fit—true to size? Covered for you!
Last but not least, you've come to the proper site if you're looking for environmentally friendly skate shoes.
Our Top 3 Picks For Best Skate Shoes
Best Overall

Es Silo

Contain ample padding for doing impact skating.
The sufficient board feels for skating on flat ground and ledges.
Enough support for the feet.

Best Board Feel

Adidas City Cup

Features a gripping herringbone tread for excellent traction on every flick
Double-wrapped midsole for impact cushioning and more!

Best Value for The Money

Adidas Seeley

Features vulcanized outsole for a precise board feel.
Signature 3-Stripe design for a sleek look.
EVA sock liner for maximum support.
Top 10 Best Skateboarding Shoes
1. Emerica Pillar Mid- Best Impact Absorption Skate Shoes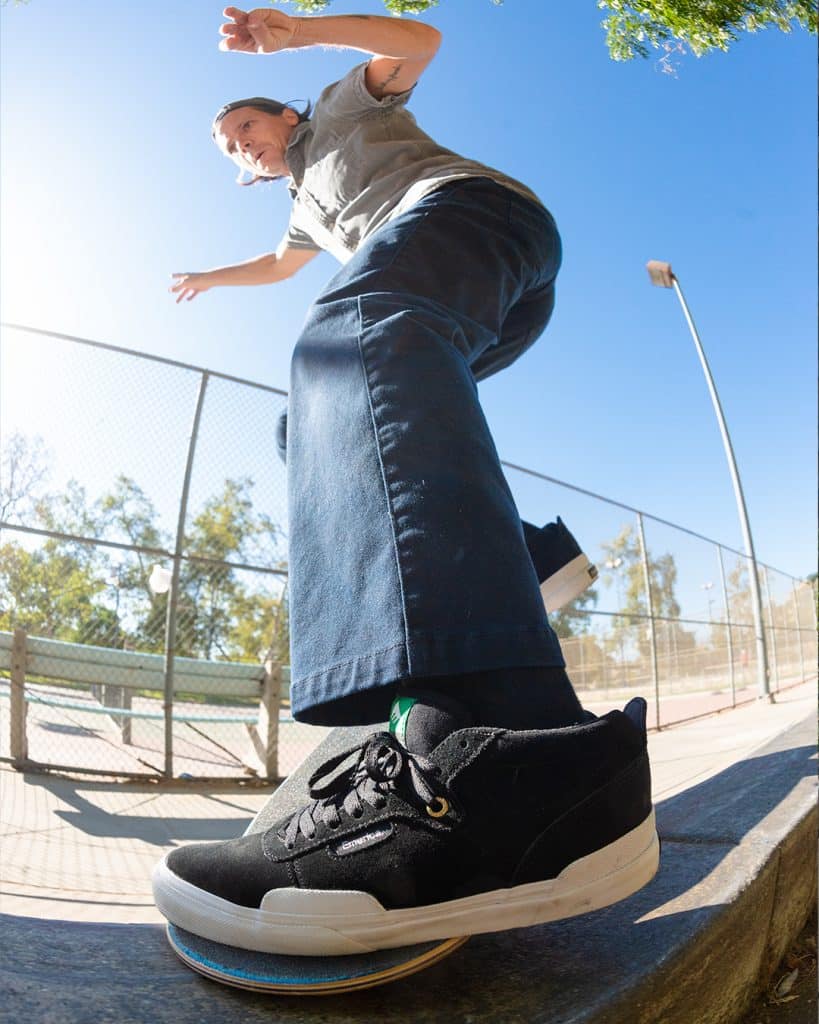 Our top pick for the greatest skate shoe is the Emerica Pillar Mid. It's the favourite skate shoe for many skate experts.
Emerica is a skater-owned brand that has been making quality skate shoes for several decades, so it's no surprise that this model took the cake as our top-ranked shoe for skateboarding.
This mid-top style has plenty of padding around the collar, which adds protection and holds the heel firmly to prevent slipping. It also provides excellent ankle support.
In addition to the suede upper and rubber ollie guard, the double wrap vulcanized sole includes rubber taping that extends higher around the shoe's exterior, making it one of the most durable shoes we tested.
Although the shoe's suede upper is mostly covered (apart from the canvas tongue), a few tiny perforations allow for some breathability.
Because of the thick sole, the foot protrudes somewhat above the ground, which can reduce stability. Ankle support is provided by the Pillar, but little arch support is provided by the insole, which is quite flat.
A pair of aftermarket insoles might be good for people with prominent arches.
Pros
Excellent comfort.
Excellent ankle support.
Outstanding toughness.
Excellent board feel.
Best traction.
Cons
Heavier compared to others.
No lacing safety.
Very little ventilation.
2. Adidas City Cup- Best Board Feel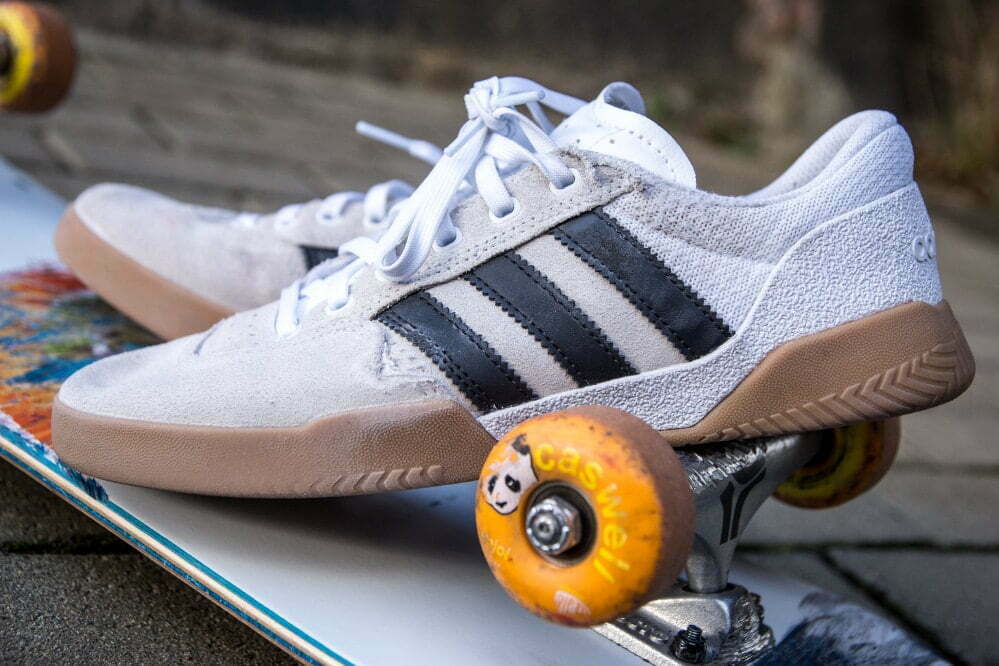 The Adidas City Cup is another beloved skate shoe that offers more support. Though thin and super lightweight, they still have some padding to keep your feet comforted and protected.
Durability is one of the most crucial features of any skate shoe because skaters frequently drag their feet through grip tape and jump on and off obstacles.
The capsule breaks in quickly and conforms to the movements of the foot easily, and the foot sits very low in the footbed for increased stability and board feel that was unmatched in our testing lineup.
The upper is suede around the toe area and laces, which is ideal for flip tricks, with mesh around the heel and side panels for ventilation. The leather also has perforations where the toe meets the laces for added breathability.
For enhanced traction, the tread pattern extends from the sole around a portion of the outsole. This, combined with the suede trim around the toe, allows for the most outstanding amount of control when performing tricks.
Given that suede is one of the toughest materials for skating, these Adidas withstood the test process admirably, and after it was over, they were one of our top-rated pairs.
Pros
A lot of comforts.
Lightweight.
Make a quick entry.
Top-notch board feel.
Good toughness
Cons
Lack of lace safety.
No ankle support.
The fit was a little bit snug.
3. Es Silo- Best Skate Shoe Overall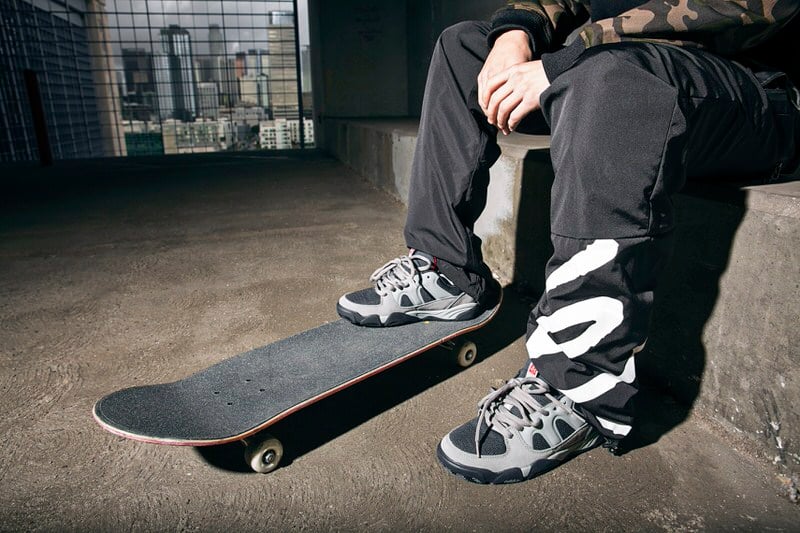 eS is a 1995 startup owned by skaters. eS has always placed a strong emphasis on fashion and cutting-edge technology. The parent firm Sole Technology, Inc. is the owner of eS Silo. This guide will mention that parent business a few more times.
This Es Silo trainer is a skate shoe with a classic design that has been given a contemporary makeover. With the same outsole as before and a de-puffed upper to facilitate more technical skating, the revised eS Silo is back. You'll need to break them in for a few hours, and at first, you'll struggle with the lack of board feel.
The eS Silo provides adequate board feel and control despite being bulkier than the normal skate shoe. Once broken in, the soles are sufficiently flexible, and the tread patterns offer loads of traction.
Less board feel than a vulcanized shoe, but excellent for people who require extra support. They are difficult to ride in the beginning and take some time to break in. Don't worry, this will pass.
Although the fish grate design is incredibly sticky, it also draws muck. Really difficult to remove the dirt.
The emphasis is on comfort rather than board feel or durability. This is a deal breaker if you frequently perform flip tricks.
It's not their durability or board feel that led us to include these shoes. For people who need skate shoes with greater comfort and support, this is a wonderful shoe.
Pros
Cushioning.
Board feel and grip that is strong.
Size accurate.
Style.
4. Lakai Carroll- Best Skate Shoe With Vulcanized Rubber Outsole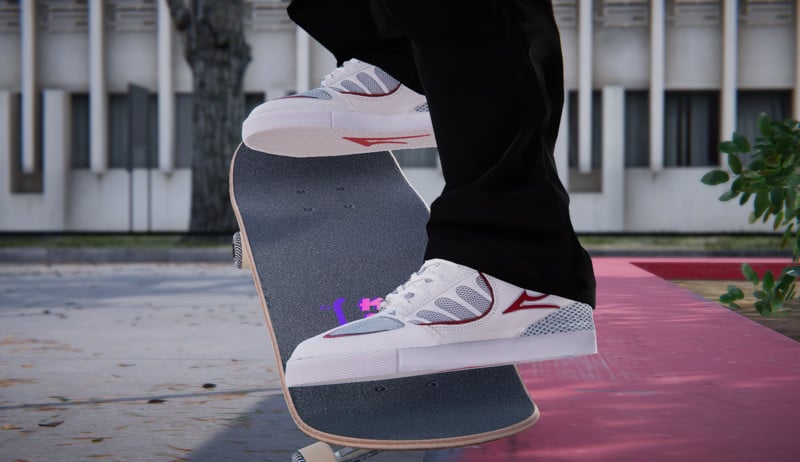 The original Lakai shoe designed by famed skateboarder Mike Carroll, the Lakai Carroll, was first made available in 2000.
More than 20 years later, Lakai unveiled this updated model with the same upper but a more modern XLK cup sole.
These have a thicker tongue than any others and plenty of padding around the collar, which helps keep your foot in place and provides excellent support. They fit well and are pretty comfortable.
Suede and mesh are used to make the upper. The mesh windows and mesh tongue allow for excellent airflow, and the suede wraps around the lower panels to provide protection and durability in the most used places.
The outsole of the XLK cup sole has a light grid design that clings well for tricks, and it quickly breaks in and offers the best impact absorption of all the shoes we tested.
Pros
Superior impact protection.
Made to last.
Ideal for skating in the summer.
Well-protects laces
Cons
Feels a little bulkier on feet.
A longer period of break-in.
5. Nike SB Check Solarsoft Canvas- Lightweight & Well Ventilated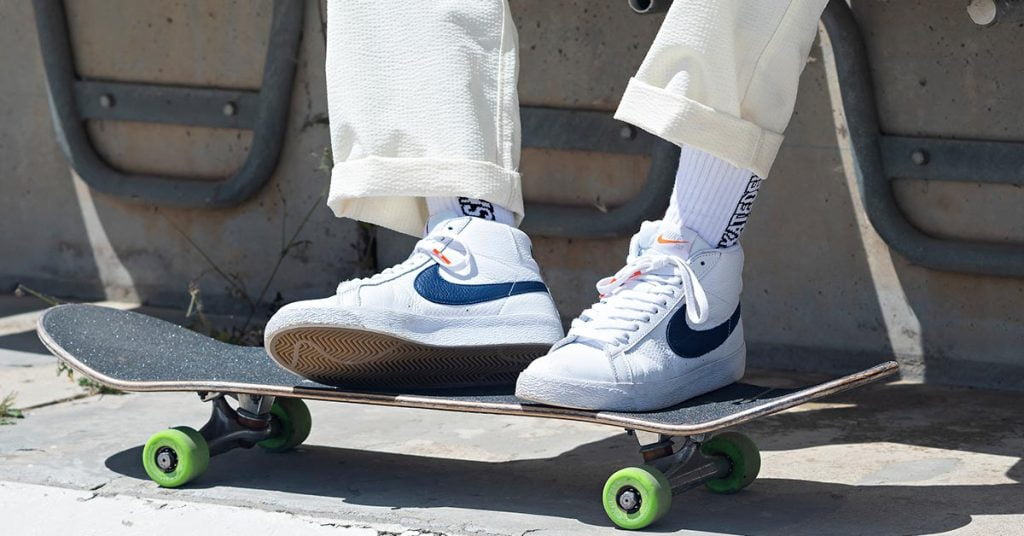 A good shoe with a short break-in period, the Nike SB Check Solarsoft Canvas is practically skate-ready the moment you put it on.
The most lightweight shoe in the test group is made of a vulcanized sole and a canvas upper that is breathable and skates well.
Since the SB Check held up better than any other canvas sneaker we tested or tried before, the canvas must be strengthened in some way.
Given how lightweight this shoe is, the Solarsoft sock liner is quite comfy and provides outstanding support. The vulcanized sole has exceptional traction both on and off the board and is quite gripping.
However, because the lace closure tapers toward the toe and rests relatively high up on foot, we didn't break any laces when testing the Nikes despite their lack of ankle support and lace protection.
Pros
Comfortable and light.
Excellent ventilation
Little time for break-ins.
Stylish.
It Excellent Board Feel.
Durable.
Cons
Overall lower durability
There is no lace safety or ankle support.
Wide toebox.
They are typically more pricey.
6. New Balance- Best Vulcanized Shoes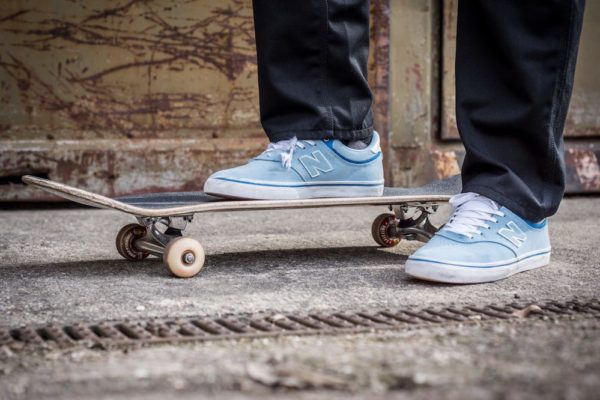 In 1010, New Balance combined a silhouette from the 1990s with cutting-edge ankle-saving footwear technology. It will help your fits land solidly in the sweet spot of the retro-cool matrix, even if you don't skate.
In 2012, New Balance Numeric started producing skateboard shoes. They initially collaborated with Zero skateboarding pro-Jaimie Thomas' parent firm, Blackbox Distribution. The skateboarding scene was dubious at the time as to why New Balance would develop a skateboarding shoe section. These days, sneakers are a well-liked skate shoe brand.
Even though the sole required some break-in time, the tight fit kept our feet securely in place without any heel slippage.
With mesh covering the toe and close to the collar for breathability, the upper is primarily suede with durable rubber around the toe, heel, and side panel.
Despite the flat sole, numerous other models lacked enough arch support, while this model did.
Pros
Made to be worn every day.
Decent arch support
Lightweight.
Excellent ventilation
Cons
Poor design of the tongue.
There is no lace safety.
A long period of break-in.
Stitching might unravel fast
7. Adidas Seeley- A Good Affordable Skate Shoe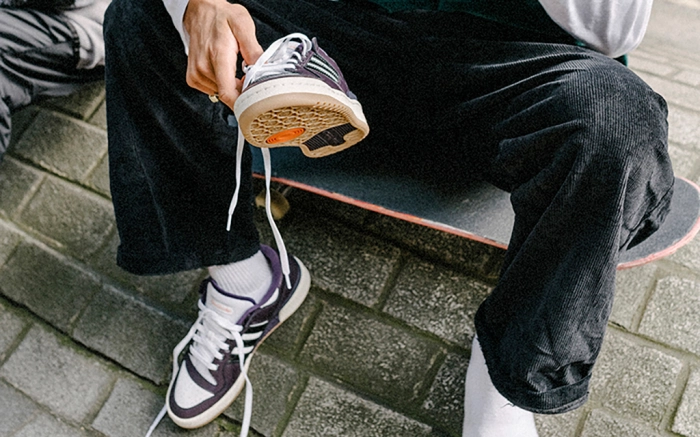 The Adidas Seeley is a respectable skate shoe with a straightforward design that offers a great board feel. This shoe has an extremely narrow fit and is made of fragile materials throughout, allowing them to be immediately ready to skate.
Although the synthetic upper is more resilient than canvas and is rather robust, it will not last as long as shoes made of genuine leather.
The rubber outsole holds the board well while performing tricks, and the gum bottoms of the vulcanized sole provide excellent traction and have a hinge point beneath the ball of the foot that is useful for adjusting one's feet. Whether a skater is cruising or striving to advance, these Adidas are suitable for them.
Pros
Lightweight.
Fantastic board feel
Minimal time for break-in.
Decent traction
Cons
Hardly any cushioning.
Low level of breathability.
Lack of ankle support.
No lacing safety.
8. Classic Vans- Best Classic Skate Shoe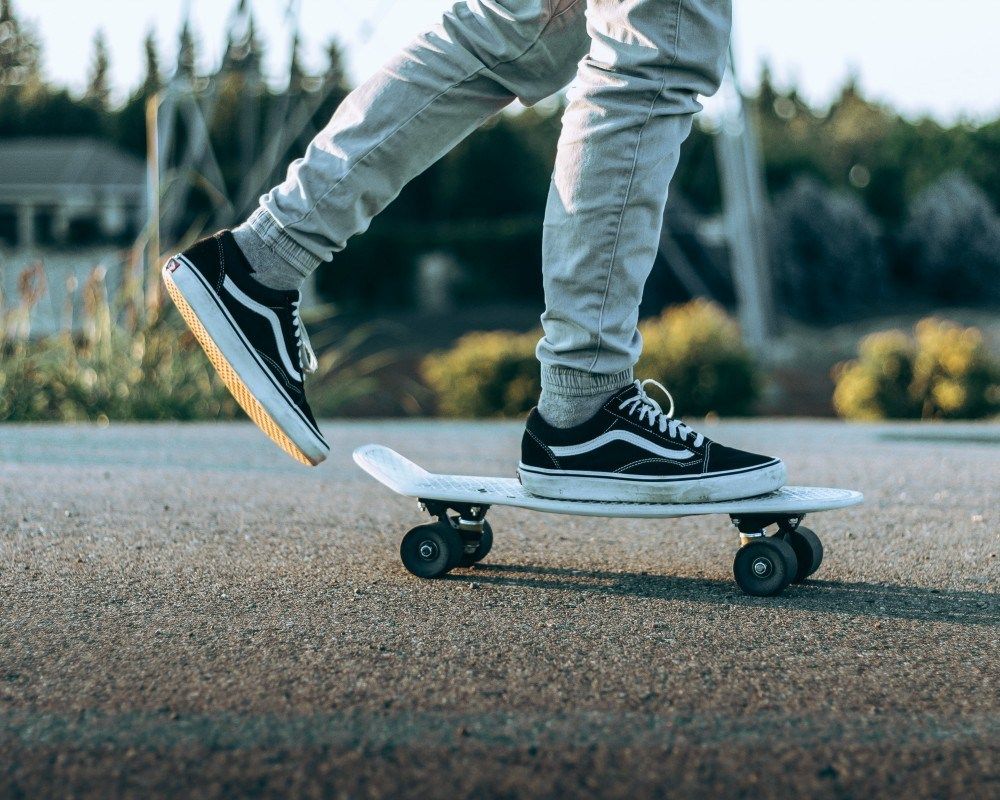 Legendary Vans began manufacturing shoes in 1966. They weren't initially designed just for skateboarding. Vans has evolved into the iconic skate shoe company that it is today.
Vans has created numerous shoe types because of how well-known they are. The truth is that while some of them function admirably as skating shoes, others do not.
Finding the best ones that last and function effectively for you is key. Vans' impact-absorbing qualities, timeless style, and arch support make them a favourite among skateboarders.
Given how quickly it breaks in, how grippy it is, and how much board feel it provides, Vans' distinctive waffle sole is the industry standard for skate shoes.
The Authentic's simple canvas upper lacks any additional materials or cushioning, keeping them light and breathable but lacking in protection or durability.
The Old Skool Pro collection from Vans is a well-liked skateboarding shoe line. These provide the traditional skateboard sensation and aesthetic.
Pros
Iconic.
No frills.
Fast break-in.
Breathable.
Cons
Zero padding
Not very resilient
Unsupported ankles
Require breaking in
9. Dc Skate Shoes- Best Padded Skate Shoes (for that 90s feel)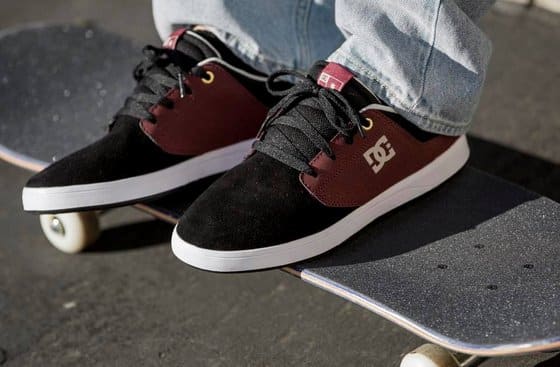 A fantastic skate shoe all-around, the DC Kalis Vulc is another classic that has been modernized. This shoe is really cosy and practically doesn't need any break-in time; it's ready to hit the board right out of the box.
The suede toe, which earns it credit for durability and works well for flip tricks, has exceptional durability. It is adequately ventilated thanks to the mesh tongue and collar without sacrificing integrity or structure.
One of the most comfortable shoes in the group, the vulcanized sole is exceptionally grippy, and the plush, soft insoles offer some impact protection.
The broader form of the lace closure on this shoe makes the laces more likely to get ripped and break more easily even though most of the shoes in our test group do not protect the laces.
Pros
Excellent all around.
At a lower cost than most for this quality.
Little time for break-ins.
Superb board feels
Cons
Lack of ankle support.
No lacing safety.
Thin soles offer less impact protection.
10. Etnies- The Most Durable Skate Shoe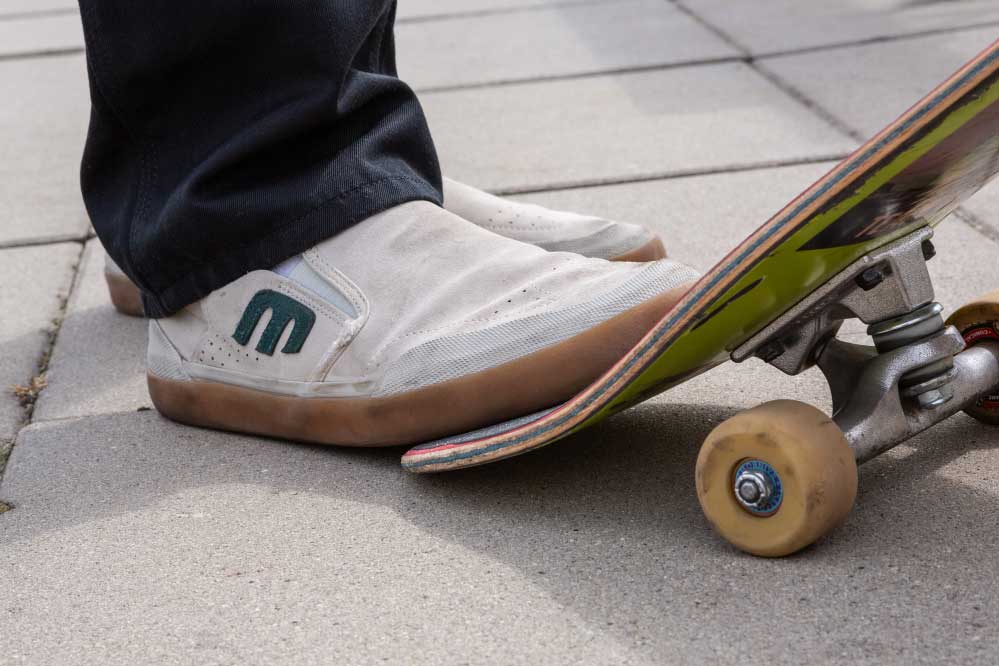 Another company owned by Sole Technology, Etnies, was founded in 1986. Etnies has endured the test of time and is still producing top-notch skate shoes and supporting a fantastic skate squad today.
The Joslin is a common type of shoe. Chris Joslin's professional model shoe is this. This shoe's sole is comprised of the same rubber used in Michelin tires.
Etnies, unquestionably one of the most adored skate shoe manufacturers of the 2000s among both skaters and non-skaters, has slimmed down its well-known Marana and gone completely slip-on style.
It is nonetheless, at its core, a skate shoe thanks to its Michelin tread outsole, double-wrapped vulcanized foxing tape, and sturdy rubber toe cap.
Pros
Durable – The toe cap area has been reinforced to help the shoe last during kickflips and ollies.

Grip – There is a lot of tire grip in the sole of this shoe.

For increased support, the tongue and collar are padded.
Cons
Narrow fit.
You will need to break these in.
Test Result
Test Result
In order to identify the most excellent option for any style of skating, we spent hours skating in each model and rated each one depending on how well each of these elements worked together as a whole.
Durability
Compared to shoes made of canvas or synthetic materials, leather shoes, particularly suede shoes, hold up better and last longer.
The Lakai Carroll, the New Balance Numeric, and the Emerica Pillar, all of which are primarily constructed of suede, are the shoes with the best longevity. Even after several days of skating, none of these was really worn out.
Traction
The Vans Authentic, Nike SB, and Emerica shoes had the most secure grip, all of which had vulcanized bottoms.
The softer rubber of the vulcanized models so often provided the best grip, even when the shoes with cup soles performed well in other respects.
Board Feel
There were a few models that really stood out in this category, despite the fact that the majority of the shoes we tested provided a high level of board feel.
The ideal level of board feel was offered by the Nike SB, DC Kalis Vulc, and both the Adidas City Cup and Es Silo, and they all broke in quickly. In these shoes, you can skate nonstop while keeping your flick and feel.
Comfort
For the foot and ankle, Emerica Pillar has a lot of padding, whilst other brands only have a thin layer of cloth which although lightweight and comfortable, provides minimal support.
Many low-tops, including the DC Kalis Vulc and Nike SB Check, feature fantastic insoles and supportive collar cushioning, so they still provide adequate support.
Cupsole shoes provide greater padding to soften hard landings and maintain the health of your feet. There is a skate shoe on the market to suit your demands based on your preferences and your style of skating.
Conclusion
Skaters and non-skaters alike wear skate shoes, which are among the most popular kinds of footwear worldwide.
Skateboarders spend a lot of time paying attention to their feet, so it should not be surprising that they know what it takes to create a high-quality, comfortable, long-lasting, and effective shoe.
Since more and more companies are producing skate-specific footwear as skateboarding has developed, our lead expert spent months rigorously testing various pairs to provide our top suggestions.
We attempted to balance larger and smaller skater-owned brands to highlight in our evaluation, despite the fact that major corporations like Nike and Adidas now have strong skate lines.
In our review, we made an effort to spotlight both larger and smaller skater-owned firms.
We hope this guide will help you select your next pair of kicks, whether you're seeking the best shoes to begin skating in or you're a serious skater who changes pairs every few months.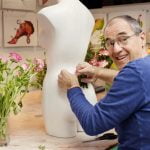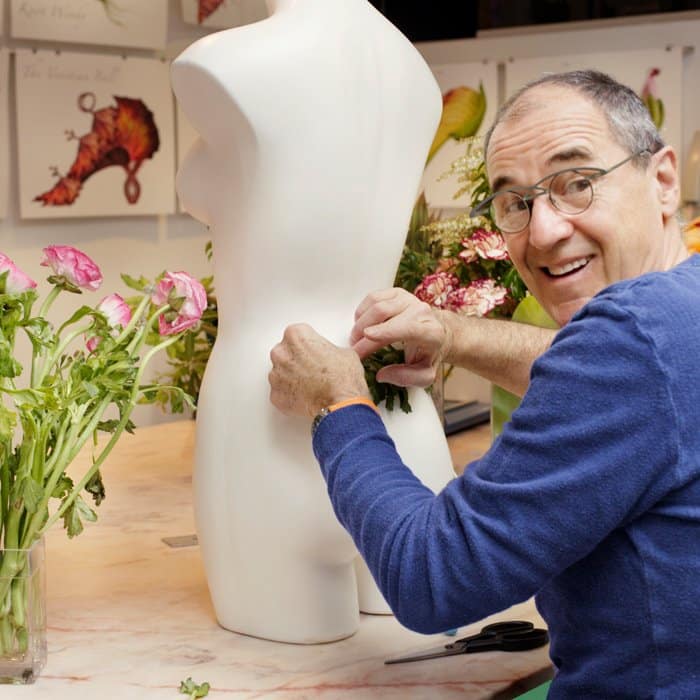 Michel's passion for shoes and flowers is evident in his acclaimed "Shoe Fleur" photography series, which features shoes transformed into stunning floral arrangements. His work has been exhibited in galleries and museums around the world, including the International Center of Photography in New York City and the Maison Européenne de la Photographie in Paris.