If you are a professional softball player or training to be one, you definitely don't want anything coming your way. To play your best on artificial turf, you must have the perfect shoes that provide enough grip to hold you in place and prevent you from slipping.
Turf shoes for softball bridge the gap between cleats and regular athletic shoes. Here's your guide to the best turf shoes for softball on the market!
Benefits of Wearing Turf Shoes for Softball
Turf shoes are specialized athletic shoes made for athletes who play on artificial turf fields. These shoes typically provide various advantages to softball players, such as:
Improved Traction: Turf cleats have a unique outsole design with small, rubber cleats or nubs that give superior traction on synthetic grass. This can assist players to keep their balance and increase their ability to perform fast movements like pivoting or changing direction.
Reduced risk of injury: Turf shoes, with their superior grip, can help minimize accidental falls and slips on turf, lowering the risk of ankle, knee, or other lower-body injuries. They also have a low-height design that keeps the foot close to the ground, providing more stability and lowering the danger of spraining an ankle.
Durability: Turf shoes are generally built with sturdy materials that can endure the rough surface of synthetic turf. They frequently include reinforced toe caps and other characteristics that help them last longer and protect the feet from impact and abrasion.
Comfort: Padded collars and insoles are common components of turf shoes, providing additional cushioning and support for the feet. They could also contain breathable synthetic or mesh uppers to keep your feet cool and dry throughout extended games or training.
Versatility: They are meant for use on turf surfaces, although turf shoes also can be worn on dirt, grass, or even hard court surfaces. As a result, they are a versatile alternative for players who may play on a variety of surfaces during the season.
Turf shoes can be the most valuable investment for a softball or basketball player. They provide you with the ideal amount of grip, safety, durability, comfort, and versatility, all of you which help you play your best and reduce the chance of you getting injured.
10 Best Softball Turf Shoes and Trainers on the Market 2023
Here is your guide to the 10 best turf shoes for softball and baseball on the market by the best manufacturers! Whether you prefer top brands such as New Balance, Nike, or Adidas, choose the right armor among them for your feet to rule in the field.
1. New Balance Men's 3000 V4 Turf Baseball Shoe
Amazon's Choice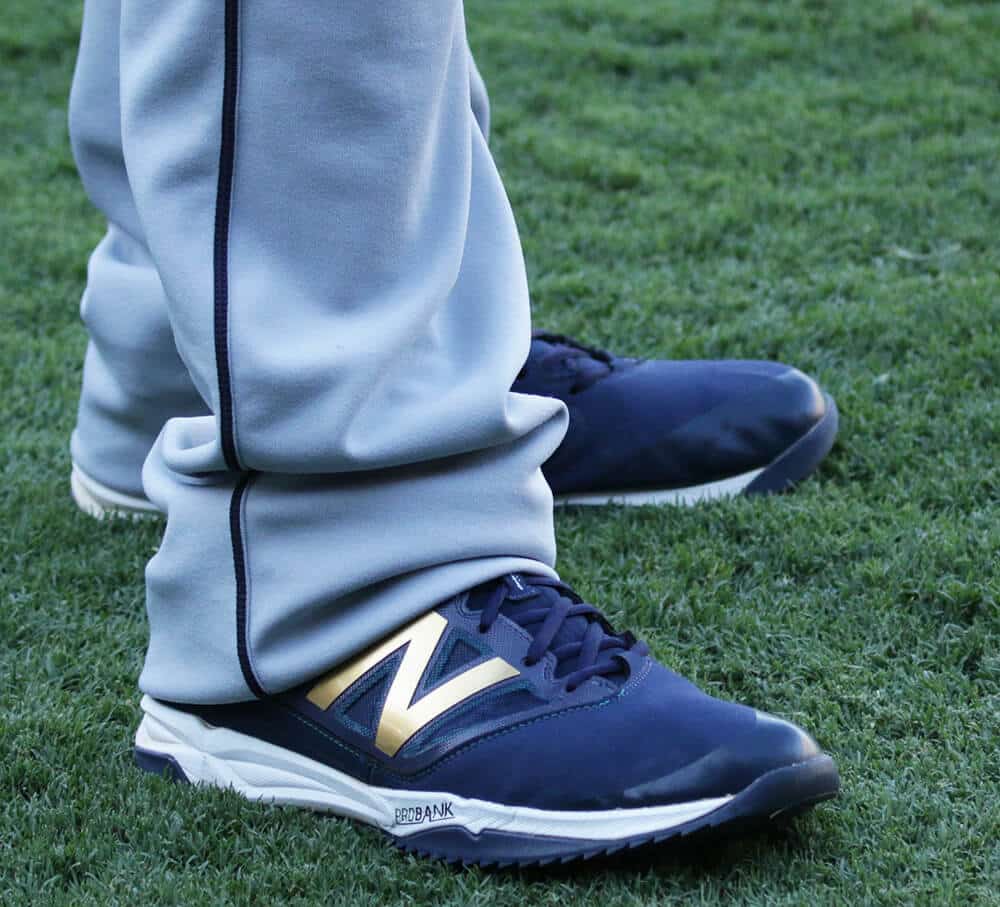 Specifications
100% Synthetic
Rubber sole
Soft fresh foam midsole cushioning
Built-in Lage Cage
Color: Black/Yellow
This high-quality baseball turf shoe can assist a basketball or softball player in boosting their performance on artificial turf surfaces. It has a synthetic and mesh top, which promotes breathability and durability. Its lace-up closing system ensures a secure and comfortable fit.
It has a REVlite innersole for padding and support while being lightweight. The outer sole is comprised of tough rubber that provides grip on synthetic turf fields. It also includes a toe guard feature that adds durability and protection to the toe area.
You may get it in a number of colors and sizes, thus maintaining your individual style. It stands as one of the 10 best baseball turf shoes on Amazon. If you are a baseball player who wants a comfortable and durable shoe for training on artificial turf surfaces, this one's for you!
Pros
Light and tight fit
Provides good foot support
Offers a good grip on the playing field
Durable and wear/tear resistant
Cons
Insufficient ankle support
2. Mizuno Women's Players Training Shoe
Top Pick
Specifications
100% Synthetic
Synthetic sole
Lace-up system
Padded tongue/collar
Color: White/Black
The turf shoe comes with a synthetic sole that is light and sturdy, as well as a breathable mesh top that facilitates airflow to help keep your feet cool and comfy. It also includes a cushioned tongue and collar for increased support and comfort.
It features the brand's revolutionary Wave technology, which delivers improved padding and stability to provide smoother training. The rubber outer sole of the shoe has a versatile design that gives excellent traction on a variety of surfaces, making it appropriate for both indoor and outdoor training.
The Mizuno training shoes can help you improve your baseball or softball skills whether you are a man or a woman!
Pros
Outstanding traction
 Superb support
Affordable price
Lightweight
Cons
Toe grips will be required for pitchers.
Color selection is limited.
3. New Balance T4040v4 Turf Baseball Shoe
Best Grip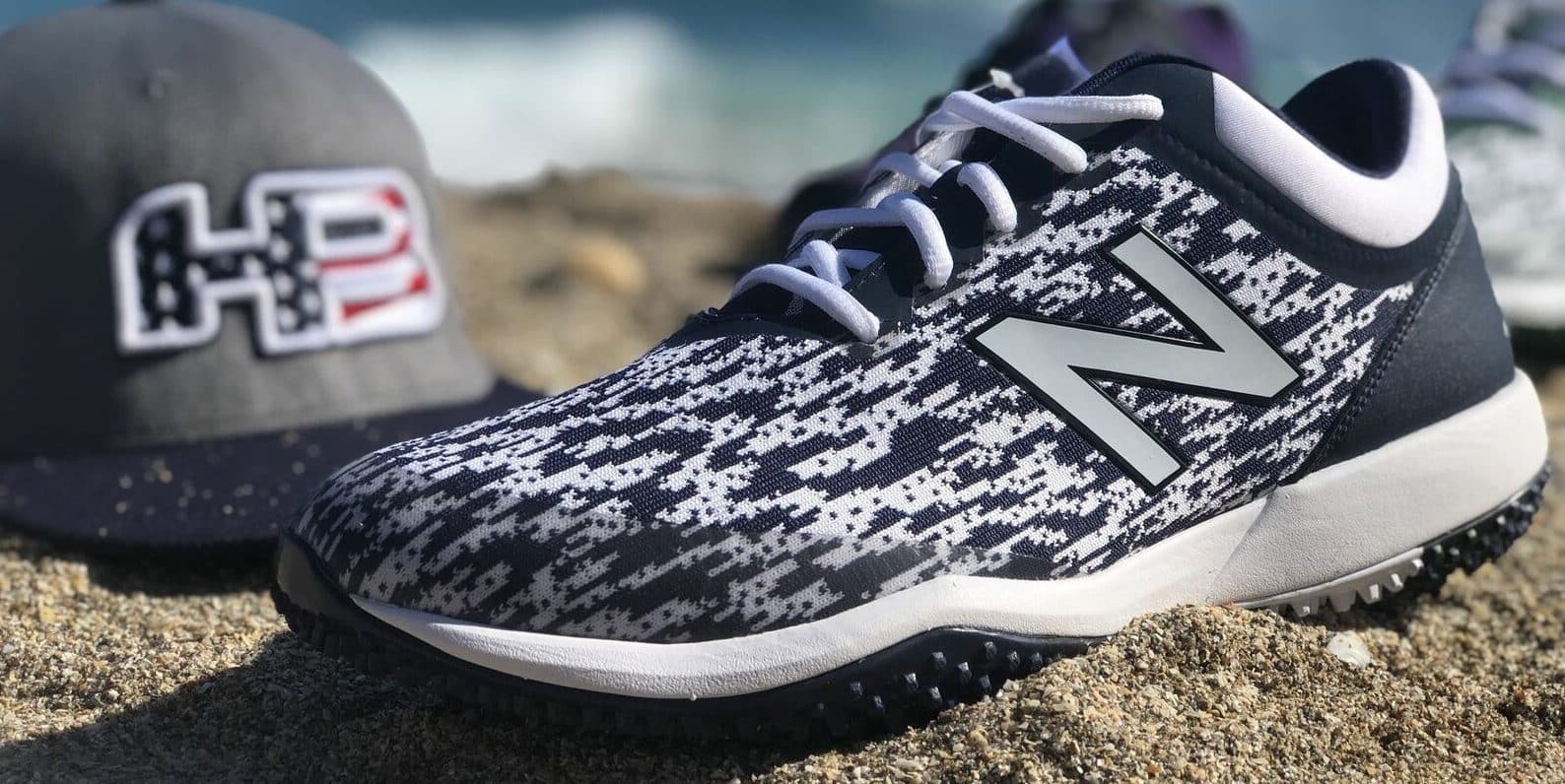 Specifications
100% Synthetic
Rubber sole
Nubby outsole
Synthetic outer side
Color: Black/White
This men's turf shoe has a sleek design with a synthetic fabric that allows ventilation and support for the foot. The turf trainer provides light padding with the REVlite innersole, while the durable rubber outsole with a nubby turf pattern gives an outstanding grip.
The lace-up closure provides a secure fit, while the cushioned collar and tongue offer comfort. It also features a toe protectant that acts as armor against wear and tear from dragging your toe while pitching or running the bases. It is one of the most rigid and comfortable baseball cleats.
Pros
The removable insert allows customers to use their preferable insoles.
A good mix of comfort, sturdiness, and price.
Various colors, sizes, and widths are available.
4. New Balance T4040V3 Turf Shoe
This high-quality New Balance turf shoe provides the utmost breathability and support with the synthetic upper, which is also lightweight. Its padded and comfortable REVlite innersole makes it great for lengthy sports or training sessions.
The T4040V3's outsole is made of tough rubber with a nubby pattern that offers grip on turf surfaces, allowing players to make fast changes without slipping.
Also, this turf shoe offers a lace-up tie for a secure and adjustable fit. It has a toe guard for further durability and protection of the toe region. It comes in a variety of colors, allowing users to select one that matches their unique taste.
Pros
Excellent durability
Great air-flow
The REVLite components in it make it light and speedy.
Cons
Soles may feel rigid; soft inserts can be inserted to improve this.
It's tighter at first, but the fit improves only with use.
5. New Balance Women's ST4040 Turf Trainers
This great pair of turf shoes are ideal for female athletes searching for maximum comfort when playing baseball or softball. The upper half is made of a long-lasting synthetic material that makes sure your feet are cool.
Its lace-up mechanism allows for adjustment and fit. It sports a rubber outer sole and a REVlite padded innersole. You may even wear it outside with your regular outfit. The sneaker has a sleek and smooth look that appeals to practically everyone.
Pros
Both lightweight and sturdy
Allows easy cleaning and quick drying
Excellent traction on a both artificial and natural field
Cons
It's tighter at first, but the fit improves only with use.
6. New Balance Women's Fuse V2 TPU Molded Softball Shoe
This Women's Fuse V2 TPU Molded Shoe is what you are looking for if you want the best performance from a comfortable and lightweight shoe. It has a Revlite midsole, providing it with durability.
The synthetic rigid upper sole offers you stability and grip, preventing you from falling. Whether you are looking for a shoe to play on artificial grounds, grass, or pavements, this one is for you.
Pros
Lightweight and comfortable
Great as a speed trainer
Great traction
Excellent Durability
Cons
The shoe tends to be a bit tight around the toe
7. New Balance Women's Fresh Foam Velo V2 Molded Softball Shoe
The mesh foam ultra-cushioned innersole of this shoe will feel light as a feather on your foot. You can use it on artificial turf for enhanced arch support and toe protection. The TPU molded cleat provides enhanced traction and it has a low-profile tread.
The comfort collar provides extra support to your ankle and prevents irritation. It won't even be dirty easily because of its mesh outer material. You can put these on as your walking or running shoes.
Pros
Lightweight
Extra comfort
Excellent traction
Your feet can stay cool
8. New Balance Fresh Foam 3000 V5 Turf-Trainer Baseball Shoe
If you're looking for a player's trainer turf shoe that provides ultimate comfort during your training sessions, this is the one for you. It's ultra-cushioned because of its fresh foam middle soul. The synthetic upper side helps your feet keep cool and dry.
The rigid rubber outsole provides the utmost traction for both indoor and outdoor turf surfaces. Whether you need turf shoes for styling your outfit or for training, this is the right pair of baseball cleats for you
Pros
Great traction and prevents slipping
Great agility training 
Cushioning in the heel
Great access of airflow
Durable
Cons
The shoe may hurt those with a wide foot
9. Adidas Men's Speed Turf Baseball Shoe
Wear Resistance
Specifications
Rubber sole
Widened lacing system
Color: Various colors are available
These turf shoes will help you dominate the field. Because of its synthetic upper sole and abrasion-resistant TPU, it offers excellent durability and airflow.
The mesh tongue with gore wings provides a comfortable grip and the rubber outer sole prevents you from slipping. You can adjust it to your perfect fit with the lacing system, and it has a boot opening of 0-3 inches around to provide additional space in the toe box.
Whether you use it for fastpitch softball or running drills, you will perform your best wearing these shoes. Their midsoles are comfortable like the original Adidas. It is considered one of the best baseball turf shoes.
Pros
Light and comfy
Provide good stability
Provide traction on the playing field
Wear resistant
Cons
Ankle support may not be enough
10. Nike Force Trout 8 Pro MCS Baseball Cleats
This top baseball turf shoe is designed by the famous baseball player, Mike Trout. It is made of a durable and breathable upper made of synthetic leather and mesh. It keeps you feet dry and cool to let you perform your best.
It incorporates a midfoot strap for a secure fit. The outsole provides excellent traction and stability on various surfaces, including grass and dirt.
It consists of a zoom-air unit which provides the perfect comfort with cushioning. The foam midsole enhances its comfort and support and the toe bumper makes it wear-resistant. If you want to run or train on surfaces such as grass or dirt too, this one's for you!
Pros
Grippy traction
Excellent durability
Provide excellent airflow
Conclusion
If you have been looking for the ultimate turf shoe for softball to make you a professional baseball or softball player, hopefully, this has helped you. Check out each of the shoe's characteristics and pick out the one for you. Whether you want to play on artificial turf or grass, you'll find your armor against slipping right here!