Is the front of your shoes a little bit too tight? Maybe you have Morton's Neuroma and you're getting experiencing symptoms from that. Or maybe you have a bunion where there is an overlay on your shoe that's just squeezing a little bit too much.
Anyone who has bunions knows the pain at the base of your big toe can keep you from doing the activities you enjoy the most.
Undoubtedly, running can make a bunion worse. Due to using uncomfortable shoes or the incorrect kind of running shoe, many runners with this toe deformity eventually acquire bunions.
After a few years of pounding the pavement in running shoes with a noticeable drop between the heel and forefoot, you may develop bunions and experience stress on your big toe.
The tapering toe box form of your running shoe causes squeezing and tension, which can worsen the development of bunions. The high-heel design moves your weight to your front pads and toes.
But with the right pair of shoes with a wide toe box, runners with bunion pain can have some relief.
In this blog post, we have listed the best running shoes for bunions to make your running experience more enjoyable.
Top 10 Running Shoes For Bunions
1. Mizuno Wave Rider 24 Running Shoe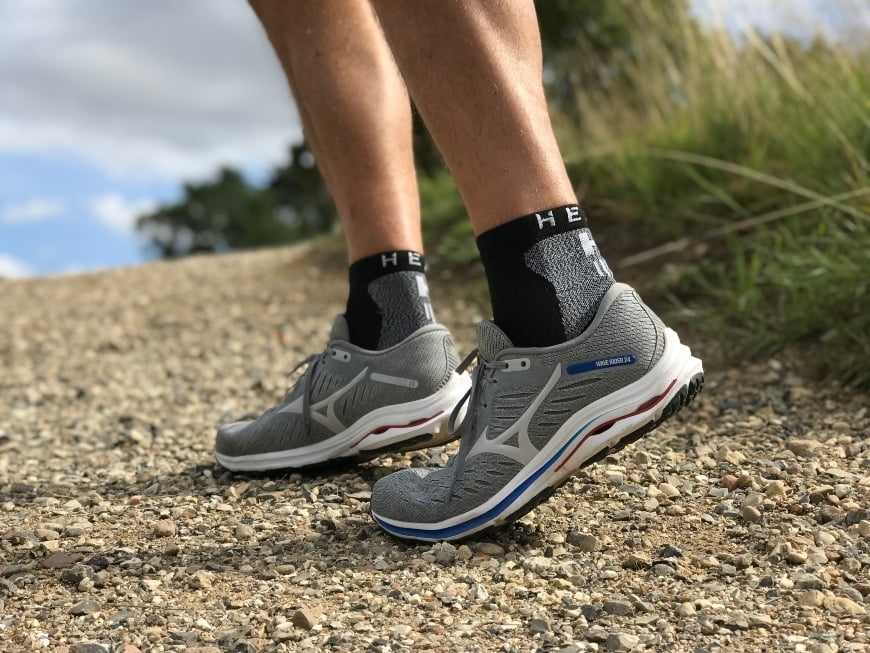 What makes Mizuno Wave Rider 24 ideal is that it boasts a soft and stretchy upper that contours to the unique shape of your foot and it also includes a lot of supportive stability features that maintain the lightweight and smooth ride.
While it costs a little bit more than some of the budget-friendly running shoes the added durability makes it an excellent value. The most notable feature of this design is the construction of the upper.
It is composed of Mizuno's wave-knit materials that provide excellent stretch. The upper really contours the shape of your foot and limits the occurrence of hot spots that can become uncomfortable in the long run.
The euphoric midsole provides the runner with extra cushioning and impact absorption which reduces strain on your feet as well as your joints on long rides.
It also boasts a Mizuno wave plate that is great for overpronators. It helps to naturally even out your gait which can often be a leading cause of bunions.
Pros
With minimal overlays, the upper is breathable.
Good traction and durability are provided by the shoe's segmented outsole.
The new midsole material is remarkable and considerably thicker.
Enough toebox and underfoot protection for even larger runners to run 10+ miles
Cons
The durability of the outsole might be affected by softer runners.
The wave plate in the heel feels dated and adds weight without providing any performance.
Runners with wide or flat feet may find the midfoot to be excessively tight.
2. TOPO ULTRA FLY 3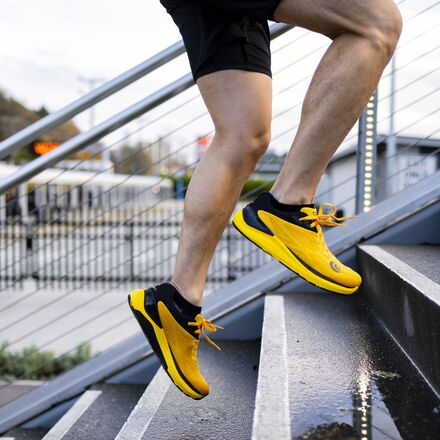 For individuals who require a bigger toe box but still need some heel height for their running style, Topo is a lesser-known brand that is also fantastic.
Your toes and your bunion will have more than enough room to feel comfortable in UltraFly's large and well-shaped toe box. A flexibly designed mesh upper moves with your foot as it flexes without hurting, preventing rubbing.
An external heel counter helps to avoid slippage of the heel and unneeded movement of the forefoot, both of which contribute to lessening pain and discomfort in the bunion area.
A midsole made of Zipfoam provides a wonderful balance of softness and springiness. The redesigned Ortholite insole increases comfort, while the inclusion of a Pebax propulsion plate in the forefoot increases bounce.
The 5mm heel-to-toe drop is one of the characteristics that distinguish the Topo from the Altras. This raised-heel shoe would be a great option for people who dislike zero-drop platforms.
A strong heel counter and a medial post have been added to the shoe to provide support. As a result, the shoe now provides minimal support for overpronation. Although it's mild, neutral runners ought to feel at ease using this shoe.
Pros
The practically flawless upper features a Topo toebox, no overlays or hotspots, good breathability, and foot grip, plush without being bulky, and a midsole that is an improvement over UF2's Zip Foam.
The shoe feels much more luxurious than earlier models.
Running faster than they appear, with a rather streamlined appearance for a shoe with a foot form.
Cons
If you don't double-tie the laces, they unravel.
A little bit of a relaxed fit because the arch is a little bit too stiff and you can't crank down the top without feeling pressure from the tongue and ankle collar.
A toe that lacks character or pop frequently has a softer midsole, a thin front outsole, and inadequate covering.
3. ALTRA Torin 4.5 Plush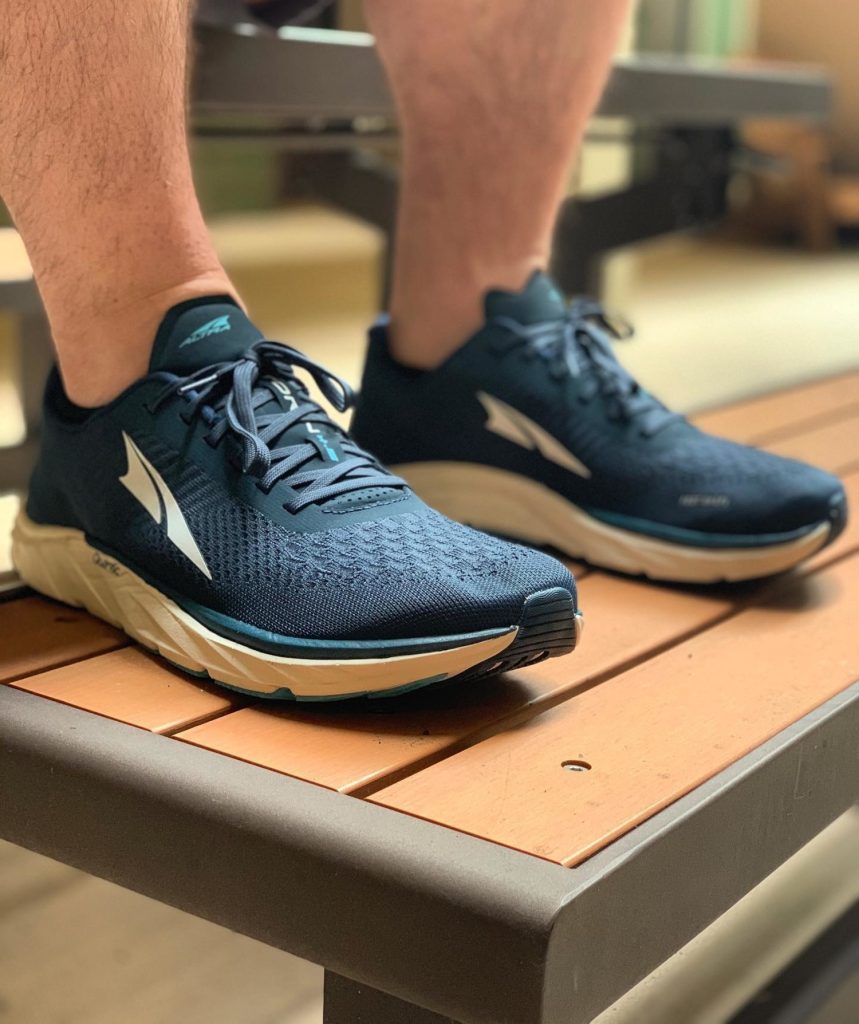 Altra is a brand that takes into consideration the natural shape of a runner's foot.
What we love about the Torin 4.5 plush is that it boasts a wide toe box for natural splay and it is packed with premium materials that help your feet stay cushioned and protected.
This design is super lightweight and comfortable and offers excellent support when running on hard surfaces. The most notable feature of the Torin 4.5 is the shape of the toe box.
This wide toe box offers a natural curve that allows your toe to easily splay inside of the shoe for added stability and comfort.
The upper is composed of breathable mesh material that stretches over your foot for excellent lockdown. The sculpted footbed of this design cradles your foot which helps to correct an even weight distribution that is a result of overpronation.
The midsole is composed of ultra-s proprietary quantic foam materials that feel soft and responsive and help absorb the impact through all stages of your gait.
Pros
Spacious toebox.
a comfortable heel box.
Lightweight.
cozy
Lockdown security.
Cushioned.
Responsive.
Breathable.
4. Brooks Ghost 13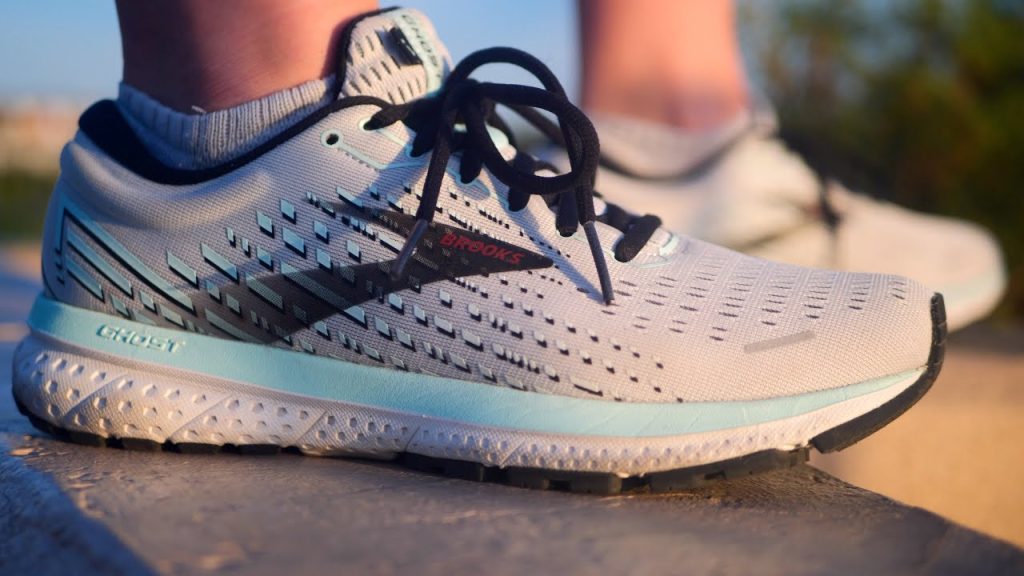 If you are in search of a lightweight pair of stability trainers that is perfect for distance and speed this option from Brook is worth checking out.
We love that this design has been updated to provide users with a snug fit. It is incredibly lightweight and breathable.
A wide toe box provides your foot with plenty of interior room and stretchy upper contours to the shape of your foot. The midsole of the ghost 13 is perfect for neutral runners and can easily transition to the weight room or heat.
The midsole utilizes a blend of brook's proprietary BioMoGo DNA and DNA loft foam cushioning for excellent stability and support.
This foam lining is incredibly responsive and much lighter than the previous iteration of the Ghost. We also love the stretch and bit of the upper.
The roomy toe box provides your foot with plenty of room which is perfect for those who are suffering from bunion pain.
And the stretchy material contours to your foot to promote lockdown. It also boasts an interior segmented crash pad that absorbs the impact no matter where you land on your foot when you run.
Pros
Stable and smooth ride.
Upper feels luxurious.
Smooth transition while speeding changes.
Versatility
Cons
The rubber outsole may wear out fast.
Midsole responsiveness is lacking.
5. Altra Olympus 4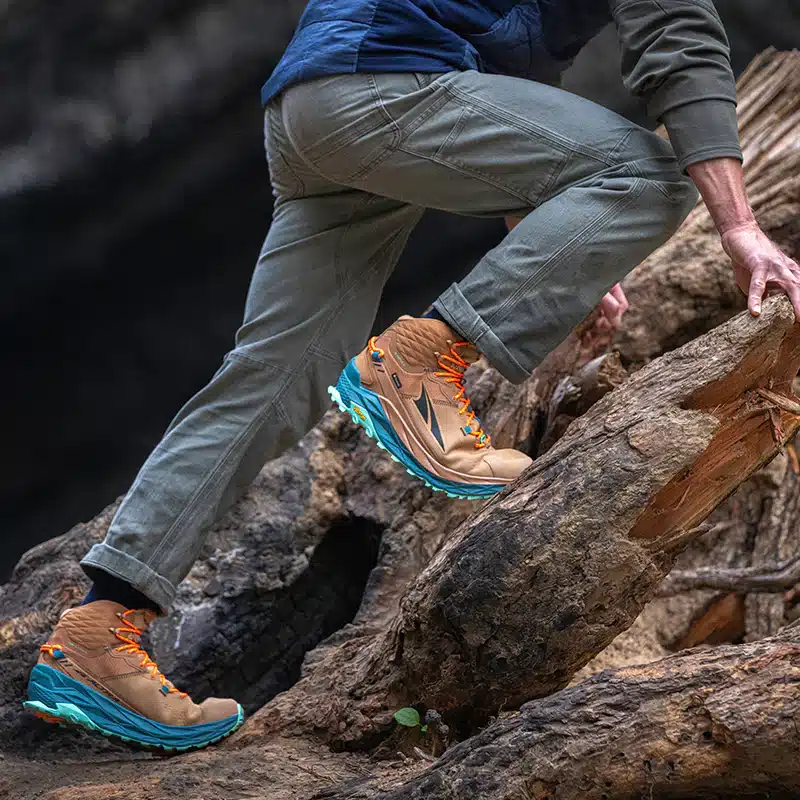 Looking for a great stable running shoe that can handle the trails?
What we love most about the Olympus 4 from Altra is that it boasts a super grippy outsole that can handle just about any trail but a responsive midsole for match support.
In true Altra form, the upper boasts a wide toe box that allows your toes to display for added comfort and stability on bumpy trails. The first thing we noticed about these trail running shoes is that they boast a balanced cushion design.
The responsive foam midsole is evenly cushioned throughout the foot which reduces the impact through all stages of your gait.
This smart design is great for those that overpronate or place too much weight on one area of their foot. What makes this design shine is the construction of the outsole.
It is made from deep lugs that grip the ground under your feet but they aren't too deep that you can not wear this design while working out at the gym or outside walls. The grippy material is also ideal for slick surfaces as well.
Pros
True to size.
Wide width.
constructed for long runs.
Excellent cushion.
fantastic traction
Durable Rubber sole.
For a maximal shoe, light.
Gusseted tongue.
Lightweight and comfortable Shoe
Breathable.
6. New Balance Men's and Women's Fresh Foam 1080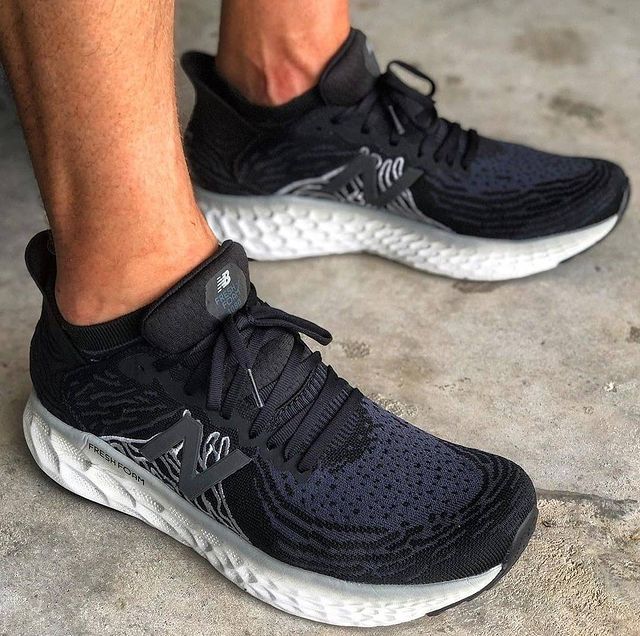 Numerous elements of the Fresh Foam 1080 by New Balance are advantageous for someone who has a bunion.
First, they feature a double jacquard mesh top and a bootie structure for maximum comfort and support without sacrificing the forefoot toe area.
There are no uncomfortable scratchy seams to annoy you while you run since the mesh upper allows for a seamless fit.
Additionally, the midsole's cushioning is more substantial than that of the shoe's forerunners thanks to the laser engraving, making this model a front-runner in terms of shock absorption.
The most amount of cushion is advantageous for a bunion since it lessens shock, which, in turn, lessens foot pain after a run.
Additionally, there is a tiny forefoot flare that relieves pressure on the area of your foot where your bunion is located.
Additionally aids in maintaining momentum when running. The ultra-cushioned design, lastly, is intended for mid-to long-distance runs.
This is one of the best running shoes for bunions if you have one and enjoy running.
Pros
Comfortable.
Embraces your feet.
Outstanding breathability.
The tongue does not move.
Perfect grip.
Lightweight.
Cons
Overly flexible up top.
Wobbly.
On sharp or rapid corners, exercise caution.
7. ASICS GT-2000 Running Shoe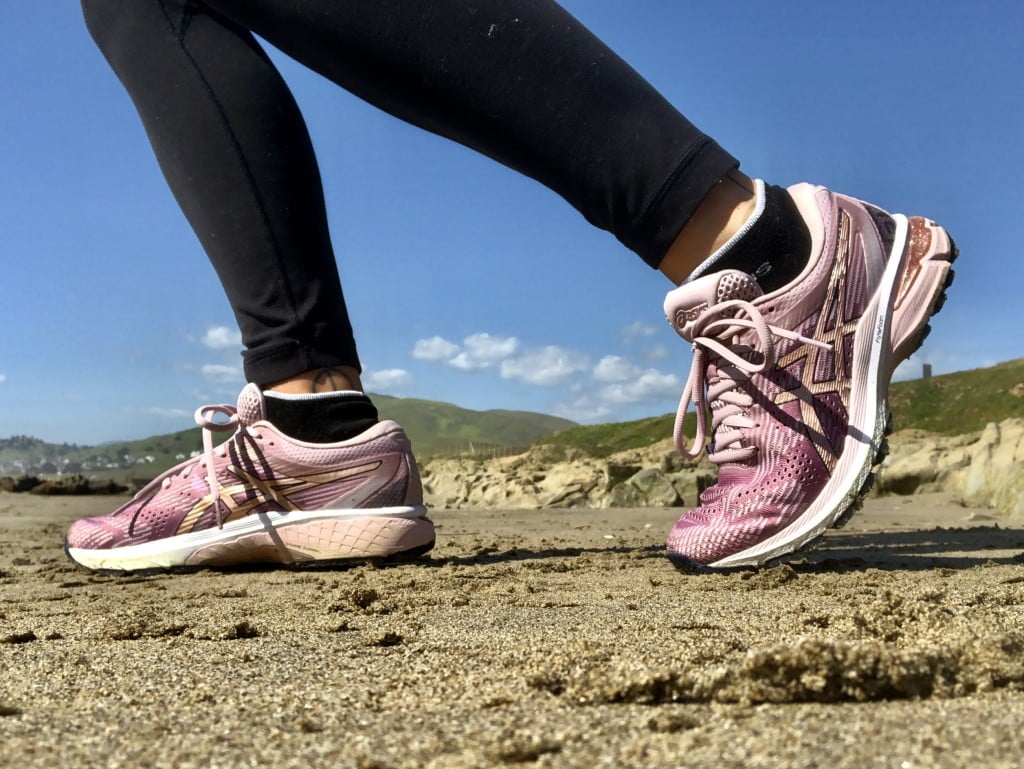 The forefoot and rearfoot of these Asics running shoes have a gel cushioning system. It aids in absorbing shock during toe-offs and impacts.
Additionally, it makes certain that the feet move through the gait cycle in comfort, making it simple to navigate various terrains.
The finest running experience is achieved by carefully combining tested technologies for each section of the feet in these shoes.
The Flytefoam technology used in the midsole offers outstanding responsiveness and bounce-back at any distance. Additionally, unlike other low-density foams, it is constructed of organic fibers, which do not pack out.
The shoes have a dual-density midsole or a Duramax support system to improve stability and support, particularly during athletic activity.
Gait efficiency is supported by the vertical flex grooves provided by the Guidance Line midsole technology.
Furthermore, the guiding Trusstic System technology integrates guideline construction while maintaining the midfoot's structural integrity.
Pros
Light stability shoe.
Comfortable.
Broad toe box.
Decent lockdown
Robust outsole.
Cons
Excessively padded tongue
Hefty ankle collar
Runs hot.
Feels a bit excessive.
8. Hoka One One Clifton 8 For Women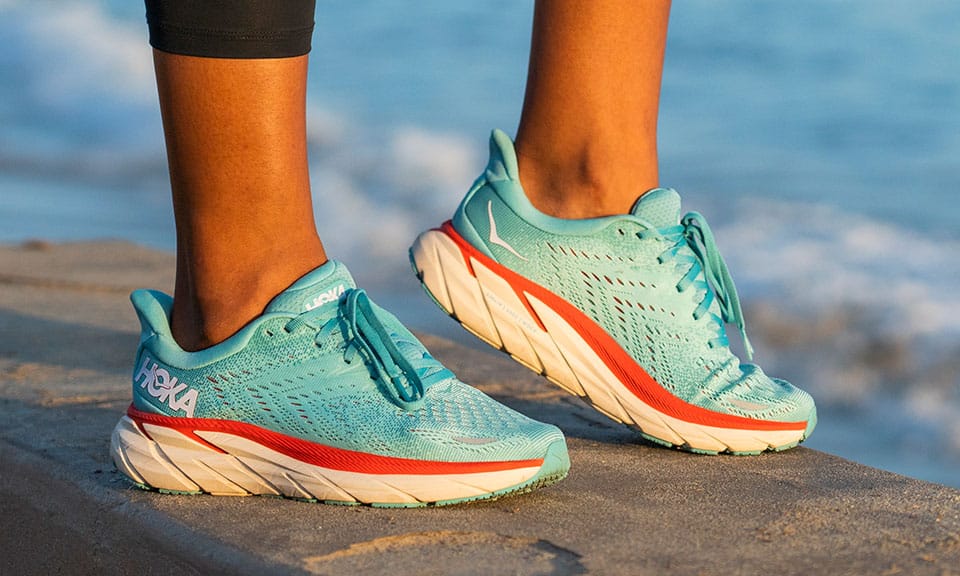 For a runner who needs a stable shoe and has bunions, the HOKA Clifton 8 is the ideal shoe. To give your bunion plenty of room to move about, the Clifton 8 has a lovely, rounded toe box.
This allows you to run comfortably without having to worry about bothersome bunion pain. A late-stage Meta-Rocker design and a smooth toe-off for balanced weight distribution are further features of the Clifton 8.
If you want to stand or stroll for extended periods, the Meta-rocker also relieves pressure on your bunion.
Additionally, the Clifton 8 has arch-lock wings that provide stability and support for the midfoot, allowing you to still have the roomy toe box and secure fit you need for running.
Overall, if you want the most cushioning possible and a running shoe that gives your bunion lots of room, this is the shoe for you.
Pros
Lightweight.
Wonderful for Easy Miles.
a larger toe box.
Slipper-like comfort
Cons
Low Energy Return.
Not Designed for Speed
Might Cause Blisters
9. Brooks Cascadia 16 Running Shoe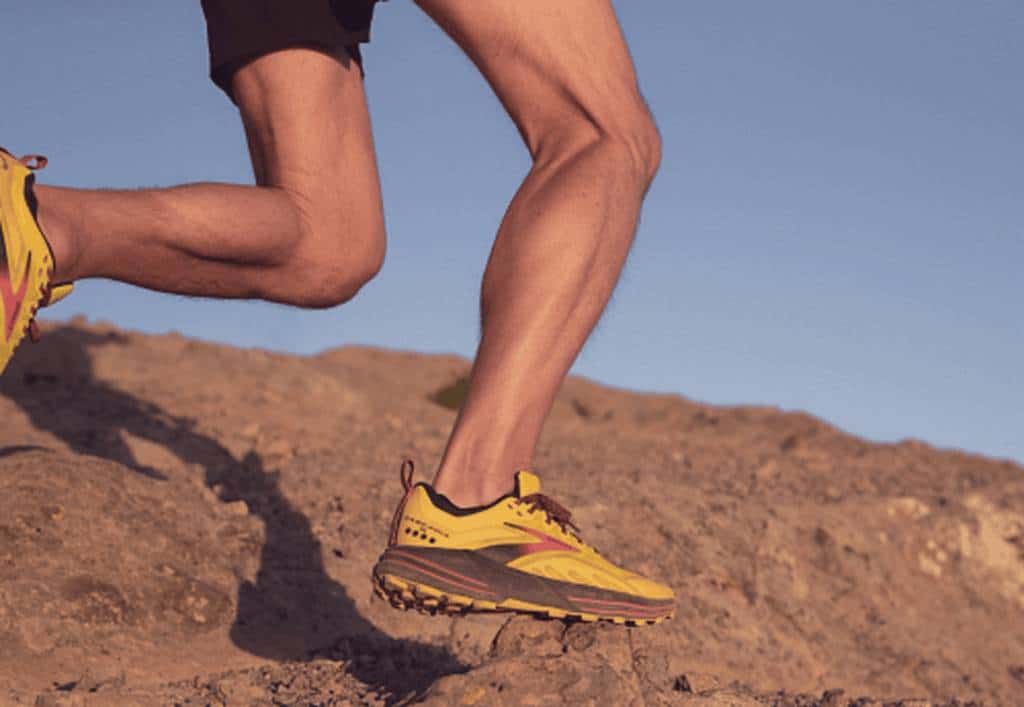 The Brooks Cascadia is a women's version of the men's Brooks Cascadia. Both men and women share the same characteristics.
The DNA midsole's improved soft cushioning offers greater flexibility and cushioning than Brooks' basic DNA midsole.
The Bunion benefits from a soft surface and shock absorption when there are many cushions present.
The Extended Progressive Diagonal Rollbar (PDRB), which aids in guiding your body back to its natural motion, is another feature of the Beast in addition to a cushion.
T
his is a fantastic alternative in particular if you overpronate and that is what caused the bunion. Your feet will stay straight and your Bunion won't feel any pressure thanks to the Cascadia.
Not to be overlooked is the improved fit. With air mesh uppers that provide a roomy toe box, you'll have the best fit possible while running, especially in your bunion area.
Pros
Secure Grip.
Smooth protective fit.
Cushioning comfort
Protective Sheild outsole traction
Cons
The half gusset is not waterproof.
The midfoot grip is average.
10. ALTRA PARADIGM 6 For Men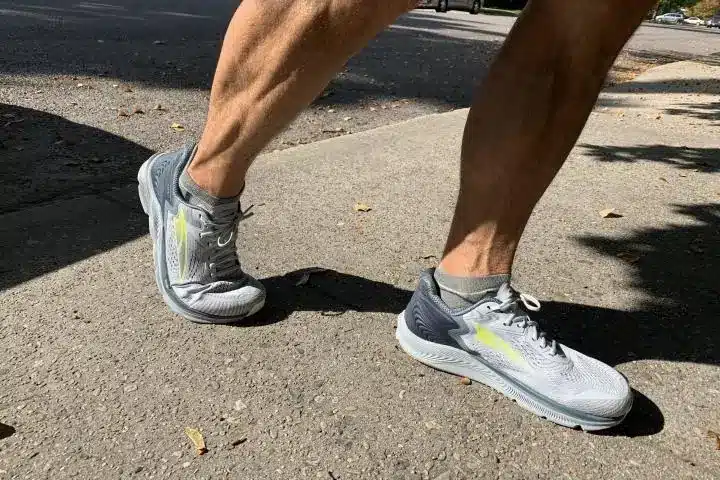 Although it's a stability shoe, the Paradigm 6 is ideal for people with neurological feet and overpronators. Numerous elements are provided to keep your feet supported, aligned, and cushioned.
The Paradigm 6's EGO Max foam midsole provides a smooth, cushioned ride. Although it has some energy return, its softness makes it ideal for extended runs or recovery runs.
Bunion-prone feet have space to breathe and stretch thanks to Altra's patented FootShape toe box, especially when combined with the flexible mesh upper. The standard zero-drop platform lessens forefoot strain as well.
Although it is a stability shoe in the strictest sense, its wonderful feature is how well it conforms to your foot.
First off, because the degree of support depends on how tightly you tighten down, the InnovArch arch support may be used by people with both flat feet and high arches.
The Paradigm 6 is wide, has sufficient padding for shock-absorbing protection, and offers support when needed while yet being comfortable when not. For runners with any kind of foot, the ideal combination!
Pros
Fantastic padding.
Traits of unobtrusive steadiness.
Actual size.
Good fit.
Spacious toebox.
Fantastic traction.
Durable.
No need for a break-in.
What Runners Are Good For Bunions?
Finding a pair of running shoes that fits correctly, especially around the bunion, might be challenging when you have a bunion. Continue reading to learn about the qualities that make a good running shoe.
Check that the running shoe's toe box (forefoot) area is roomy and gives your foot plenty of depth and padding. Source
The next thing you'll need is a pair of shoes that can support your gait cycle (neutral, overpronation, and supination). Doing this will greatly reduce common bunion pain and prevent the bunion from getting worse.
You should wear arch support. Wearing arch support aids in maintaining the best neutral alignment for your foot. By doing this, you can relieve some of the strain on your bunion.
We also advise wearing arch support with a metatarsal pad attached for extra support, as this presses just beneath the ball of your foot and relieves forefoot pressure.
Finally, you should look for a pair of running shoes that come in a variety of widths. Finding the most comfortable running shoe will be easier if you follow these steps. To support and locate a good running shoe for a bunion, using a combination of well-fitting shoes and arch support, whether over the counter or bespoke, will give you the greatest results.
Things To Look For In The Best Running Shoes for Bunions
Support for the arch: The arch is the curving region at the bottom of the foot. Bunions cause unstable arches or flat feet, which require additional support.
Your chosen shoe should have adequate arch support, or you can purchase supports that already have metatarsal cushions attached to them. For runners, the arch support eases forefoot pressure and lowers pain. It maintains the feet in a neutral alignment.
Wide Toe Box: The toe box is located on the forefoot. Running with bunions can be painful and uncomfortable if a shoe's forefoot area is too tight.
A wide and well-cushioned toe box area is required. To allow for sufficient foot space, the shoe should also have a depth of between 1/4 and 1/2 inches.
Gait Cycle: The time it takes the foot to repeatedly touch the ground is referred to as the gait cycle. Neutral, overpronation, or supination are used to identify it.
One gait cycle makes up a stride. You must choose a pair of shoes that are appropriate for bunions because different shoes support different gait cycles. This will lessen discomfort and prevent the bunion from spreading.
Adjustable: Stretchy materials like leather or canvas can be useful. Choose shoes with laces or straps so you may modify the fit and prevent it from becoming excessively tight. This will let you alter the shoe when the bunion enlarges.
How Can Runners Reduce Bunion Pain?
Running can cause a variety of uncomfortable symptoms, including aching around the bunion or throughout the foot, inflammation, redness, and burning as the lump scrapes against the inside of your shoe, once it begins to push out and form.
Here are some methods to relieve bunion pain before or after running, if you are experiencing any:
Select shoes with a roomy toe box. Shoes with a broader toe box let your toes stretch apart and offer the bunion protrusion more room, which will lessen the irritation.
Use orthotics, tape, or protective cushioning. Bunion sleeves or cushions can frequently aid to stop rubbing and chafing inside of your shoes. Excellent advice on running with bunions is available at Best Play Gear, including some useful details on taping your feet to ease bunion discomfort. To help alleviate bunion pain, a podiatrist may also advise custom-fit orthotics that you wear inside your shoes.
Medication. While some anti-inflammatories can help you feel less swollen and less discomfort from a bunion strain, the alleviation is only momentary and does nothing to address the underlying issue.
Do not walk barefoot. Please refrain from going barefoot or wearing poorly supporting flip-flops when you aren't running, even if finding a well-fitted shoe that doesn't irritate can be difficult. Learn more about the dangers of wearing bare feet, and if you must wear sandals, use our buying advice to pick a pair that is both comfy and supportive.
Lacing Technique For Bunions
For bunions and bunionettes, there is a lacing technique you may want to try that helps with the pain. It also works for people with wide feet. Sometimes it helps to just release some of the pressure in the area around the big toe joint or bunion. On the bunion, it reduces a tremendous amount of strain and friction. Running shoes, hiking boots, and work boots can all benefit from this method.
Here's a video of our favorite bunion bootie that is useful for reducing the pressure on bunions: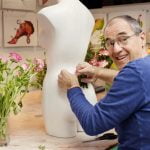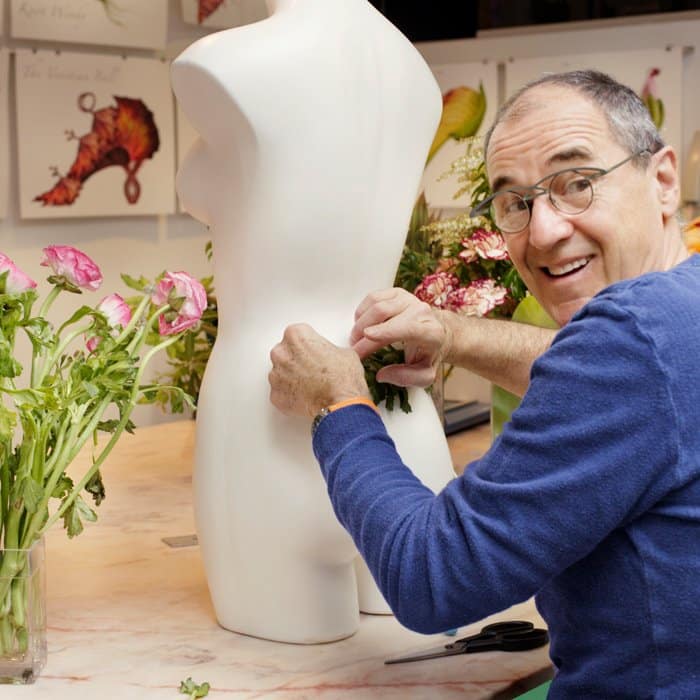 Michel's passion for shoes and flowers is evident in his acclaimed "Shoe Fleur" photography series, which features shoes transformed into stunning floral arrangements. His work has been exhibited in galleries and museums around the world, including the International Center of Photography in New York City and the Maison Européenne de la Photographie in Paris.