Does having wide feet feel like a curse to you? Every heel you find specifically for your feet has a DREADFUL design. Just to wear a trendy stylish shoe, you need to compromise your circulation. As your feet expand throughout the day, those shoes feel tighter.
I have been through it and it does not feel worth it. No one deserves such punishment only because they were born with slightly wider feet. You must be feeling extremely worn out and on the verge of giving up looking for stylish pair of heels with a wide fit. Scroll down and find the solution to your suffering in this article.
We introduce the 10 best heels for wide feet to you. All of them provide you with the utmost comfort and support while letting you stay on trend and look like a true fashionista. Whether you want a block heel, pump, or heeled sandal, we have all of them and more on our list for you! Read our article and know how to choose the best heel you will ever wear.
How to Choose the Best Heels for People With Wide Feet?
You cannot just go and spend hundreds on something because someone says it's good for you, right? That's why you should know how to choose by yourself.
Here I have mentioned some things that I think you should consider before choosing the right wide-fit heel for yourself.
Width Options
Not everyone's feet are wider in the same place. You might have high insteps, bunions, dense feet, long toes, thick ankles, high arches, no arches, or a mixture of these problems. Know which wide feet problem you have and get the proper footwear for proper foot care.
Cushioning and Arch Support
You don't want your feet to ache after a long day with heels. Ensure your heel has proper cushioning and arch support for healthy and happy feet.
Toe box
Most of our shoes are usually tighter around the toe box, but let's not blame our feet for that. Pointer-toe styles tend to be narrower, so you better choose one which won't hurt you.
For your wide feet, you should usually try heels with round or almond-shaped toe designs. But, we'd hate to compromise our style only for comfort, that's why we've provided some stylish pointed shoes that won't deprive you of any comfort.
Closure
It's always better to have more security. Unless a pair of shoes hug your feet without any discomfort, you should try shoes with closures like lace, zip, or hook system.
Material and Stretch
For everything you wear on your body, material matters. Only flexible fabrics such as soft leather or suede will offer maximum stretch and let your feet breathe.
10 Best Heels for Wide Feet in 2023
Now that you know how to choose the best heels for your wide feet, you should check out the best heels on our list. We know each and one of these will be trendy, yet comfortable for you to wear.
Whether you want a pump, sandal or stiletto, this article introduces you to the perfect heels for people with wider feet and a great taste of style.
Casual & Comfortable- Everyday Heels
1. Allegra K Ankle Strap Sandals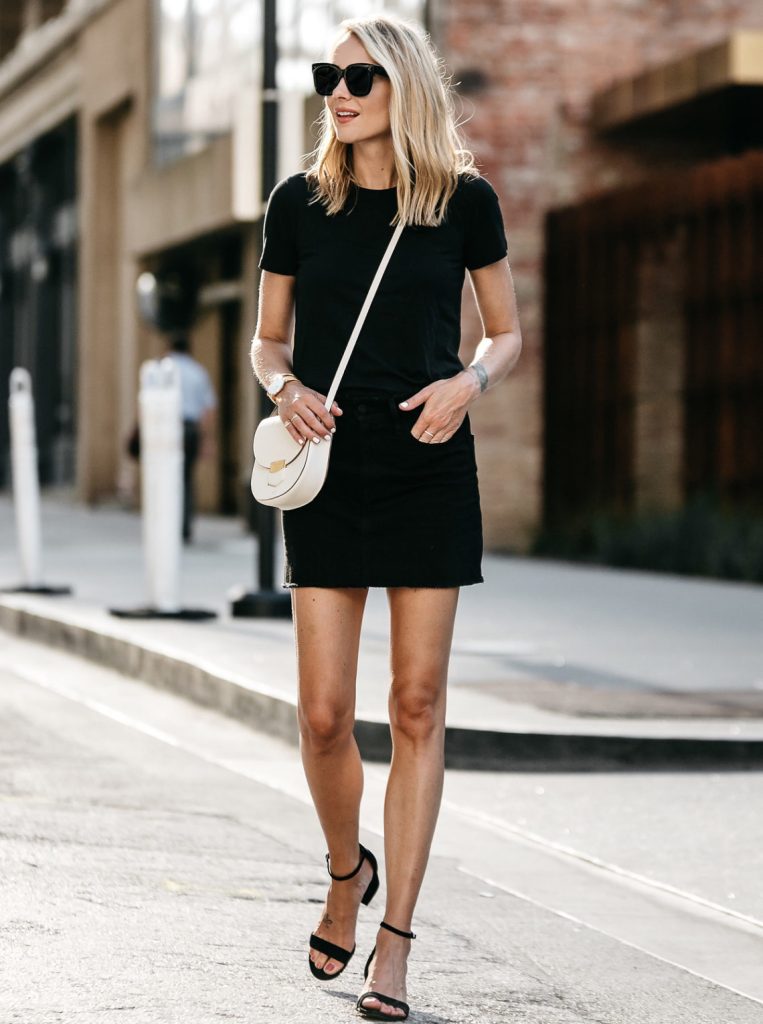 3 inches heel height
Open-Toe
Chunky Heel
Adjustable strappy heel
Faux suede vamp insole

Here are the heels which will feel as good as if you haven't been walking 3 inches up the ground level all day long. These ankle strap block heel sandals make the best out of their simple chic look.
The roomy open-toe and nice insole are specially featured for the comfort of women with wide feet. The adjustable ankle strap lets you alter it to your preferred size and provides maximum traction and stability.
You can walk in these chunky heels for hours without putting much pressure on your legs. Forget about skin problems and bruises when you are wearing the durable faux suede vamp insole.
Looking for the perfect all-rounder shoe that you can wear both to a supermarket or a party? The Allegra K Ankle Strap Sandals are here to save your day with their comfort.
Pros
Durable faux suede vamp insole
Open-toe and ankle strap closure
Available in various sizes and colors
Cons
The strap might not be tight enough for some people
2. Dream Pairs High Stilettos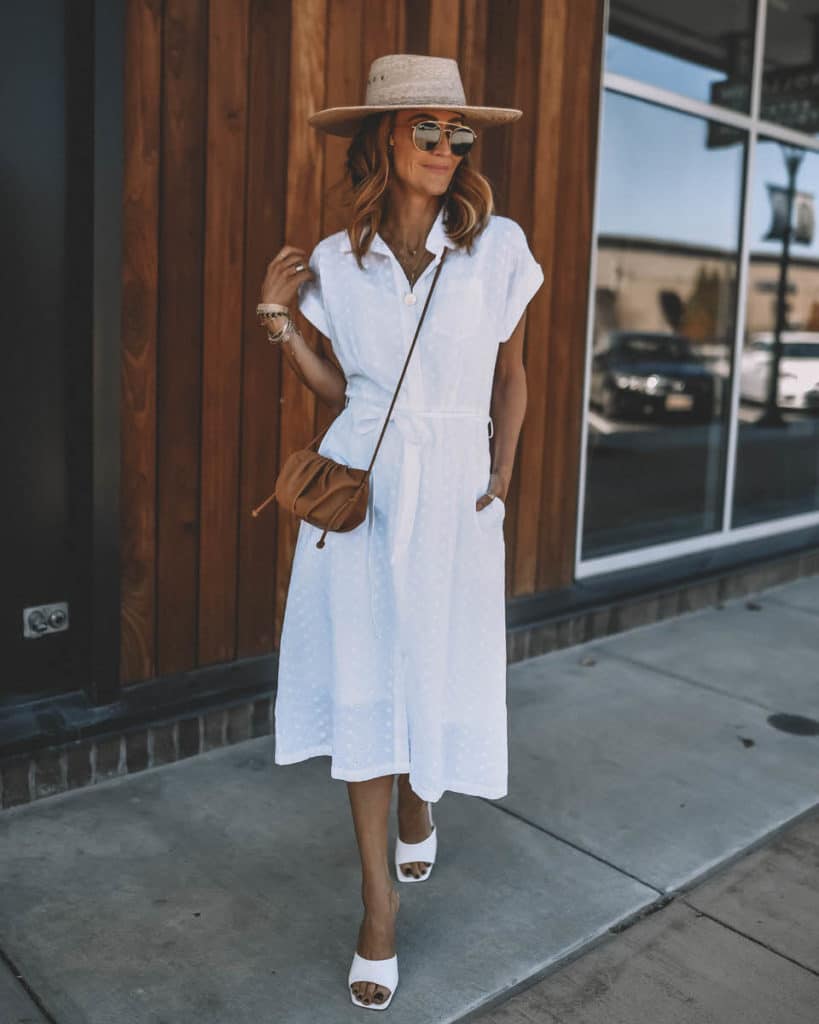 3 inches high heels
latex padded flexible PU insole
Soft leather and special drum cotton design

If the open-toe crossed strap didn't grab your attention already, these 3-inch sandals for wide feet come with utmost comfort and support. Go on with your everyday activities wearing these pieces of art and make heads turn and look down.
Its latex-padded PU insole is flexible for any part of your extra wide feet to rest comfortably. With the soft leather and special drum cotton design, you won't ever have to get out of the house without something cute and stylish.
The backless and open-toe design makes you fall in love with your wide feet. Find these in summer and live a peaceful one without your foot aching, swelling, or sweating.
Pros
Day-long comfort and support
Open-toe and backless
Available in various sizes and colors
3. LifeStride Parigi Dress Pumps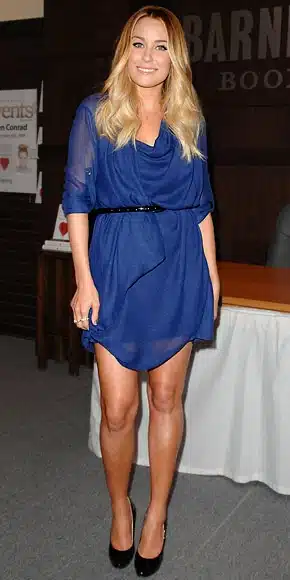 100% synthetic
Faux leather upper and smooth linings
Closed rounded toe box and closed back
2 inches heel 
The cushioned footbed and manmade traction outsole

These regular shoes are the best kind of graceful and elegant pumps for wide feet. I never miss walking down a lane with a dress and these pumps on, and feeling like the main character.
The ultra-soft 100% synthetic insole creates a soft effect and is spacious and flexible enough for us with wide feet. The upper soft faux leather and the smooth linings make it classy, chic, and rich in quality.
The rounded toe style will let you stretch your toes as far as you can. To get the utmost comfort all day, the shoe comes with cushioned footbed featuring SoftSystem comfort elements. It consists of a manmade traction outsole and support.
The 2-inch heel with a closed-back style makes it look more breathtaking and adorable.
Pros
Incredibly comfortable
100% synthetic
High stability and traction
SoftSystem footbed and smooth leather upper
Available in various sizes and colors
Cons
Might feel a but congested in summer because of its closed design
4. Naturalizer Wide Harding Boot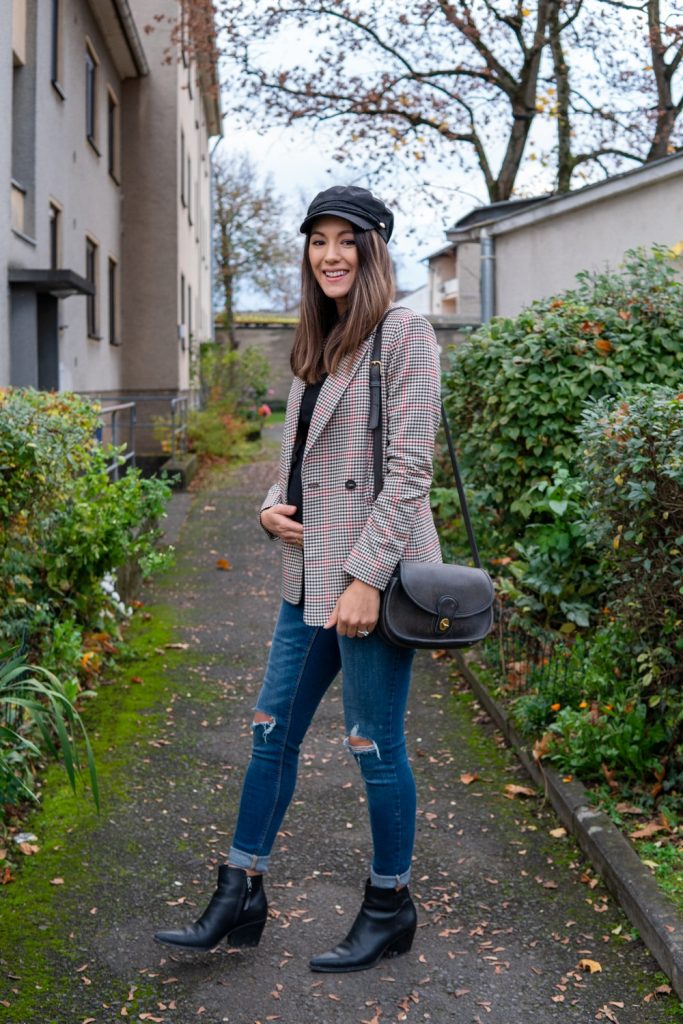 100% leather upper
Cushioned foam footbed
Side zipper closure and pointed-toe box
Broad palm and thick heels

Whether for all-day work or year-round fashion, these pure leather narrow ankle boots will stick to your wide feet like a true companion. Featuring a foam footbed, it meets every contour of your foot and provides a premium fit with ultra comfort. The chunky heels and broad palm size will feel as if it's a flat you can glide on.
You get the most stylish look with the narrow sleek pointed-toe style and the side zipper makes it easy for you to turn it off and on. Get this Western-inspired fabric-lined leather boot and stride with pride.
Pros
Soft foam footbed and broad heels
Pure leather upper with side zipper closure
Available in two colors and various sizes
Cons
Might feel a bit tighter around the toe.
Heels for Formal Events
5. Vivaia Round-Toe Block Heels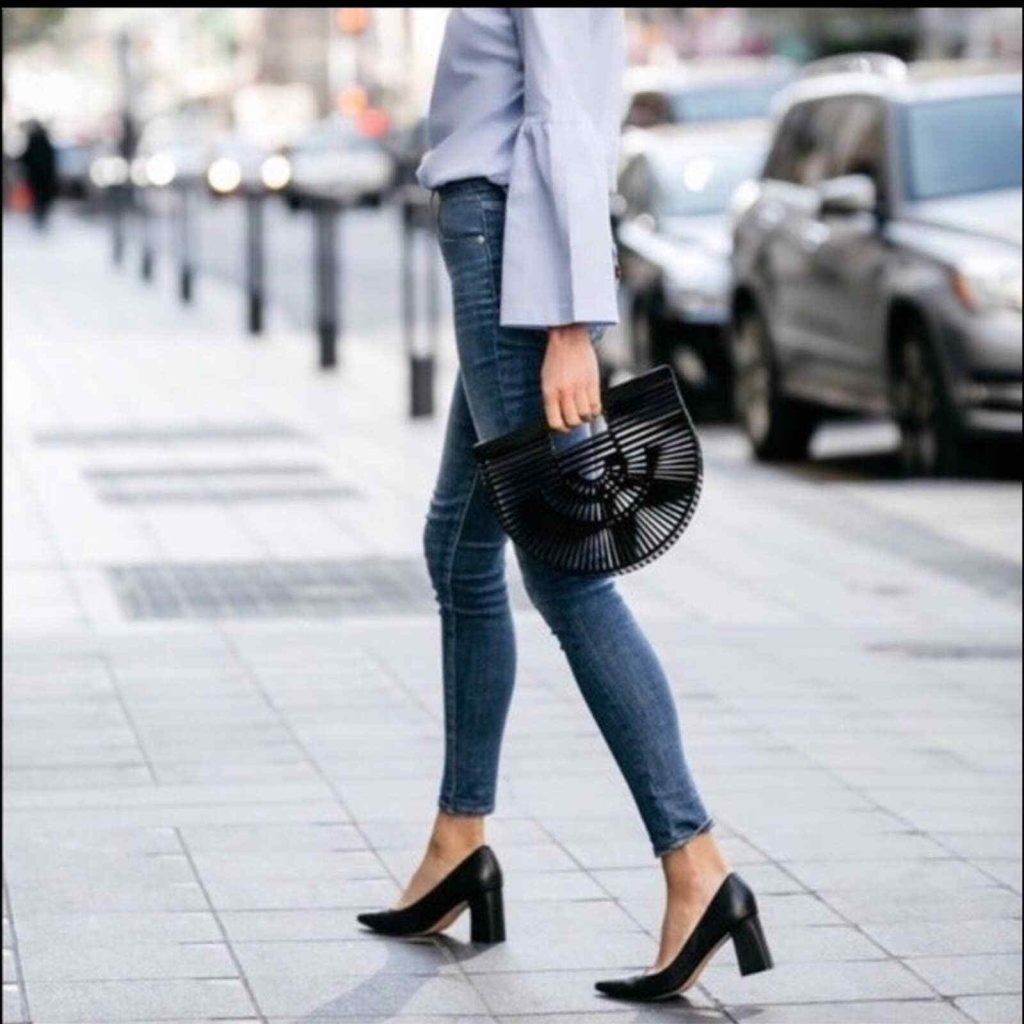 2 inches bulky heel
Cushioned, deodorizing insole
Breathable outer material 
Rounded toe, closed back

Having a hectic day at work? Wear these adorable soft pair of pumps and let your feet feel like they aren't doing any work. This rounded toe plain colored heel is especially ideal for your everyday work. Make your best impression at meetings with big clients wearing these pumps.
The soft, cushioned, deodorizing insole makes you feel like you are walking on a cloud and minimizes any pressure on your wide feet. It has a breathable outer layer and 2-inch high bulky heels, which lets you be stylish with comfort. This model does not only come with the rounded toe style, you can also get pointy, or square-toe styles from Vivaia.
Pros
Breathable outer material
Formal design with bulky heels and closed back
Soft deodorizing inner part
Available in 2 colors and various sizes
Cons
Not suitable for fancy events
6. Nine West Tatiana Pumps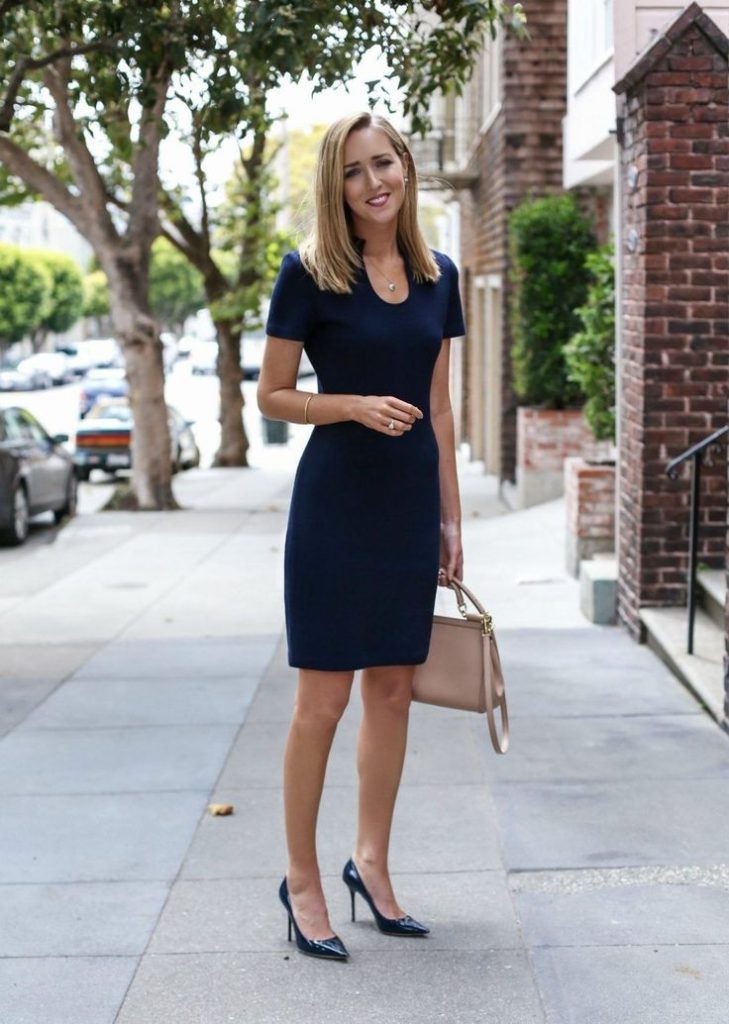 100% leather
Cushioned manmade footbed
Rubber sole
Pointed heel and Pointed toe style

Make heads turn at work with these pointed high heels. The soft manmade footbed and slide-on design fit perfectly for your feet. These wide classic black heels have shining 100% upper leather while providing enough stability with the rubber sole.
The 4-inch pencil heel with the pointed toes will never make you feel bad about your feet again. Never seen a pencil heel that lets you walk and work all day long? Stay comfy throughout the day with this. The Nine West offers you this budget-friendly pump in 15 colors.
Pros
The pure leather upper, soft footbed, and rubber sole
Classy pointed-toe style and pointed heels
Available in various designs and colors
Cons
Might be a bit tighter around the front
7. Franco Sarto Frankie Pump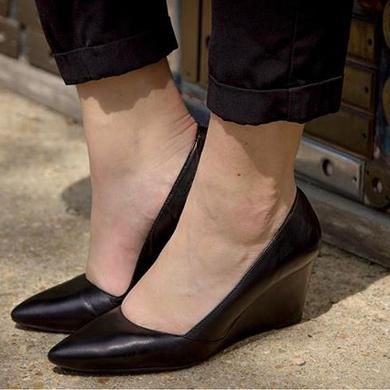 100% leather and synthetic sole
2.5 inch wedges
Slip on system
Cushioned footbed

Finding the perfect wide formal designer shoes for work is not an easy thing. But we introduce you to the Franco Sarto Pump to make your life a bit easier. This 2.5-inch stacked wedge heel always offers full-on stability. The easy slip-on design and the comfy footbed are ideal for anyone with broad feet.
The pure leather upper with a slanted cut design does not make you compromise your fashion sense for comfort. Adding to its beauty, there is the synthetic sole and pointed-toe design.
If you want to add some inches to your formal or casual look, these comfortable shoes are the ones for you.
Pros
Breathable pure leather
Cushioned footbed
Wedges with a stable flat bottom
Available in 3 colors and various sizes
Cons
Might feel a bit tighter around the heel at first
Heels to Wear at Parties
8. Dream Pairs Strappy Heel Sandals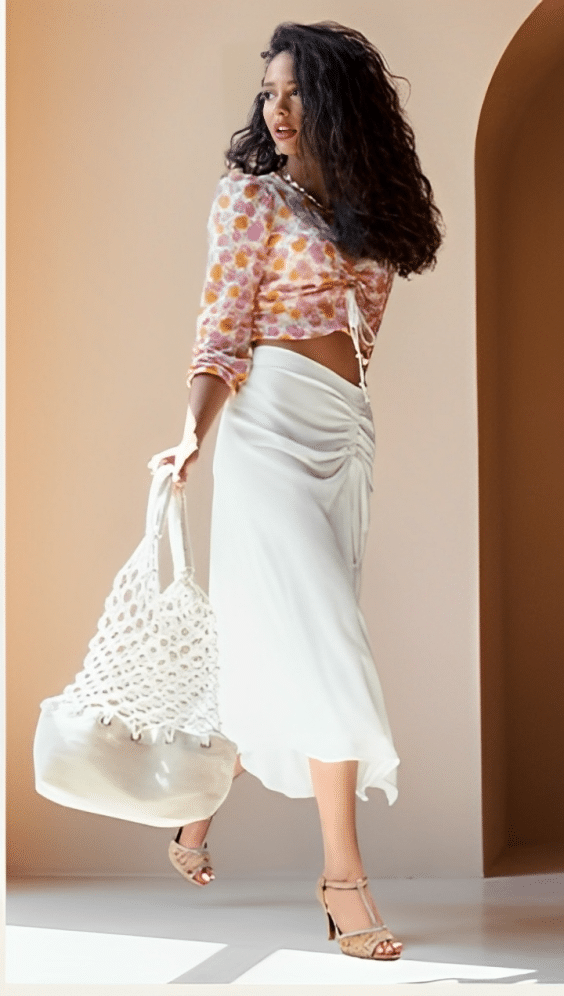 Rhinestone design
Cushioned faux footbed and sturdy rubber outsole
Open-toe and adjustable strap
Mesmerized by the look already? Get ready to flaunt your outfit with these shiny strappy sandals without compromising any support and comfort. Featuring a cushioned footbed, a sturdy sole, and a secure ankle strap, these sandals offer the perfect combination of style and functionality.
You won't have to worry about pesky blisters, as the soft upper material is specifically designed to keep your feet feeling pampered. And to top it off, the insole is padded with faux to ensure that you enjoy the utmost comfort no matter how long you wear them. The metallic finish adds a touch of glamour to your outfit, making it perfect for any occasion.
The open design lets your feet breathe and you party all night long. Whether you're dressing up for a night out or running errands during the day, these sandals will keep your feet happy and stylish all day long. Don't wait any longer to add these stunning sandals to your shoe collection.
Pros
Features cushioned padded faux leather insole
Open-toe and ankle straps
Sturdy rubber sole
Available in various colors and sizes
Cons
Stones may come off easily
9. Badgley Mischka Gaela Chic Sandal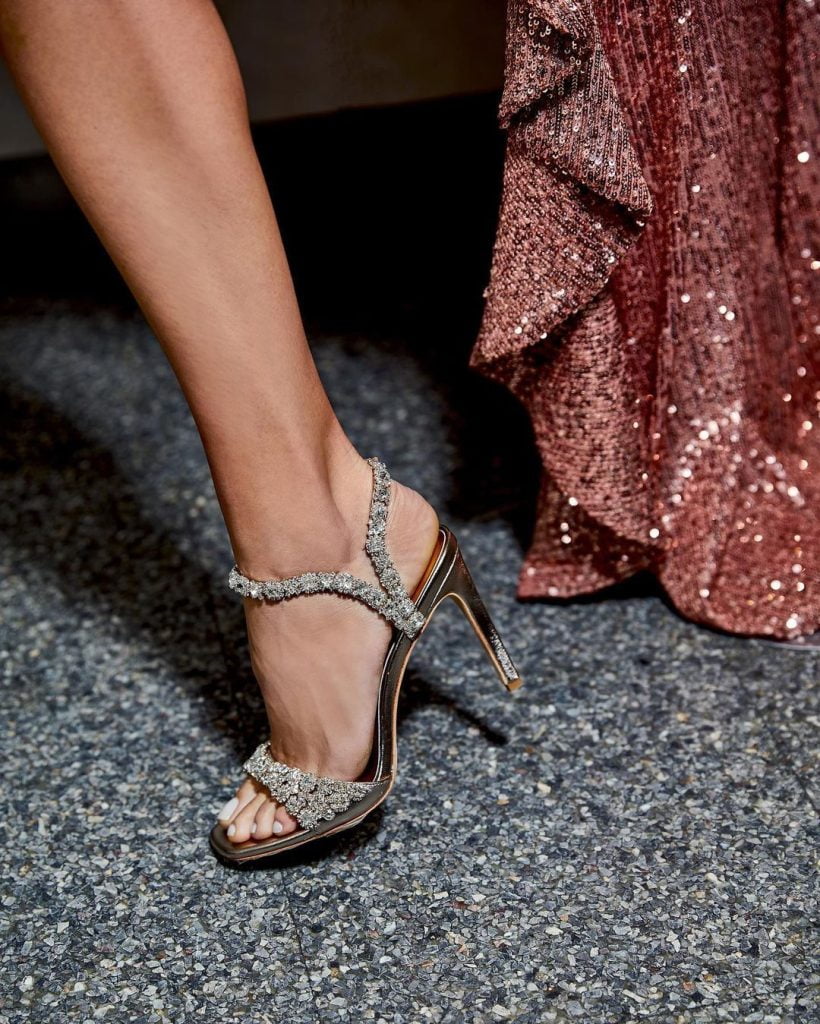 100% synthetic upper with rhinestone designs
Cushioned footbed
Non-slip sole
3 inch pointed heels
Open toe style and adjustable lace
Heels that scream "Gorgeous". Flaunt any party wears with these stunning heels. The cushioned footbed and rubber sole provide excellent comfort and support, making it perfect for long periods of wear. The ankle strap with an adjustable buckle ensures a secure fit, while the open-toe design provides extra room.
The 100% synthetic upper with beautiful rhinestones is designed to look sophisticated anywhere.  And the best part is, these nice shoes are versatile enough to wear with any formal outfit or even for dressing up a casual look.
Overall, Badgley Mischka's fancy high heels for wide feet are a must-have in any fashionista's shoe collection.
Pros
The cushioned footbed and non-slip sole.
Beautiful synthetic upper with stones attached.
Open-toe design and adjustable lace.
Available in various designs, colors, and sizes.
Cons
Might feel too open for some people.
10. Upall Platform heels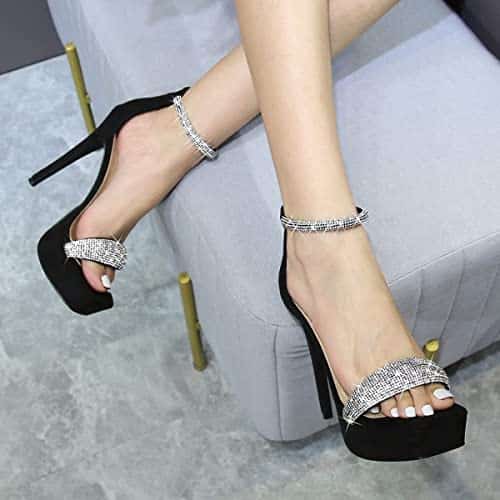 High pencil heel platform stilettos
Air-cushioned insole
Non-slip outsole
Pure leather upper, designed with rhinestones

These classic black high Platform heels will catch the eyes of everyone at a party. The platform-wide sole provides added height, while the air-cushioned insole ensures maximum comfort for all-day wear. The non-slip outsole provides traction and stability, allowing you to confidently strut your stuff on any surface.
Shoes made from high-quality leather, these stiletto heels are built to last and can withstand regular use without showing signs of wear and tear. The back chain closure system and trendy squared toe offer maximum security and flexibility. Gain confidence with every step you take for these sophisticated rhinestone stilettos.
Pros
Air-cushioned insole.
Non-slip outsole.
Upper of high-quality leather designed with rhinestones.
Squared-open toe and easy zip closure system.
Cons
Might be too high for some.
Conclusion
Were you having trouble finding classy wide-width shoes for your feet? Whether you want something for casual meet-ups, work, or for partying, we introduced you to the 10 best ones in this article for you.
We hope you already stopped at one of the shoes while reading this, but if you didn't, just know what things to consider first for your right pairs and find the best one of these trendy shoes to add to your new collection.