Walking for a party, interview or to meet with your crush? Choosing the right high heel can boost your confidence at no end. Your appearance automatically enhances the glamor and radiance you carry.
But if you are also struggling to get the most comfortable heels being a plus size ladies like me, we, ve got your back!
There was a time when I used to think heels were only for skinny women. Now I know how wrong I was then. What I need is only to get the right fitted heels for me. I will share some tips and tricks so that you can find the best heels for plus size ladies that are most comfortable for you.
So get ready to step up your fashion game without worrying about your weight!
Is There a Weight Limit for Heels?
In short, my answer is no, there's no weight limit for wearing heels. As long as you are comfortable wearing heels aligned with your feet size, weight shouldn't matter. But avoiding thin heels like Stiletto heels is a good decision indeed.
Excluding them, there are plenty of suitable heels options for women with overweight. For example, you can consider Kitten heels, Wedge heels, and chunky heels. By the end of this article, you will find the best heels that suit your outfits and your body size.
Scroll down to explore more!
3 Key Factors to Keep in Mind to Buy Heels for Plus-size Women
How to choose the right kind of heels for an overweight woman? You just need to consider the following facts so that you can ensure both convenience and fashion.
Here are some quick tips for stepping in style with heels:
Choose a Wider Heel
Wider heels or thicker heels like platforms may give you better stability and support for your foot and body – both. You can easily walk in with confidence. On the other hand, thin heels can cause instability and discomfort.
On that note, you can go for Chunky or block heels as they distribute your body weight evenly and reduce the pressure on the feet.
Opt for a Lower Heel
If you want to put on heels to look more stylish but want to be comfortable at the same time, lower heels are a good choice for you. Thus, you can choose Kitten heels or mid-heels which can offer better support and a glamorous look.
Don't forget to watch your wardrobe while selecting the right pairs.
Choose Shoes With Ankle Straps
I can't express how stylish-touch they add to the shoes you wear. At the same time, it provides you with additional support and prevents your foot from slipping out of the shoe. For plus size ladies like me, strappy heels are best.
Overall, the best heels for plus-size ladies are those that offer comfort, support, and style. By following these tips, you can find a pair of heels that will make you feel confident and comfortable.
10 Best Heels for Plus Size Ladies- Comfortable & Stylist
High heels are a great way for plus size women to feel sexy, feminine, and sophisticated. They can also help you walk in style and comfort. Here are some of the best heels for plus size ladies.
1. Lucky Brand Women's Mindra Wedge Sandal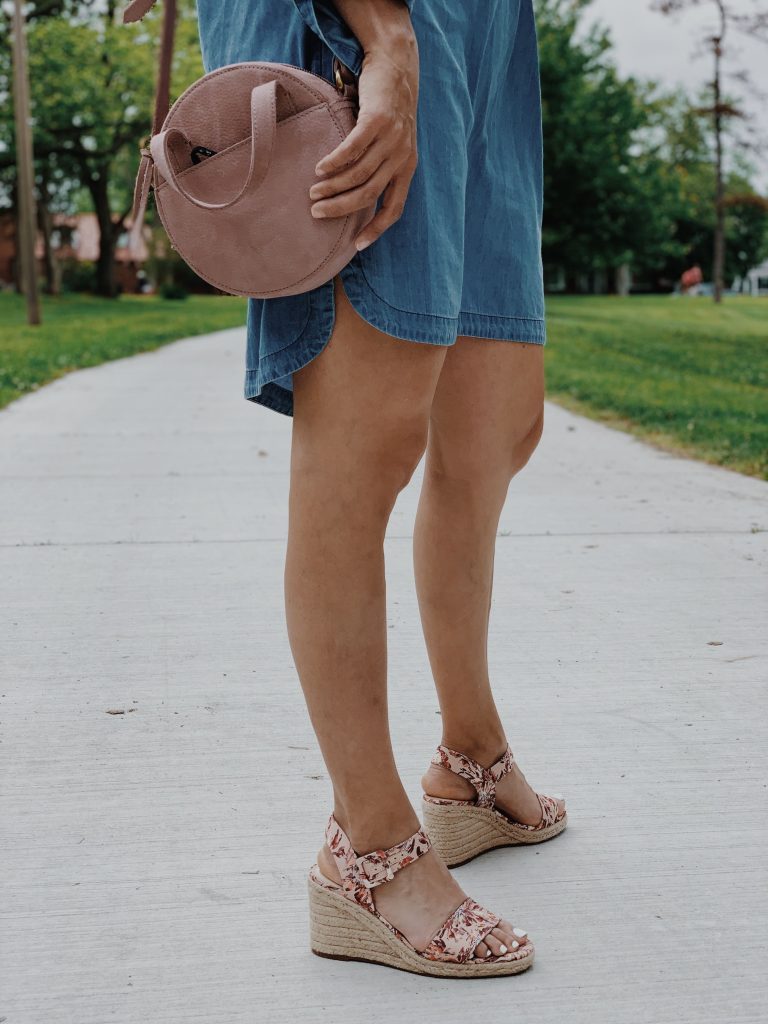 100% Synthetic
Leather Sole
Open Toe Design
Ankle Strap Heels
Adjustable Buckle Closure
These strappy wedge heels are super comfy for ladies with any weight. Additionally, Its wider fit offers you both solidity and comfort which are the thing you might be looking for. These heels are available in various colors to match your wardrobe.
Wearing this pair will make you look super stunning in any type of dress, shorts, or jeans. Whether you play or work, wear it without worrying.
Besides, these heels are made of high-quality material at a very reasonable price. Thus, if you ask me about my top choice as a plus-size lady, Lucky Brand's Mindra will be my top choice for a reason indeed.
Pros
Stylish and comfortable
Can complement any outfit
Wider fit and heel support excellently
Not too high 
2. Wetkiss Heels for Women – 2023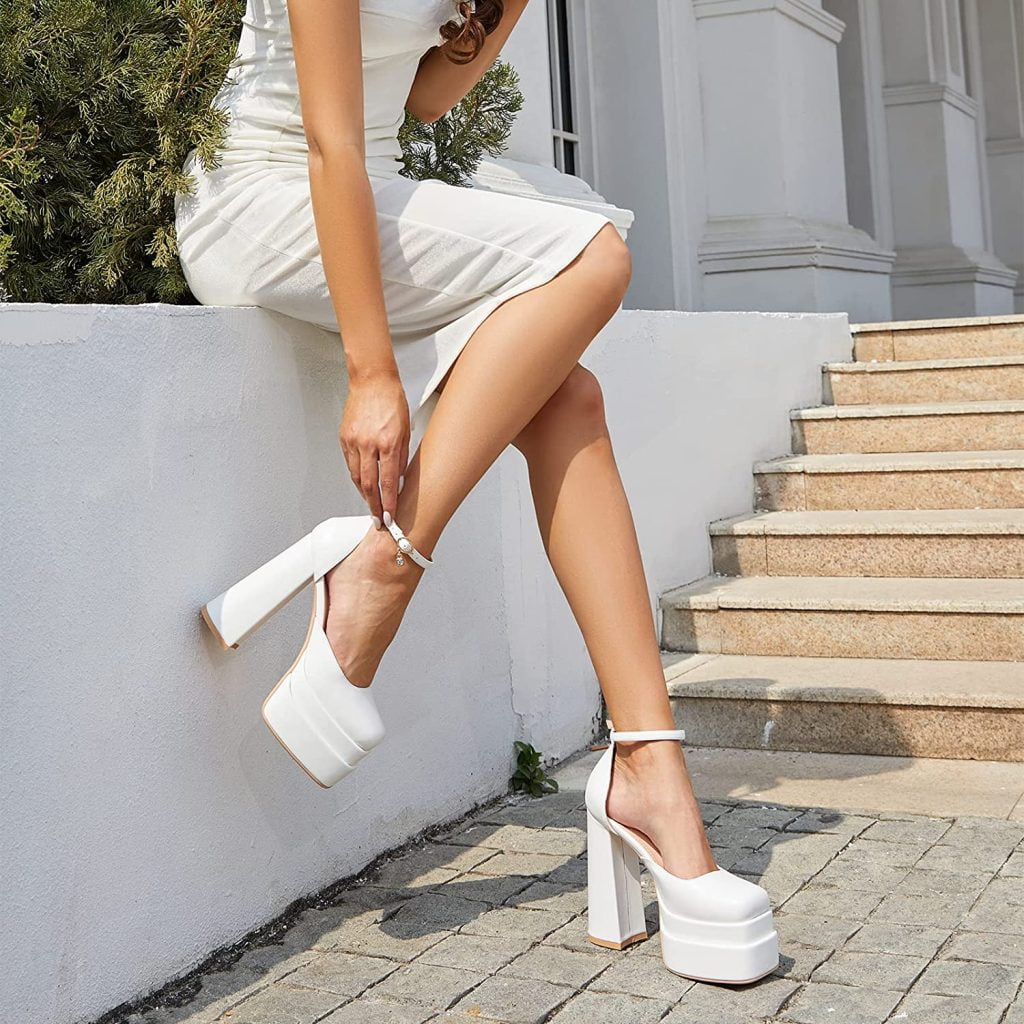 Closed Round Toe Heels
Classic Ankle Cuff Heel Design 
Made of Faux Suede Upper
Rubber Sole
As I said before block heels are a great option for women with overweight. Thus I recommend this footwear to those who look for plus-size heels to wear on formal occasions.
These heels are also quite thick which is the perfect fit to carry overweight. And of course, the closed round toe design provides room for your toes while offering you a comfortable wearing experience. So, feel free to add it to your bucket list.
Pros
Best fit for formal outfits
Add elegance to your look 
Offers a great grip
Never out of fashion 
Cons
It may not be suitable for wide feet
3. DREAM PAIRS Women's Mila Low Heel Pump Shoes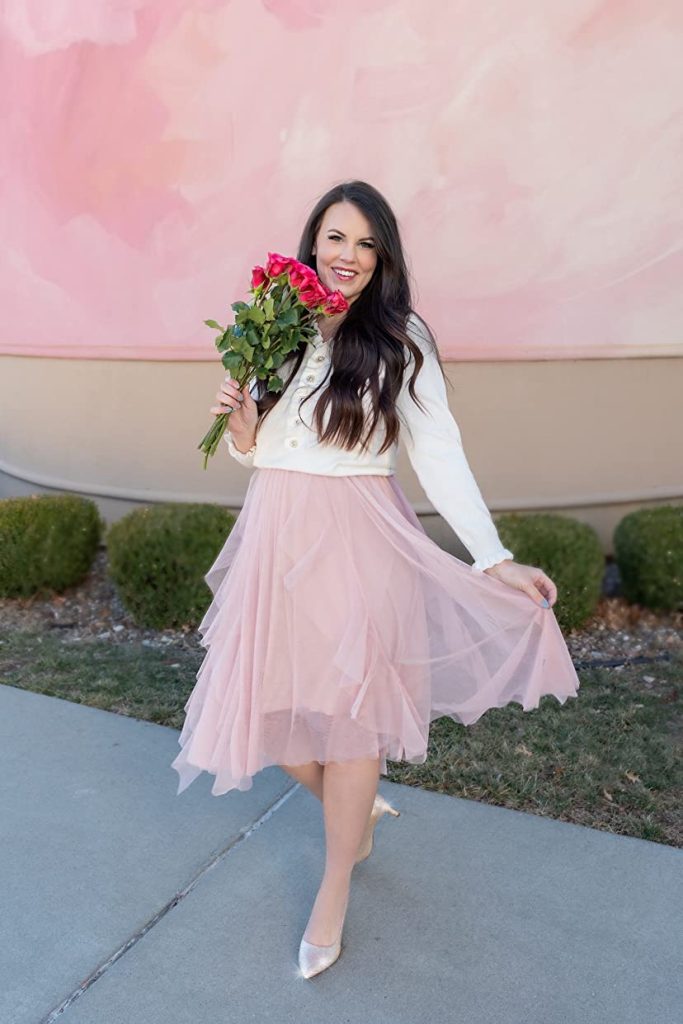 Durable Minimalist 
Polyurethane Sole
Minimalist Design
Soft and Cushioned Latex Footbed 
Non-slip TPR Outsole
I prefer not to wear high heels to maintain a great balance. On that note, Dream Pairs low heels are incredible for everyday wear since you can add extra height without much effort. You can also put on them for extended periods, especially if you're someone who needs to walk or stand for long hours.
Moreover, you will get so many color variations that you might struggle to decide which one to pick. This affordable footwear is just worth every penny you spend.
Pros
Suitable for wide feet
Various styling options
Non-slip sole for safe walking anytime
Versatile to match any outfit
Relaxing for the balls of your foot
Cons
Not crafted from premium materials
4. VETASTE Women's Bow Knot Open Toe Heels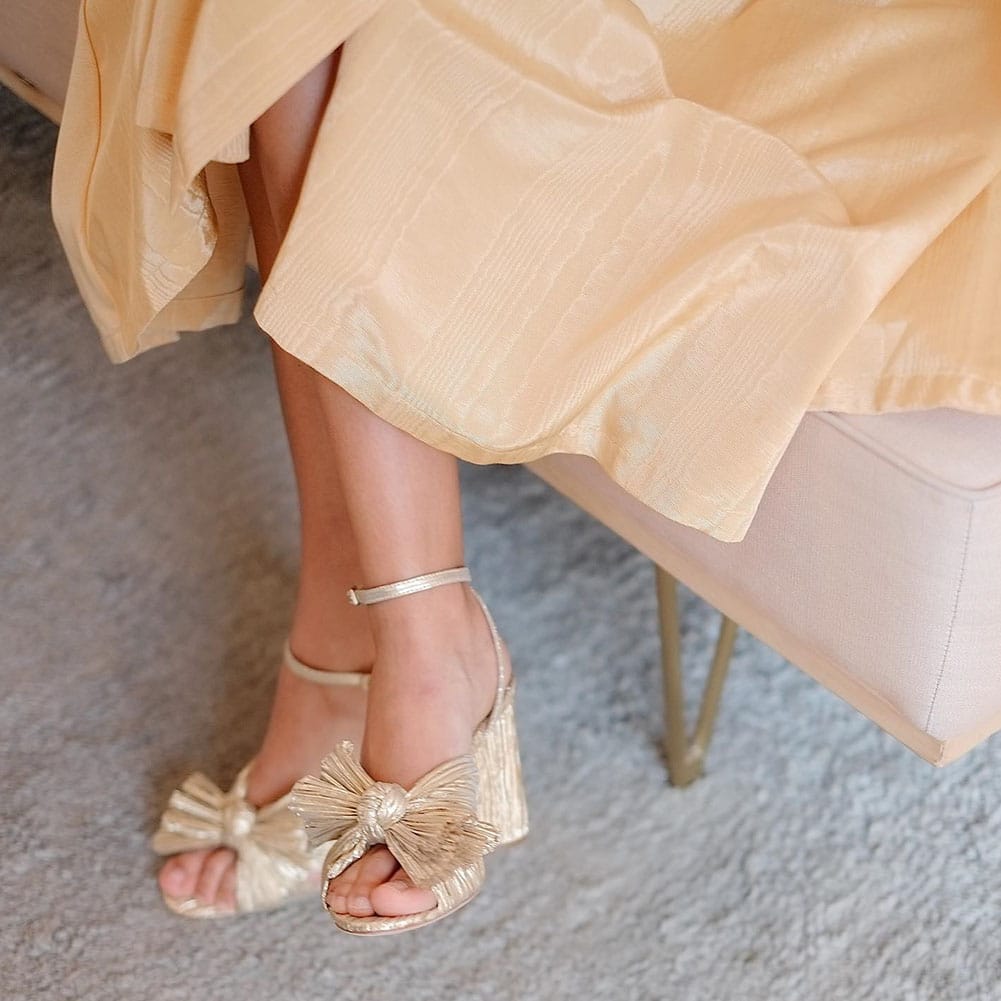 Pleated knot heels
Open toes
Adjustable buckles 
Comes with a padded insole
Looking for a wow one? You've come to the right place. I bet everyone's eyes can't get off you when you wear these gorgeous heels. Whether you are an overweight person or a pregnant woman, this is a great choice in heels regardless of size.
Its' soft texture is marvelous indeed. What makes it better is its adjustable buckles. You can make it fit your size without much effort. Thus, this plus size fashion shoe is one of the best heels you can choose.
Pros
Comfortable to wear for bigger women
Long day wearable 
Best matches with bridal wedding outfits
Thick heels to offer stability 
Offer ultimate support to the ball of the foot
5. AIJIVOU Womens Vintage Bow Platform Heels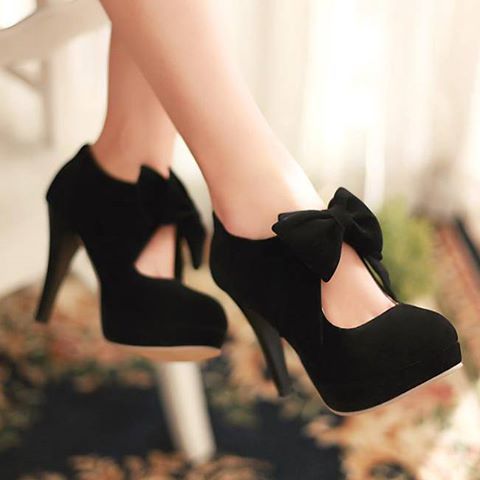 Rubber Sole
Comes with ankle straps 
Soft foam insole included 
Available in 6 to 10 size
Wide width shoes 
These cutout heels offer intense comfort to your feet changing your entire look. If you want to wear something that goes with any outfit, get these high heels right away. You will thank yourself later for sure. These heels are available in various sizes and colors.
Its soft foam insole gives your feet ultimate comfort which helps you to walk for a longer time. Besides, its classy cuff doesn't let your feet slip. And the sole has a good grip. And all these things make it one of the best high heels you can get yourself.
Pros
Offers great grip on any surface
Elevates your style with a trendy touch
Increases overall comfort
Durable footwears 
Cons
May require practice to use the belt hook
6. Womens Espadrilles Open Toe Tie Lace Up Platform Shoes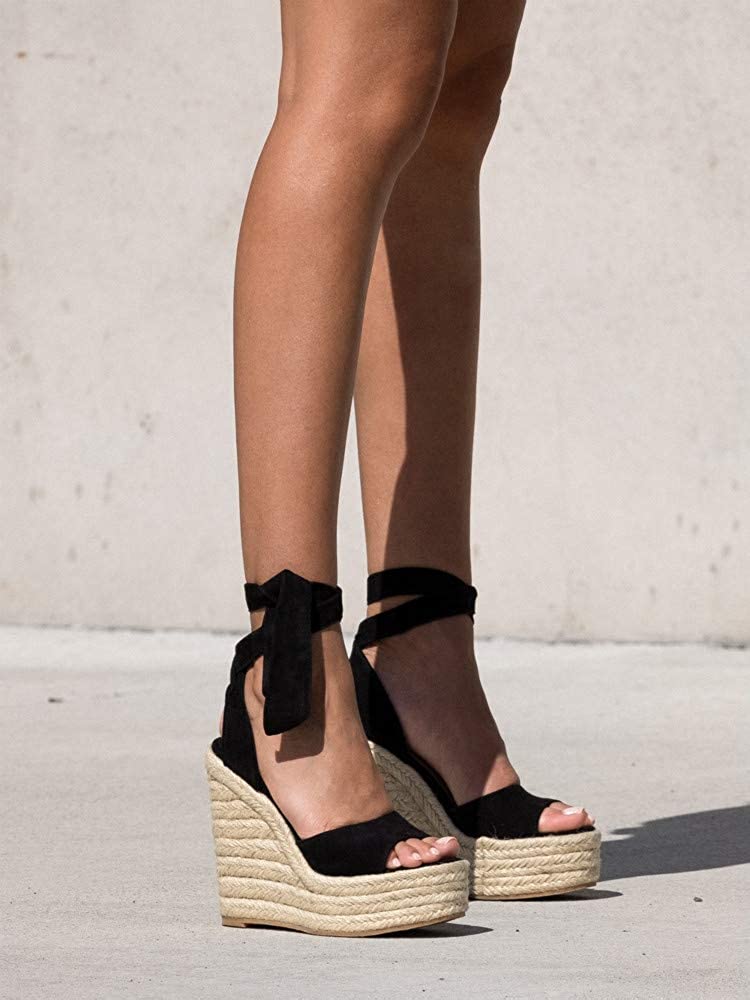 Lace-up self tie closure
Classic espadrille sole
Soft upper
High wedge heel
Looking for high heels worn by plus-size women on casual occasions? Well, put a full stop to your search. This Plus size high heel has thick soles which distribute the body weight evenly. The Heel of the shoe is designed to carry heavy weight well.
Hence, you can walk having no discomfort. I recommend it as one of the most comfortable shoes for any woman regardless of size and weight. Besides, its self-tie strap helps you to easily wear it on or off the shoes.
If you are a woman who possesses a high fashion sense, you are going to love this one option of high heels.
Pros
A comprehensive stylish option for heavy ladies
Comes in different size heels for wide feet
Legs look thinner wearing these pair
Evenly distribute the weight
Fits perfectly on feet 
Cons
Features longer laces that are hard to maintain
7. GEXECEUSS Women Wedge Sandals Slope Heel Thick Bottom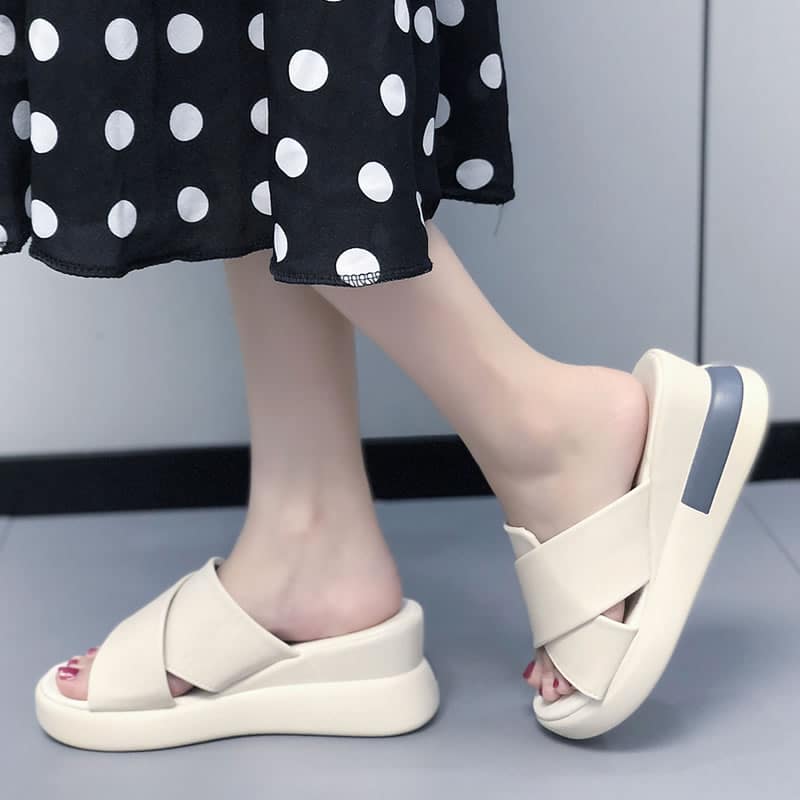 No ankle cuffs 
Open toe sandals
Slip-resistant sole
Soft leather upper
Skin-friendly lining 
In a super hurry mode with no time to hook the straps or belts? These sandals might be your best pick. These Plus size heels for wide feet are super comfy helping you walk with confidence. It is usually comfortable for any woman.
This may not be the one option for high heels worn by plus size women but its convenience is unbeatable indeed. The height of the heel is not too high or not too low making it best suitable for any dress. So, you can wear it on any formal or casual occasion.
Pros
Comfortable heels for plus size women
Comprehensive shoe size options
Provides a solid foundation for the foot
Convenient slip-on design for easy on and off
Thick sole with wide width 
Cons
Not ideal for those who prefer heels with straps
8. Coutgo Womens' Platform Chain Slip-On Summer Slides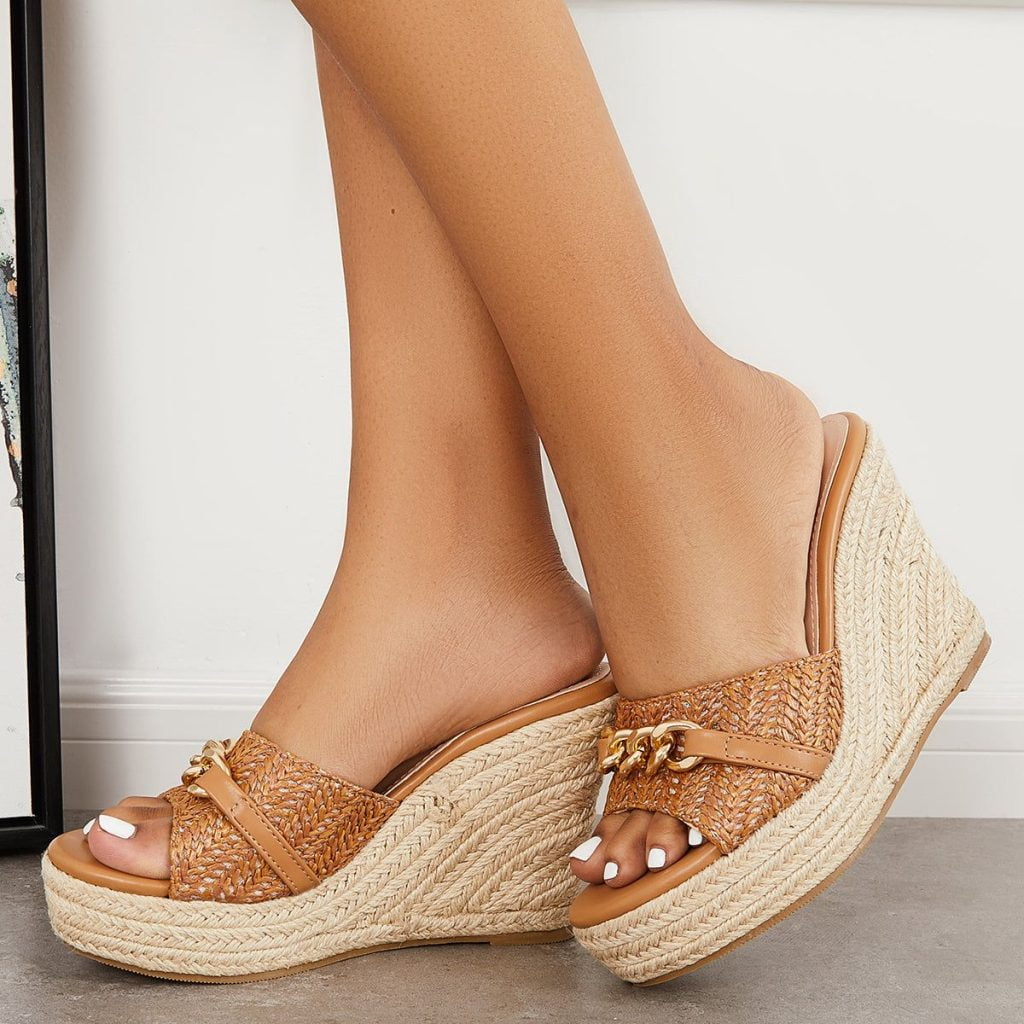 Chain decoration 
Anti-skid rubber sole, 
Featuring padded footbed
Rubber sole 
No buckles
During summer, my choice in heels for plus ladies is these chain slip heels. This pair of basic high heels make your feet look cuter than any other time. The sole of the shoes are made of anti-skid rubber which give you a good grip. Thus, a heavier woman can walk with a splendid balance.
These pairs are available in braided and raffia styles. If you want a little gorgeous look, the braided is preferable Overall, these Coutgo heels are a great option for high heels for plus-size women.
Pros
Come in a variety
Provides excellent grip
Adds Comfortable height 
Great heels for overweight women
Long-lasting product
Cons
Not suitable for those who prefer low heels
9. Dadawen Kitten Heel Wedding Party Shoes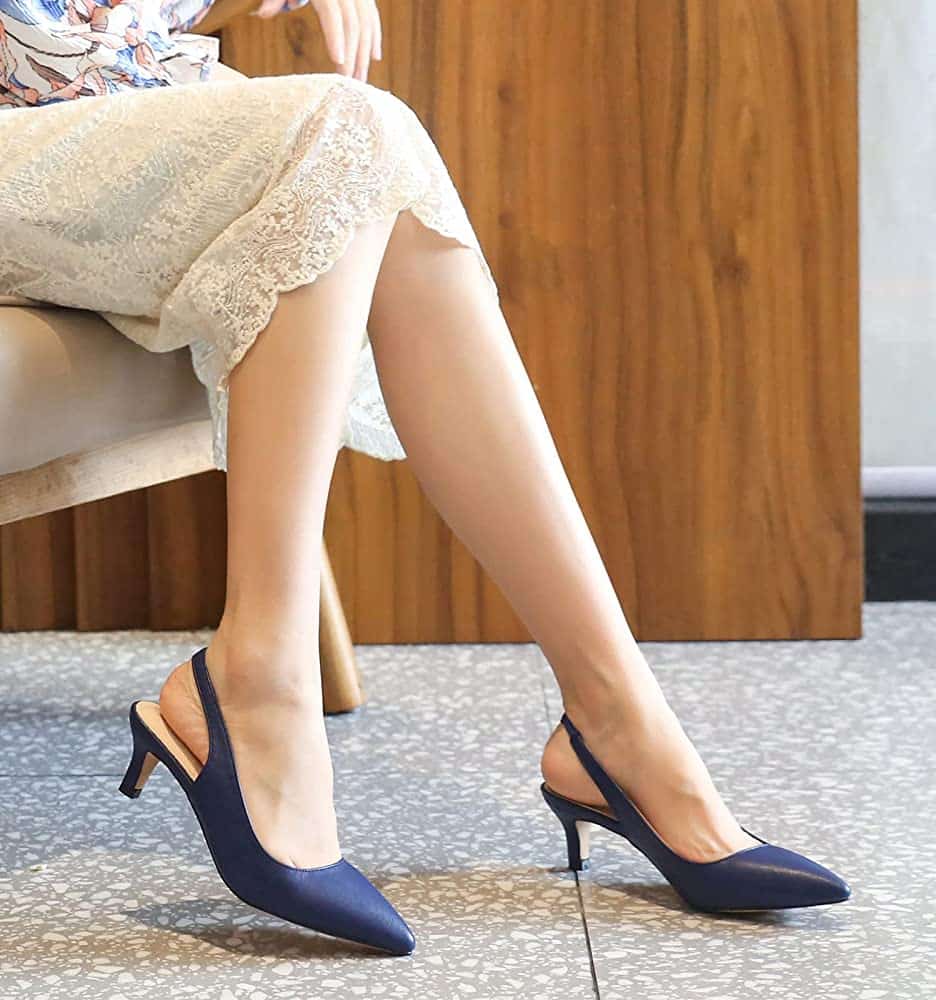 Synthetic Leather
Rubber sole
Sling back 
Pump shoe style
Heels are one of the best accessory that every woman loves. And while attending a special event, you can't just ignore the importance this classy heel pumps. So, if you are looking for a perfect shoes that goes with your party dresses and creates a slimming effect as well, this kitten heels should be bucket list.
Besides, this shoes are Ideal for women who require additional support and stability while walking. As a heavier lady, I love this pairs incredibly.
Pros
Creates a slimming effect
Offer secure fit 
Fit various occasion
Sexy pointed toe
10. Lvemas Womens Square Toe Pumps Low Block Heels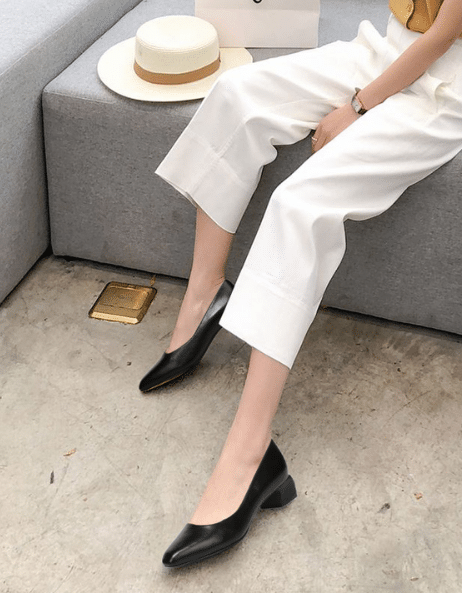 Soft faux leather upper and lining
Square toe pumps
No Break-in
Rubber sole
Not used to walking in heels being an overweight woman? Start with lower heels from Lvemas Womens Square.
These comfortable shoes give you the ultimate stability. The style of shoes or women's heels keeps changing over time. But this low-block heels are never out of trend. As a working women, I love it with my office outfits the most. If you want to feel your best, there is no reason to skip these pairs.
Pros
Comfortable for heavier women
Comes with variable colors and styles
Justifies its premium price point.
Have ample space for toes
Cons
Insole padding is thin comparatively
Wrap-Up
There is a saying, 'Good shoes take you to good places'.
So, I hope you are ready to go somewhere good and worthy. However, either its high heel or low heel, wear which lends both support and a stunning look.
If you feel that heels might break due to heavy weight pressure, avoiding low quality product and super high heels would be good enough. Find heels which brings certainty in you and inspire you to go ahead with a flying confidence.
On that note, the top picks I have share above are some of the best options. Give it a try!