Many people think they must sacrifice fashion or comfort when wearing heels for flat feet. But in my opinion, You can achieve elegance and comfort with the correct shoes.
In this review, We carefully considered features like arch support, cushioning, stability, and overall design when we selected and analyzed a variety of heels.
We've rounded up our favorite picks for the flat-friendly heels you need to dress up for a special occasion. If you are interested, then keep reading.
What to Consider When Choosing the Heels for Flat Feet
There are some essential factors to remember when selecting the best heels for flat feet. Those are discussed below:
Arch Support
Try to get heels with good arch support. Flat feet have low or collapsed arches. Therefore, it is important to choose shoes that provide extra support. If you want more support, look for heels with built-in arch support or use orthotic inserts.
Cushioning
Try to Choose heels with cushioning in the insole for comfort and shock absorption. The additional padding will reduce discomfort by easing the strain on the feet.
Stability
Try to choose heels with a solid base, To improve balance and avoid overpronation; unlike stilettos or thin heels, models with a broader heel or a hefty block heel can offer more stability.
Heel Height
Try to choose pretty high heels to prevent putting too much pressure on your ankles and feet. Choose a heel height you feel comfortable walking in for an extended period because higher heels might exacerbate foot problems.
Materials
Try to choose flexible, breathable shoes constructed of high-quality materials. Genuine leather or suede, which are flexible and soft, can mold to the curve of your foot and lessen friction.
The 7 Best High Heels For Flat Feet
1. Vionic Women's Kit Sylvie Heesl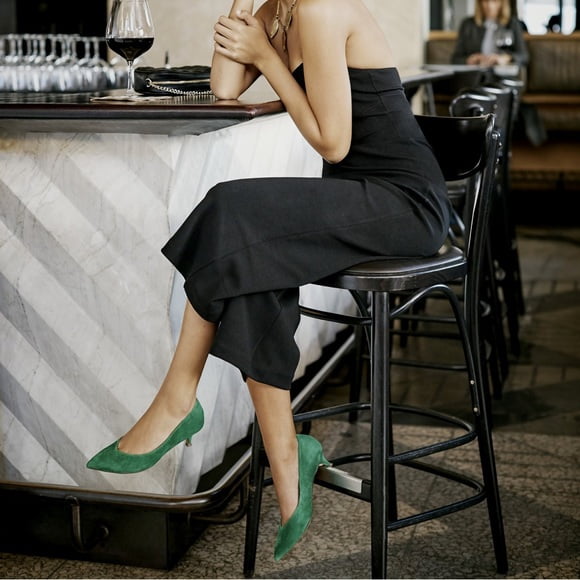 The Vionic Women's Kit Sylvie Heesl are elegant kitten heels crafted from high-quality leather and suede. With a low 1.93-inch heel, these shoes offer both style and comfort. They feature a padded forefoot to provide support and alleviate pressure.
The injected insole and improved forefoot contouring enhance stability and ensure a better fit. As a well-respected manufacturer, Vionic incorporates its renowned "three-zone" comfort technology, which includes a deep-seated heel cup, arch support, and cushioning.
Dr. Sutera, a member of the Vionic Innovation Lab, recommends Vionic shoes and insoles as excellent choices for their commitment to foot health and overall comfort.
Customer review
I am delighted with this purchase. The shoes look good (beware that they have a golden shine thus more suitable for dressy wear), fit just right and are very comfortable, in spite of heels which are low kitten heels. And the price was great.
Ratings
2. DREAM PAIRS Women's Mila Low Chunky Heel Pump Shoes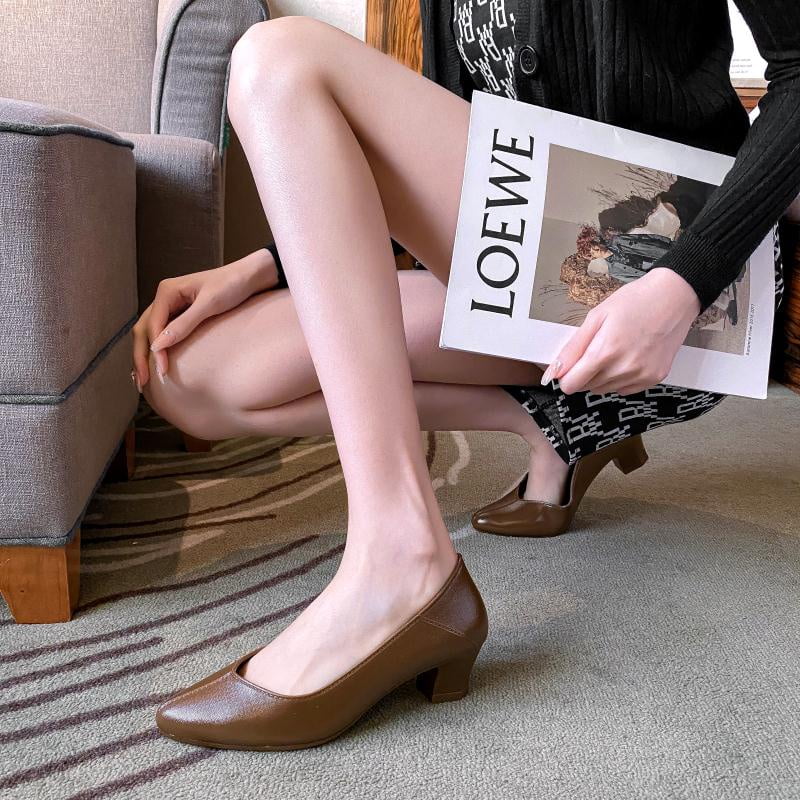 Women can choose from various fashionable and cozy shoe styles with the DREAM PAIRS Women's Mila Low Chunky Heel Pump Shoes. The low, thick heel on these pumps offers the stability and comfort of walking and a moderate lift. Because of their adaptable style, the shoes can be worn in various circumstances, from casual to dressy.
The shoes' uppers are frequently made from various materials, including suede or synthetic leather, giving them a refined and slick appearance. To further improve the shoes' aesthetic appeal, decorative elements like stitching or buckles may be added.
The closed toe of the Mila Low Chunky Heel Pump Shoes creates a timeless and chic form. Because of their closed-toe construction, these shoes could be acceptable for formal settings or occasions.
These pumps may have extra comfort elements like cushioned insoles or padded footbeds, making them comfortable to wear for extended periods.
Customer Review
This is the perfect shoe, perfect heel size I have been looking for since covid. Nice padded insole. My perfect shoe but the left shoe is too big, slips off my foot even though it says right size on inside. I am so disappointed. Great quality.
Ratings
3. DREAM PAIRS ANNEE Pointed Toe Low Chunky Heels Pump Shoes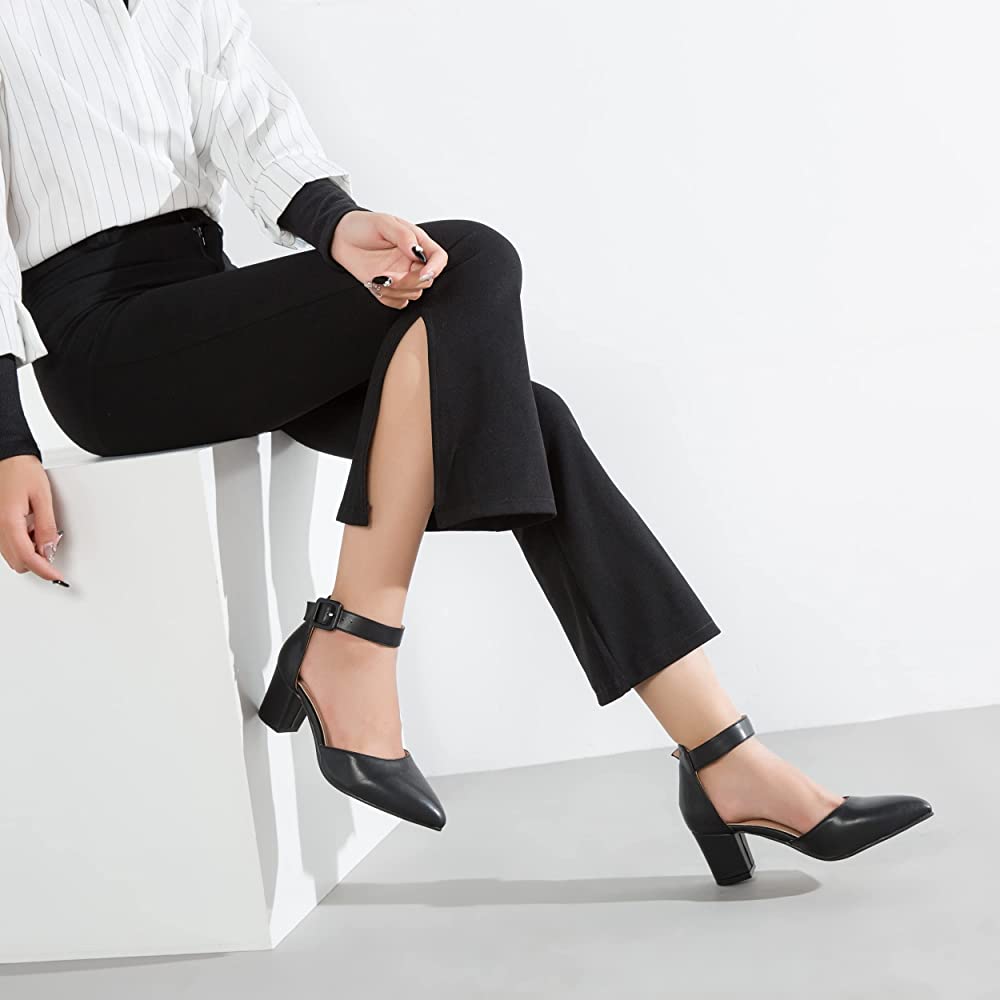 The DREAM PAIRS ANNEE Pointed Toe Low Chunky Heels Pump Shoes are stylish and versatile footwear. It combines fashion and comfort effortlessly. These pumps, which feature a pointed-toe silhouette, emanate a stylish and elegant appearance appropriate for various settings.
The low, chunky heels are stable and comfortable, adding the perfect height for extra elegance. These shoes, made from high-quality materials, provide sturdiness and lasting comfort.
The DREAM PAIRS ANNEE Pointed Toe Low Chunky Heels Pump Shoes are a fantastic choice to elevate your style with their timeless design, whether going to a formal event or getting dressed up for a casual outing.
Customer Review
These look great with a lot of my summer skirts and dresses, but a pleasant surprise was how pretty they look with a pair of skinny jeans. I highly recommend this shoe
Ratings
4. DREAM PAIRS Low Chunky Heels for Women T-Strap Mary Jane Pumps Wedding Dress Shoes
The DREAM PAIRS Low Chunky Heels for Women T-Strap Mary Jane Pumps will improve your look. These pair of heels, made for weddings and special occasions, combine elegance with a contemporary edge.
A low, hefty heel that provides stability and comfort updates the traditional Mary Jane style. The T-strap design gives your entire appearance a feminine and chic touch. These pumps are made to last because they are made of high-quality materials.
They are comfortable enough for extended wear thanks to the padded insole. They seamlessly go with various outfits, whether a wedding dress, a cocktail dress, or even your regular clothes. They are versatile and classic.
Customer Review
I love these shoes! i think it is the best comfortable shoes for flat feet.
Ratings
5. IDIFU Women's Dress 2 Inch Low Heels Wedge Pumps Closed Pointy Toe Slip On Shoes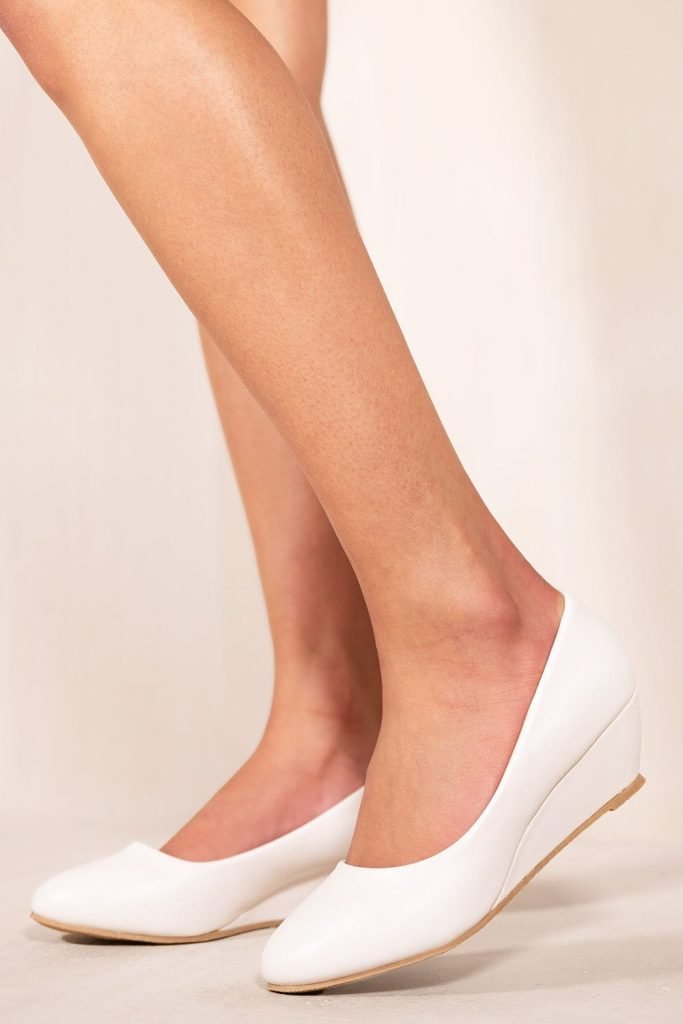 These slip-on wedges have ten colors and styles, including soft nubuck, imitation leather, and glittery materials. In addition to supporting you, the wedge heel's 2-inch height is also comfy.
These heels are another adaptable choice that will look stylish in casual and formal attire. Most of people with flat feet love this shoe for its excellent sole. Most people love it for its flexible flat heels. Women with flat feet choose it most.
Customer Review
I love how these are comfortable and not to high. I love the sharp look goes good with my work outfits!
Ratings
6. Dr. Scholl's Shoes Women Teammate Slip-On Chelsea Dress Ankle Boot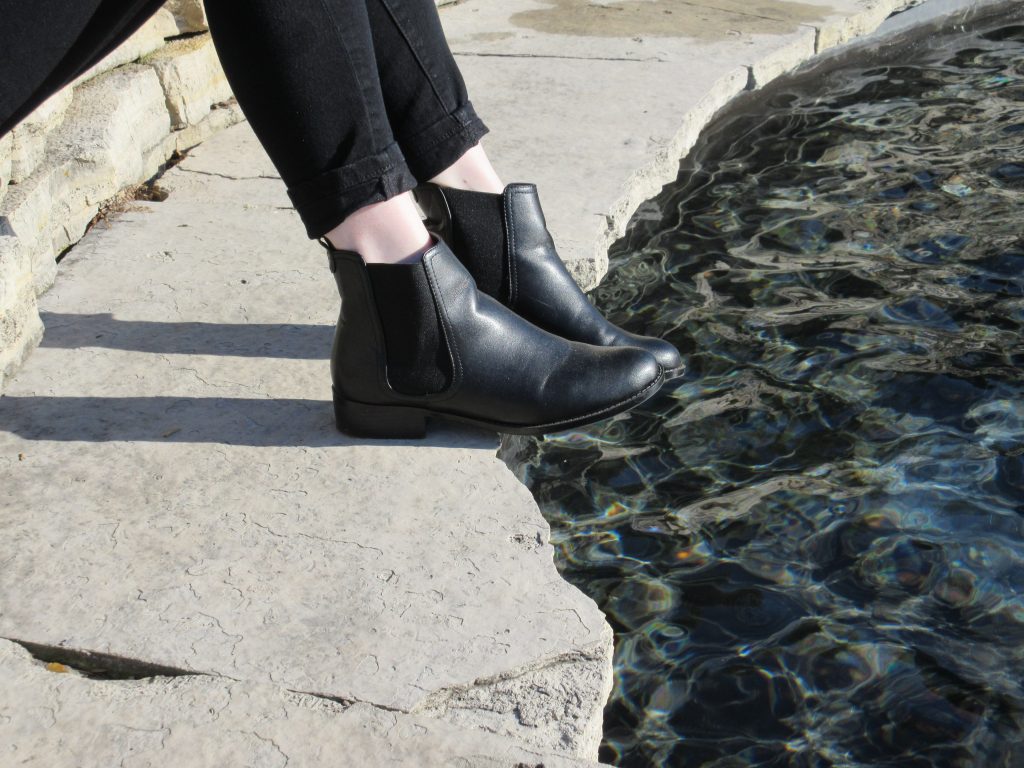 These Dr. Scholl ankle boots have an insole specially made to give cushioning and shock absorption, making them the perfect choice for people with wide feet. These slip-on boots provide all-day comfort due to additional arch support and a substantial 2-inch heel.
The boots contain flexible gore panels that fit a range of foot widths and have a roomy, rounded toe box that gives your toes plenty of opportunity to roam about.
These boots, which come in faux leather and microsuede variations, blend fashion and utility to meet the demands of those with large feet.
Customer Review
These boots fit well. They look nice. However, there is no cushion or arch support. I only wear these when I know I won't be on my feet a lot. Also, the insole is not removable.
Ratings
7. Clarks Women's Adriel Viola Dress Pump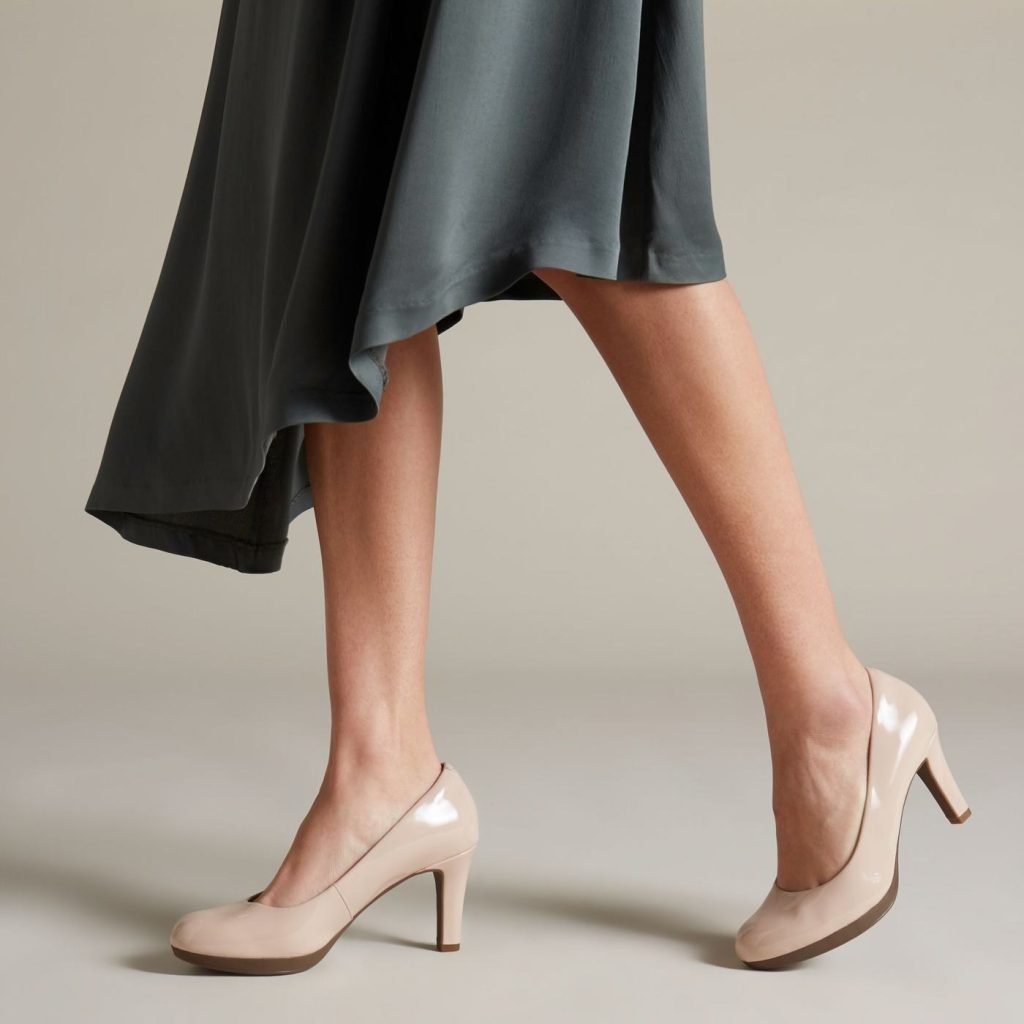 If you're looking for a little extra height, these comfortable high heels can be an excellent choice. They provide a height that feels more comfortable at roughly 2.76 inches due to a 3.26-inch heel and a 0.5-inch platform.
Although wearing high heels might occasionally cause podiatrists anxiety due to the possibility of foot issues like bunions or stiff, flat feet, these shoes are made with comfort in mind. They have OrthoLite foam insoles, which provide long-lasting cushioning and aid in wicking moisture away to make wearing them pleasant and dry.
The shoes also have a sturdy outsole and a large, rounded big toe, which provides plenty of room and relieves pressure.
Customer Review
Best, most comfortable heels I've ever had. you people also can try this it would be best heels for your foot.
Ratings
Conclusion
Our review will help you choose high heels with flat feet. For further knowledge, you can also depend on Amazon customer reviews. By this, you could find the best shoes for flat feet.