Knowing how to wear this stunning color is essential as the fashion industry looks for new methods to present the bold color orange to contemporary and fashionable ladies. Finding the ideal pair of shoes becomes crucial when you're wearing an orange dress to complete your look. A great color combination and a daring fashion statement may be made with the appropriate choice of footwear, elevating your appearance. We'll examine various shoe color schemes and combinations in this post to help you to figure out what color shoes go with orange dress.

Best Color Shoes to Wear With an Orange Dress Outfit
There are certain individuals who like to stay safe when it comes to fashion. They tend to stick to classic styles and neutral colors. But there are also people who enjoy taking chances. They don't hesitate to experiment with cutting-edge styles and striking color schemes.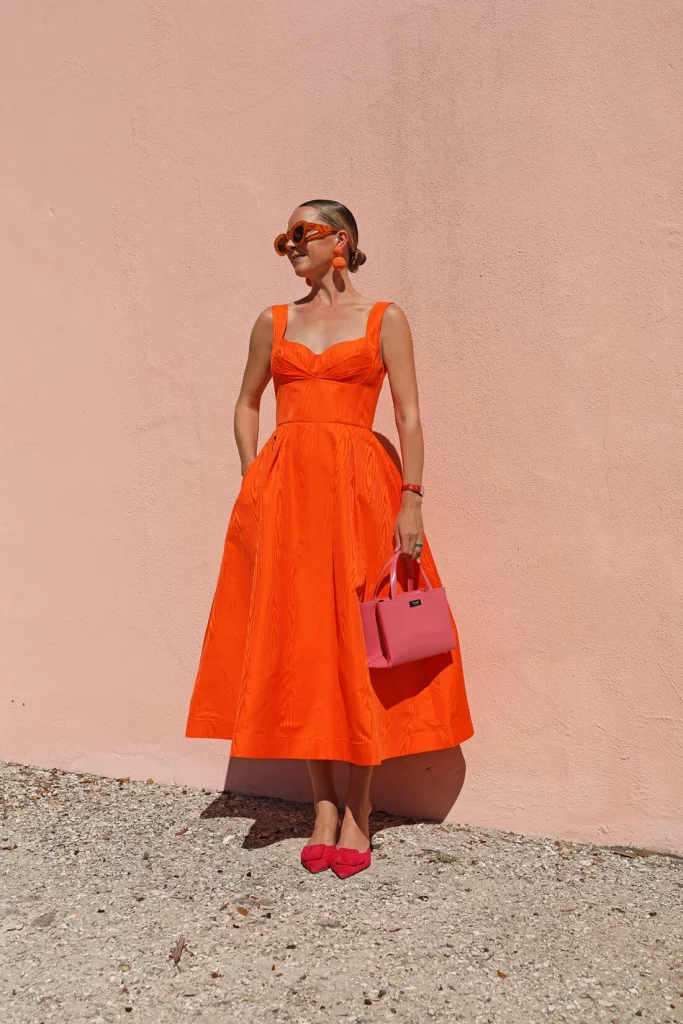 A striking and lively color combination is created by an orange dress and red shoes. Your orange dress can be elevated by wearing red pumps or sandals, which will boost your appearance's drama and self-assurance. Walk with assurance, and let the spark inside you be lit by your attire. Choose deeper, gentler reds if your clothing is sparkling orange.
Think about wearing blue shoes with your orange dress if you're eager to try out daring color combos. At first glance, this pairing might seem a little odd, but trust us—it works. The crucial step is to find the right shades of orange and blue. To give your outfit a lively and whimsical touch, choose blue pumps or sandals. This fashionable combination represents your individual style and draws attention with its vibrant and unexpected charm.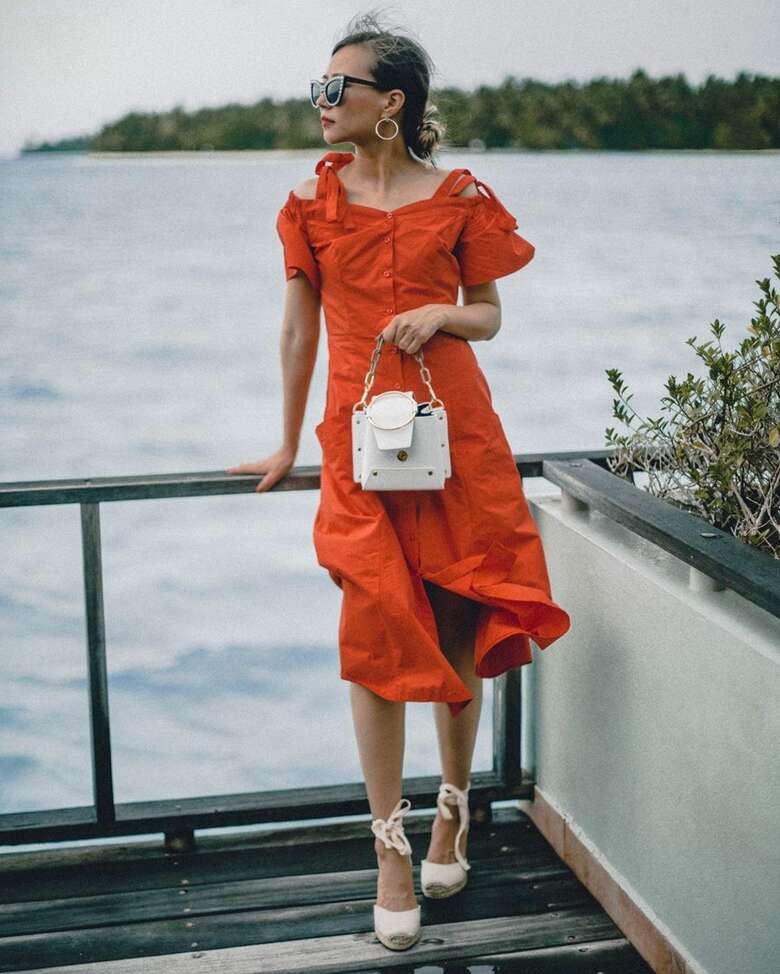 If you're more interested in rocking that orange dress, a pair of white shoes are a better choice. They have a hint of class and elegance while still exuding an air of ease and comfort.
Just be extra cautious since white contrasts with light orange colors more strongly. Orange and white contrast sharply, producing an eye-catching combination. White shoes may subtly enhance the color orange, whether you're wearing a bright orange maxi dress or a pastel sundress. White color shoes are quite adaptable and go well with a variety of orange dresses in different hues and styles.
Pair your orange dress with beautiful gold shoes. Gold strappy sandals or pumps will blend beautifully with any attire, whether it's for a summer wedding or a glamorous nighttime celebration. They will also offer elegance and sophistication.
Gold shoes are versatile colors since they can be worn with a variety of outfits, especially with dresses in medium or dark tones of orange because they add the proper amount of glitz and sparkle. You'll adore the way these hues combine to create a refined yet captivating appearance.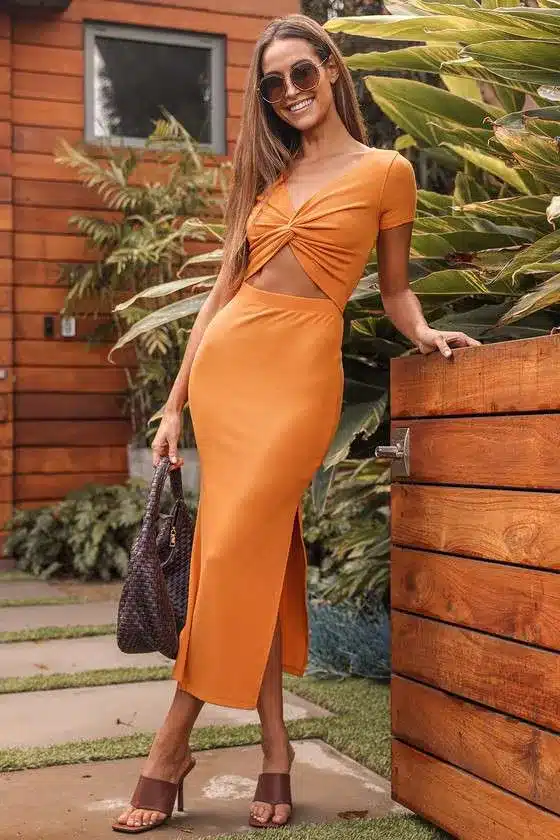 Brown shoes can be the perfect pair of shoes to wear with an orange dress outfit, creating a warm and earthy color combination. In transitional seasons like autumn or spring, brown shoes go especially well with an orange dress.
The earthy tones of brown color shoes go seamlessly well with the vibrant hue of orange. By wearing brown shoes with an orange dress, you create a classic combination that withstands fads and is still in style today.
Consider silver shoes to wear with your orange dress for a sleek and contemporary edge. Your attire will look more eye-catching and fashionable with this combination since it gives it depth and draws the eye.
Find the right color of metallic or silver shoes to add a bit of glimmer and glitter while making a bold and modern fashion statement. Last but not least, you can add some elegance to this outfit by accessorizing with silver jewelry and a fuchsia handbag. Or, if you want to stand out, wear it with earrings that have emerald green accents and a clutch that matches.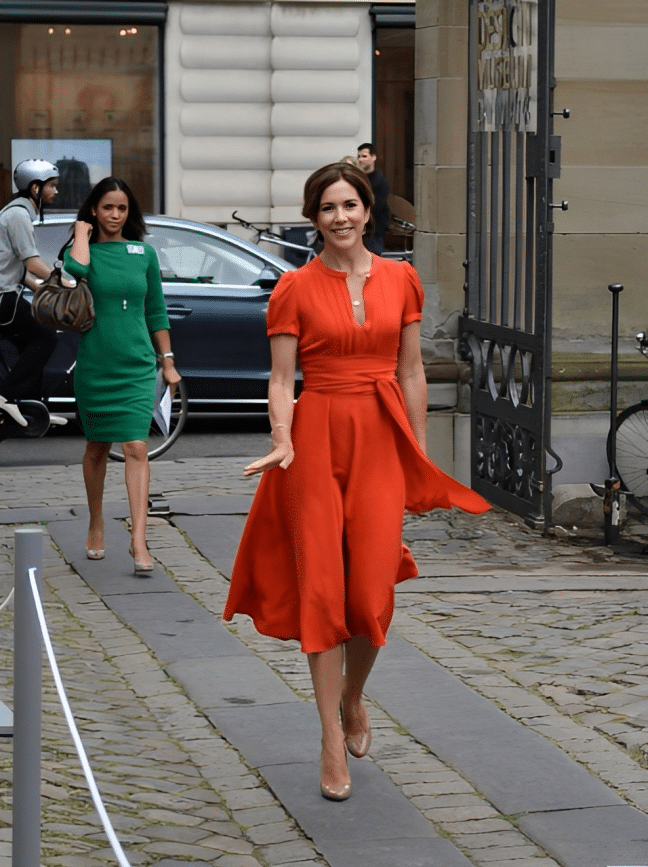 Pair of nude shoes are a great option to wear with your favorite orange outfit. For best results, choose shoes that either significantly contrast with or match your skin tone.
Because it complements everything and will help to lengthen your legs, being naked is a great option. Additionally, it is a color that goes with any type of outfit.
8. Orange Shoes: A Monochromatic Magic!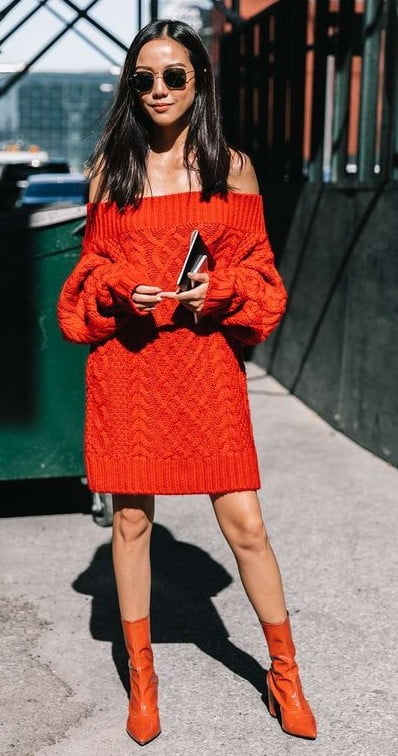 Orange is such a vibrant color and a striking and monochromatic style can be created by pairing an orange shoe with an orange dress. Orange shoes can be the ideal option for you if you want to create a bold fashion statement.
Pick the appropriate shade of orange for your dress as a starting point. When pairing an orange shoe with an orange dress, think about selecting shoes in somewhat lighter shades of orange. This variety of hues will add visual interest to the ensemble and keep the shoes from becoming too much of a match for the dress.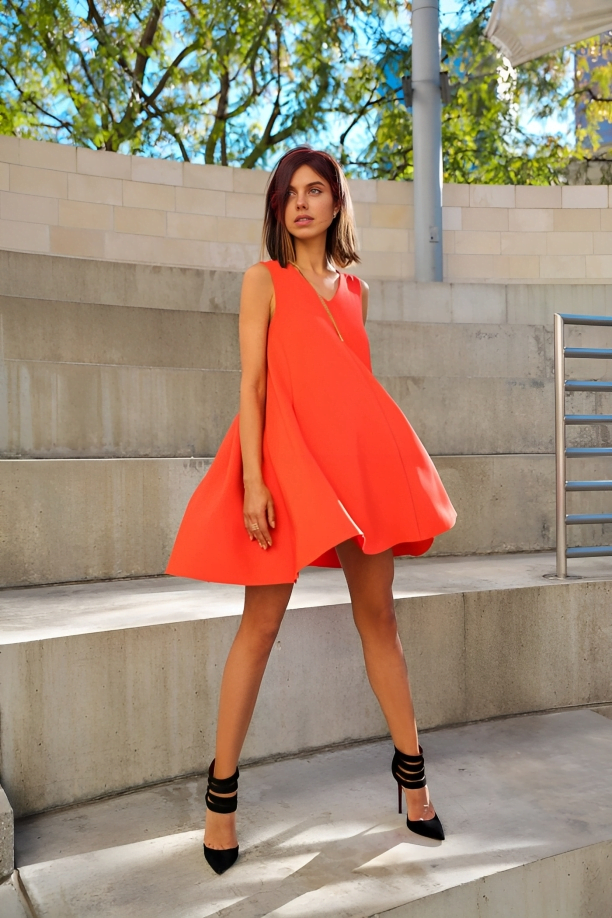 When in doubt, the orange dress with black shoe combination is dependable and classic. However, you must exercise caution while executing this style because not all orange hues go well with black.
Dark shades of orange should be paired with a pair of black heels, flats, or boots for a timeless and chic appearance. This combination adds a sophisticated touch while letting your dress take center stage.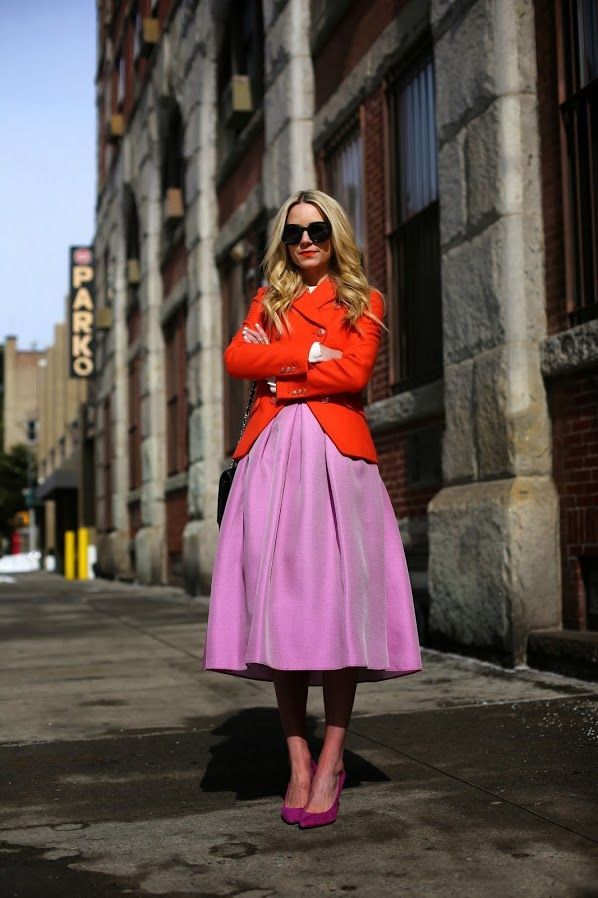 Darker shades of orange and purple are a very unique combination. Darker tones of purple, such as plum or eggplant, make an impact that is more refined and classy than lighter hues of purple, such as lavender or lilac, which produce a delicate and feminine appearance.
Purple shoes are one of the popular colors that go with an orange dress as it is a complementary hue that can increase richness and depth. Whether you go with a pair of purple shoes or pumps, they'll give your outfit and add a pop of color and make you stick out from everyone else.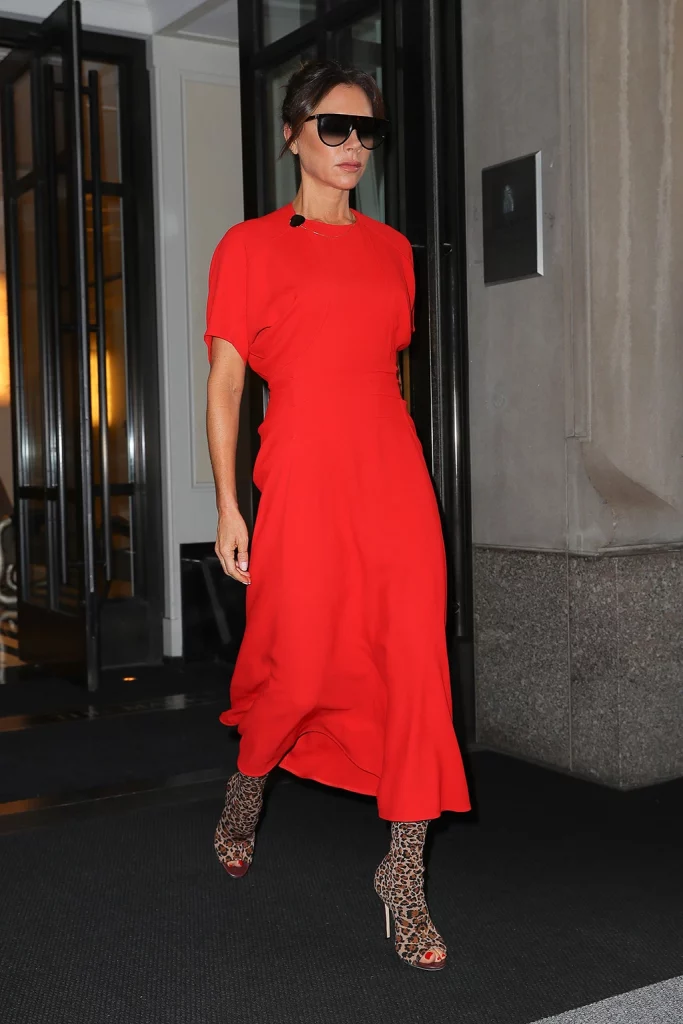 You can always choose leopard print shoes if your orange dress is plain to break up the monotony of the color. You should match the color scheme of your dress with the kind of leopard print you choose. Leopard print is a timeless and adaptable pattern that gives any outfit some visual intrigue and flair. Own your style, walk with attitude, and embrace the boldness of the combo. A fashion-forward decision that highlights your uniqueness and sense of style is the combination of vivid orange and wild leopard print.
Color That Doesn't Go Well With an Orange Dress
When considering color pairings, it's crucial to take into account hues that can clash with your orange dress. Avoid hues like neon tints or extremely bright tones that compete with or overwhelm the intensity of orange. Certain green hues, especially those with strong undertones of yellow, might clash with orange and make for an unappealing color combination. However, other hues of green, including teal or mint, can work nicely as orange's contrasting hues. When putting together a green outfit with an orange dress, it's crucial to take the precise hue and intensity into account.
Conclusion
Investigating various color combinations brings up a world of options when it comes to selecting the ideal pair of shoes for your orange dress. The ideal pair of shoes will round out your look and highlight your distinct sense of style, whether you decide to wear a striking hue like red or blue, embrace neutrality with nude or black, or exude elegance with gold or silver. Try new things, have fun, and let your footwear match your bright orange outfit.
Frequently Asked Question
Do orange and blue go together?
Yes, orange and blue are complementary colors, which means they are opposite each other on the color wheel. When you put them next to each other, they enhance one another, making blues appear bluer and oranges, well, oranger.
What hue complements dark orange?
A variety of colors that complement the burnt orange paint wonderfully include teal, navy blue, greys, rich browns, off-white, and black.